Mussels test positive for opioids in Seattle's Puget Sound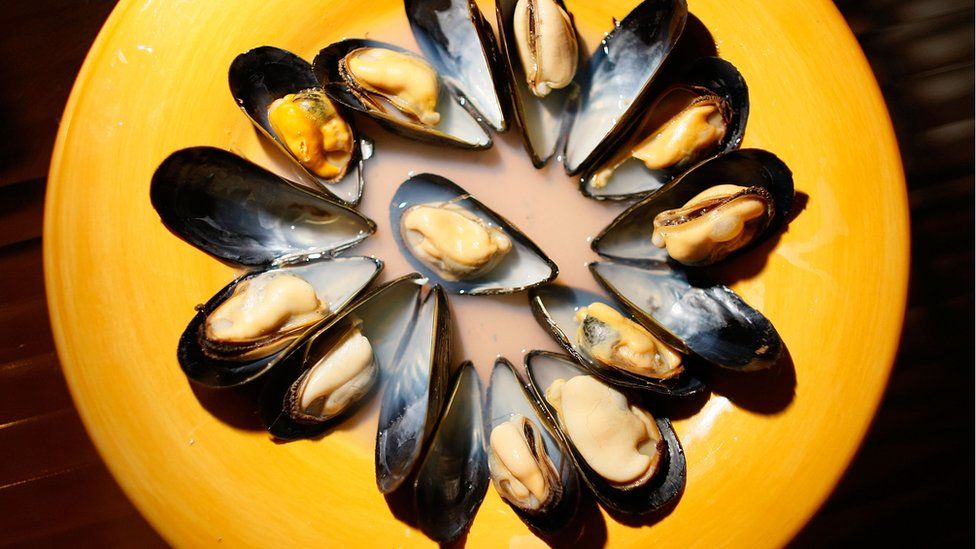 Scientists at the Washington State Department of Fish and Wildlife have found that mussels in Seattle's waters are testing positive for opioids.
The finding suggests "a lot of people" are taking oxycodone in the Puget Sound, researchers say.
Scientists used mussels as a way to test pollution in Seattle's waters and discovered high enough oxycodone levels for the shellfish to test positive.
Mussels do not metabolise opioids, but some fish can become addicted.
Mussels are filter-feeders, which means they filter water for nutrients to nourish themselves. In the process, they end up storing pollutants in their tissues, which makes them a prime indicator species.
State researchers distributed clean mussels around the Puget Sound and extracted them months later to test the waters.
Of the 18 locations scientists used, three showed traces of oxycodone. The drug traces were not enough to get any humans high from consumption, but enough to indicate a problem, officials said.
"What we eat and what we excrete goes into the Puget Sound," Jennifer Lanksbury, a biologist at the Washington Department of Fish and Wildlife, told CBS News affiliate KIRO.
"It's telling me there's a lot of people taking oxycodone in the Puget Sound area."
Also in 2016, the National Oceanic and Atmospheric Administration estimated that nearly 300lbs (136kg) of pharmaceuticals, personal care products and industrial compounds ended up in the Puget Sound each day, some at high enough concentrations to negatively impact fish.
Kings County Wastewater Management told local media their system can filter many contaminants, but not specifically drugs.
While looking into ways to combat addiction, a University of Utah study found that zebrafish willingly dose themselves with opioids and show symptoms of withdrawal if the drugs were removed.
The Puget Sound Institute, a partner in the study, said none of the opioid-positive mussels were near commercial shellfish beds.
The levels of opioids in the waters were thousands of times smaller than a human dose, but data shows that the US opioid epidemic has filtered down to other species in America's ecosystems.
"Hopefully our data shows what's out there and can get the process started for cleaning up our waters."
The Department of Fish and Wildlife said the test was a one-time study, but that it will seek additional funding to keep testing Washington's waters.