Columbus Crew: Two US cities fight over one football team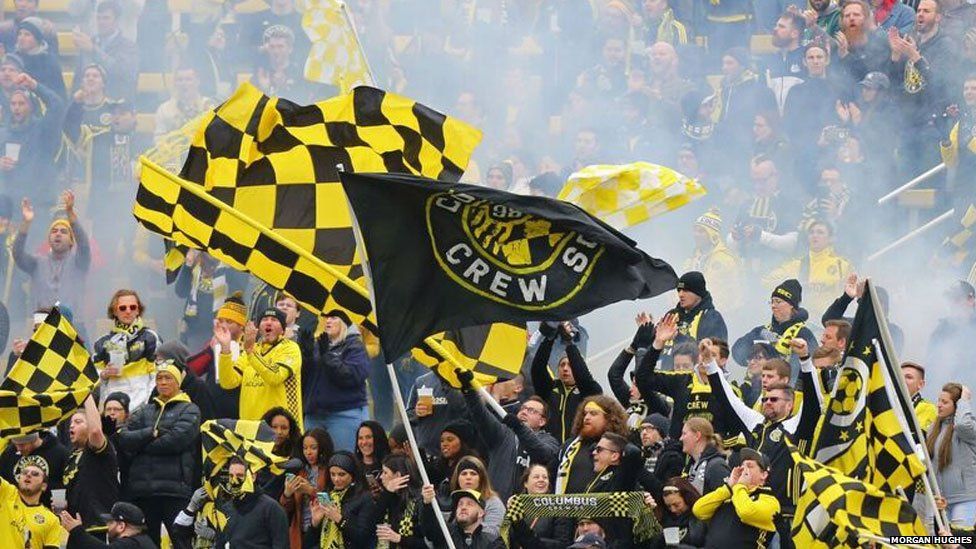 When a leading US football team announced it wanted to move across the country, its fans were floored. Even though such moves are common in other American professional sports, it hasn't been part of Major League Soccer culture - until now.
"You can go to hell, I am going to Texas," frontiersman and folk hero Davy Crockett reportedly exclaimed in the 19th Century.
Now the owners of Major League Soccer (MLS) team Columbus Crew SC appear similarly determined to move more than 1,000 miles south to the more temperate - and potentially profitable - climes of Austin.
But things are never simple, especially in American sport.
Columbus fans are mad at being sold out and are behind a lawsuit to stop the team leaving the Ohio city, while in Austin there are concerns over a new stadium's impact in a rapidly growing and already straining metropolis.
The concept of moving a sports team, whose identity is wrapped up in its locality, to another city is illogical in much of the world.
But in American professional sports, as in American life, people accept the need to up sticks and move to the other side of the country in search of better opportunities.
It's the archetype of a mobility culture - especially when there's a profit to be made.
That said, since MLS emerged in the US in 1994, it's carved a niche as an American sport that isn't so beholden to money, which has attracted fans looking for a more meaningful experience.
"Soccer here is viewed as more noble and not so beholden to the machinations of money and greed as other American sports," says Austinite Phil West, author of The United States of Soccer: MLS and the Rise of American Soccer Fandom.
"There's a conflation between the team as a business and the way the fans see it as part of their identity, with it functioning as a church in a way."
A prosperous, dynamic and liberal-leaning technology hub, Austin is one of the most rapidly expanding metropolitan areas in the US, having doubled in two decades to more than two million.
It's also the largest city in the US without a professional team, all of which makes it an attractive option for the owners of Columbus Crew SC, usually known as the Crew.
Nevertheless, Columbus fans were upset to hear the news and launched a passionate rear-guard action, in loyalty to one of the league's founding teams.
"The Columbus Crew is Columbus. We're not going to lose this fight," says Morgan Hughes, one of the most vocal leaders of the #SaveTheCrew movement.
American sports fans are much more open to a team moving than in the UK if it makes business sense, says Sean Kelly, a British expat from Shrewsbury who made a documentary called Save the Crew: The Fans vs. The System.
"Soccer audiences are not used to this in the world game - it's equivalent to Liverpool, my club, suddenly moving to London because it hasn't won the league in 27 years."
When Wimbledon moved to Milton Keynes in 2003, it resulted in an uproar in the UK, he recalls.
Not so in the US, a nation that has always been on the move, from the wagon trains that struck out West, to college graduates leaving small mid-western towns for the bright lights of big cities. And it's an ethos Americans extend to their sport teams.
In the past two years in the NFL, the Rams relocated from St Louis to Los Angeles, the Chargers from San Diego to Los Angeles and the Raiders will move from Oakland to Las Vegas.
In the National Basketball Association, the Supersonics moved from Seattle to Oklahoma City and was rebranded as the Thunder.
There has technically been one MLS move in 2006 when the San Jose Earthquakes moved to Houston and became the Houston Dynamo, although Columbus fans argue that was different because they kept their records and branding.
"We would be the first to be moved and completely destroyed," says Mr Hughes.
Austin would make an interesting and surprising choice for the Crew in a number of ways.
"Austin wouldn't have been the right place 15 years ago, but it has gentrified with an influx of millennials and new money," Mr Kelly says, noting that MLS is a good fit for millennials in America.
Younger sport fans prefer football's continuity compared to the stop-start marathons of American football and baseball, he says. Many grew up watching the English Premiership League - thanks to the 2005 launch of Fox's soccer channel - and are digitally savvy enough to follow online leagues from all over the world.
"Millennials in this country also seem to be more generally accepting of global cultures," he adds - they don't view the growth of football as being some sort of assault on American values, in contrast to NFL attempts to make the sport "turbo American".
Ticket sales and corporate support remain lacklustre in Columbus, say its owners Precourt Sports Ventures (PSV), despite its best efforts to drum up more support by re-branding the team and installing a new video board and sound system in the stadium.
Columbus Crew is valued at $130m, according to Forbes, lower than any other MLS team.
The MLS said in a statement the league is very reluctant to allow teams to move but that Crew's poor "business metrics" and its stadium not being "competitive with other venues across MLS" means it supports efforts to explore other options.
The Crew's situation is in stark contrast to its previous dominance in the league from the mid- to late-2000s.
It also has a storied history. In 1994, it became the first city to meet the league's requirements to get a team and its Mapfre Stadium was the league's first football-specific stadium. But not enough people are coming through its turnstiles.
The timing is particularly wounding for Crew fans who have reached a rite of passage that occurs in leagues across the world - introducing the next generation of fans to the beautiful game.
"Crew fans who were there at the start and have stuck with the club all the way are now looking at taking their sons and daughters along to games," Mr Kelly says.
"As any parent knows, it's a bonding experience to take their young children to support a team they've followed since they themselves were young, and as it gets passed down to the next generation, a club truly becomes part of a community's identity. But now that is all in jeopardy."
Other MLS fans have sided with the #SaveTheCrew movement, both out of sympathy and conscious of not wanting to see the same thing happening to their teams.
But in Austin, it's a different story.
"As a group and city we feel for the Columbus fans," says Andrew Urban, vice president of the MLS in Austin supporters group.
"But you can't control the business end and the way the market is. MLS has developed so it can be a sustainable league. The move might look odd, but the MLS is 70 years behind the Premiership.
"In the 1910s and 1920s in England, teams folded or got rolled into others."
Football is big in Austin. But some Austinites don't like the idea of a big new stadium's environmental impact, and are wary of overbearing corporate influence.
A number of potential stadium sites have been vetoed. Now the focus is on McKalla Place, a 24-acre city-owned industrial plot that's been vacant for 20 years. A report goes to the City Council on 1 June.
"Many in Austin realise this may be their only shot at major soccer league," says Chris Bils, a journalist with the Austin American-Statesman.
"And while there has been a lot of noise against some of the stadium sites, there seems enough people in Austin who will fight to not let this thing be run out of town."
Even if Austin City Council gives the green light, PSV still has to find a place for the team to practise and play, in time for PSV's stated goal of starting next season beginning March 2019 in Austin.
There's also the lawsuit filed by Ohio Attorney General Mike DeWine and The City of Columbus against Precourt Sports Ventures and Major League Soccer.
"Columbus residents have supported the Crew not just with their spirit, but also with their wallets," said City Attorney Zach Klein. "This statute is in place to prevent owners from taking taxpayer benefits, and then shopping their team to the next highest bidder."
At this stage, there are a range of potential scenarios.
The Crew may stay in Columbus yet under PSV, or could be sold to local ownership (the preferred option for Crew fans).
If they go to Austin, Columbus city could be left utterly bereft of MLS, but fans are not giving up yet.
"This is a city of firsts: first team, first stadium - if things happen in soccer they happen first in Columbus. This is going to be the first city that stops a team from moving, and it's going to set off a chain reaction," Mr Hughes says.
"Just because other sports have done things one way doesn't mean we should accept it. If you say, You can't do this, and enough people stand behind you, you can change the world."