Hurricane Maria 'killed 4,600 in Puerto Rico'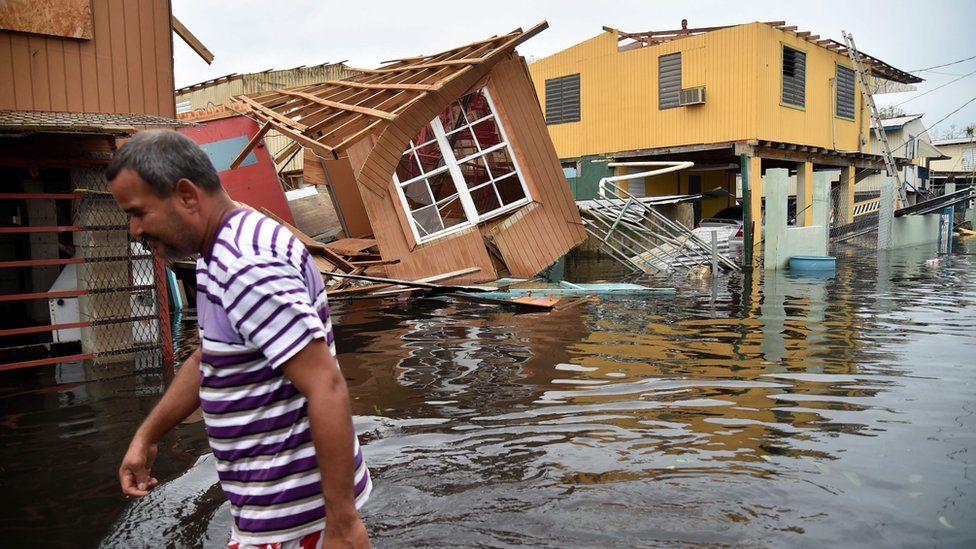 Hurricane Maria killed more than 4,600 people in Puerto Rico, 70 times the official toll, according to estimates in a Harvard University study.
A third of deaths after September's hurricane were due to interruptions in medical care caused by power cuts and broken road links, researchers say.
The Puerto Rico government said it "always expected the number to be higher than what was previously reported".
The official death toll stands at 64.
But experts say an accurate count was complicated by the widespread devastation wreaked by the storm.
Carlos Mercader from Puerto Rico's Federal Affairs Administration said he welcomed the Harvard survey.
"The magnitude of this tragic disaster caused by Hurricane Maria resulted in many fatalities," he said.
He added that the island's authorities had also commissioned George Washington University to study the number of deaths and these findings would be released soon.
"Both studies will help us better prepare for future natural disasters and prevent lives from being lost," he said.
They contacted more than 3,000 randomly selected households between January and March this year and asked about displacement, infrastructure loss and causes of death.
Aleem Maqbool, BBC News, Washington
Many Puerto Ricans we spoke to felt their immense suffering after the hurricane had been trivialised and that the emergency response has been lacklustre.
A relatively small number of people may have been killed by the physical impact of the storm, but six months later we met people who had lost relatives as a result of interrupted medical care and saw others struggling to pay for expensive generators on which they were running vital life support equipment.
There was also reported to have been a spike in the number of suicides. We found many still without homes and thousands who had been living without electricity since the day Hurricane Maria struck.
Whatever the true number of those killed as a result of the storm, it is now certain to be many times the official figure. The question for US authorities about Puerto Rico, an American territory, is how many of those deaths could have been prevented with a better emergency response?
They then compared their results with the official mortality rates for the same period in 2016, more than a year before the hurricane struck the island.
The researchers said that interrupted medical care was the "primary cause of sustained high mortality rates in the months after the hurricane".
Disruption to health care was a "growing contributor to both morbidity and mortality" in natural disasters, they said, because growing numbers of patients had chronic diseases and used sophisticated equipment that relied on electricity.
On Twitter, several users noted that the death toll exceeds the nearly 3,000 Americans that were killed during the 9/11 attacks.
Skip twitter post by Graybones
Allow Twitter content?
This article contains content provided by Twitter. We ask for your permission before anything is loaded, as they may be using cookies and other technologies. You may want to read Twitter's cookie policy, external and privacy policy, external before accepting. To view this content choose 'accept and continue'.
The BBC is not responsible for the content of external sites.
End of twitter post by Graybones
The mayor of San Juan, the largest city in Puerto Rico, tweeted that "the negligence that contributed to [the deaths] cannot be forgotten.
Carmen Yulin Cruz added that the death toll is "a violation of our human rights".
Overall, Hurricane Maria caused losses of $90bn (£68bn), the US National Oceanic and Atmospheric Administration (Noaa) said.
The Caribbean island is home to 3.4 million US citizens.