NFL player Laurent Duvernay-Tardif graduates medical school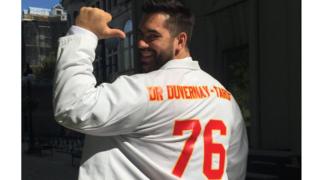 Whoever came up with the phrase "dumb jock" clearly has never met Kansas City Chiefs lineman Laurent Duvernay-Tardif.
The Canadian professional football player graduated from McGill University medical school on Tuesday.
The 27-year-old studied in the off-season for the past four years, since being drafted to the Chiefs in 2014.
He is the first active player in the National Football League (NFL) to have a medical degree, and he hopes some day to work in emergency medicine.
"It's the first time that I'm actually really, really proud of myself," he told CTV News.
"Football is an awesome opportunity in the sense that not everyone can play football and live off of that, but being a doctor is more than that."
You get to treat people, you get to change them and you get to have an opinion that people respect, and it's an honour to be a part of that community."
He has even officially requested that the letters "MD", which stands for medical doctor, be added to his name on his team jersey.
Mr Duvernay-Tardif realised his talent for football while playing for his school's team as a medical student from 2010-2013 in his hometown of Montreal, Quebec.
Soon he was scouted, and in 2014 he was drafted to the Chiefs in the sixth round.
Last year he signed a $41m (£30m) five-year extension with the team.
But instead of dropping out of medical school, Mr Duvernay-Tardif decided he would balance both passions by studying in the off-season, which resulted in extending his four-year medical degree to seven.
At first, he said his teammates questioned his commitment to the game, but it was the Chief's head coach, Andy Reid, who encouraged him to pursue both careers.
Mr Reid's mother happened to be one of the first women to have graduated from McGill's medical school.
Mr Duvernay-Tardif said he hopes to someday work in emergency medicine, but he is probably a long way off from hanging up his helmet and putting on his scrubs.
For now, his goals are the same as any other football player - he wants to win the Super Bowl.