Trump pardons conservative writer Dinesh D'Souza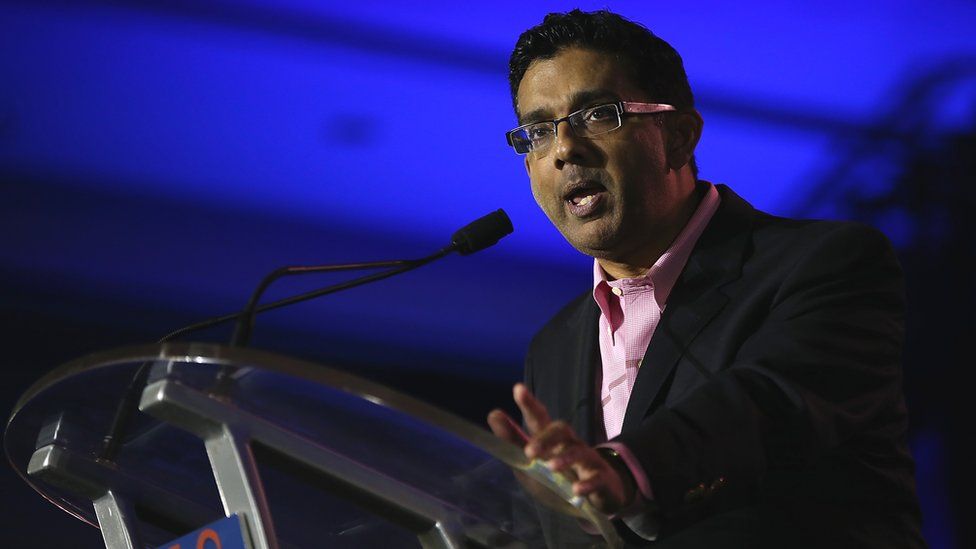 President Donald Trump has issued a pardon to conservative writer Dinesh D'Souza, who was convicted in 2014 of violating campaign finance laws.
D'Souza, 57, was found guilty of an illegal $20,000 (£15,000) campaign contribution to a New York politician.
He was sentenced to five years of probation after admitting the crime.
Mr Trump also said he might pardon lifestyle guru Martha Stewart and commute former Illinois governor Rod Blagojevich's sentence.
The US president tweeted on Thursday that D'Souza "was treated very unfairly by our government".
Will be giving a Full Pardon to Dinesh D'Souza today. He was treated very unfairly by our government!

— Donald J. Trump (@realDonaldTrump) May 31, 2018
"Mr D'Souza accepted responsibility for his actions, and also completed community service by teaching English to citizens and immigrants seeking citizenship," said a White House statement from spokeswoman Sarah Sanders on Thursday.
"In light of these facts, the President has determined that Mr D'Souza is fully worthy of this pardon."
As he signed the order, Mr Trump told reporters that he spoke to D'Souza by phone last night, adding that "he almost had a heart attack" when the president told him of his decision.
D'Souza was charged by the same Manhattan prosecutor's office that is now investigating Michael Cohen, Mr Trump's longtime personal lawyer.
This is Mr Trump's fifth full pardon. Among his previous pardons are Arizona Sheriff Joe Arpaio - who is now running for the Senate - and former Bush White House aide Scooter Libby.
He later told reporters that he was considering pardoning lifestyle guru Martha Stewart and commuting former Illinois governor Rod Blagojevich's sentence.
D'Souza was prosecuted by then-US Attorney Preet Bharara, who was appointed by former President Barack Obama before he was fired by Mr Trump in 2017.
The conservative filmmaker regularly assailed Mr Obama on social media.
While Mr Obama was in office, he accused him in a Forbes magazine cover story of adopting "the cause of anti-colonialism" from his Kenyan father.
In his 2016 film Hillary's America: The Secret History of the Democratic Party - which became one of the highest-grossing documentaries of the year - he accused Mrs Clinton of having "orchestrated" her husband's sex scandals.
More recently he made headlines when he taunted survivors of the Parkland, Florida, school shooting after lawmakers in their state refused to consider banning assault-style weapons.
"Worst news since their parents told them to get summer jobs," D'Souza tweeted. He later apologised.
During the 2016 presidential election, D'Souza tweeted that he relished "the frustration" of the Republican party over Mr Trump's wins.
I'm not endorsing anyone, but I do relish the frustration & befuddlement of the GOP establishment as Trump wins one more time

— Dinesh D'Souza (@DineshDSouza) February 24, 2016
Who else might Trump pardon?
Martha Stewart - The celebrity chef and lifestyle guru was convicted in 2004 of charges of conspiracy, obstruction of justice, and making false statements relating to a probe of insider stock market trading. She was prosecuted by former FBI director James Comey and served five months in federal prison.
Rod Blagojevich - The former Democratic governor of Illinois was convicted of multiple counts of bribery and corruption in 2011, and sentenced to 11 years in prison. He had been accused of trying to sell the Senate seat that was vacated by Barack Obama. Both he and Stewart appeared on spin-off versions of Mr Trump's reality TV show, The Apprentice.
Alice Marie Johnson - The 63-year-old grandmother was given a life sentence in 1996 after she was convicted of a first-time non-violence drug offence. On Wednesday, reality TV star Kim Kardashian visited the White House to lobby Mr Trump to pardon her.
Analysis by Anthony Zurcher, BBC Washington
Donald Trump is flexing his pardoning muscles again - and accomplishing several objectives.
First of all, the move is sure to thrill right-wing true believers and anger liberals, which is something the president seems to take particular glee in doing.
Mr D'Souza, who first gained public attention as a conservative academic, had morphed into a political commentator and provocateur, producing works that blamed the "cultural left" for the 2001 World Trade Center attacks and accused leading Democrats like Barack Obama and Hillary Clinton of a variety of crimes, conspiracies and corruption.
The pardon also sends a message that the president is willing to use his powers to absolve those convicted of what he views as political persecution - in line with similar efforts on behalf of anti-immigration Arizona Sheriff Joe Arpaio and former Bush administration staffer Scooter Libby.
While Mr D'Souza admitted campaign finance violations, some conservatives have insisted that he was singled out by federal prosecutors because of his political beliefs.
With a number of Trump allies in the legal crosshairs - including, in the case of the president's personal lawyer Michael Cohen, for possible campaign finance offences - Mr D'Souza's pardoning may be a not-so-subtle signal that Donald Trump has their back.