Police officer stops ex-cop who delivered him 27 years ago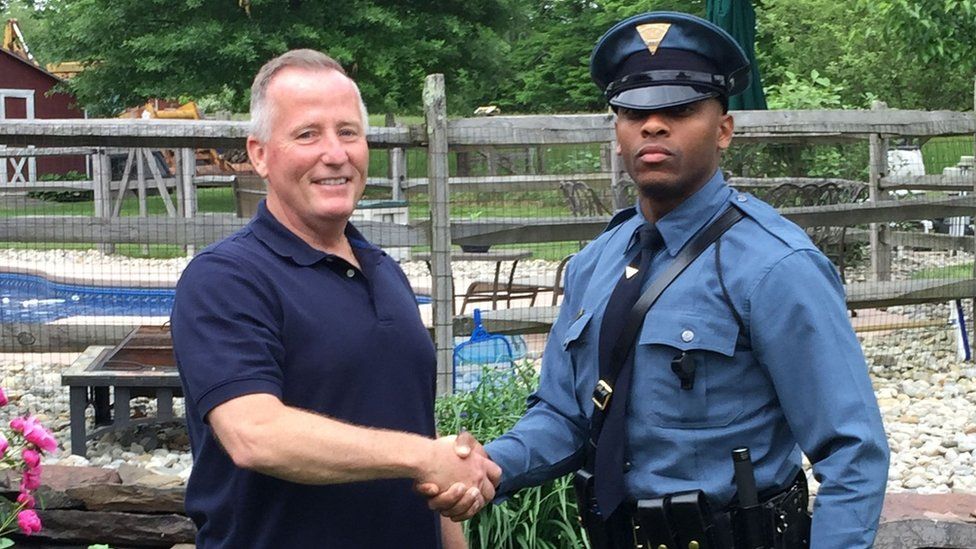 A New Jersey state trooper has been unexpectedly reunited with the former police officer who helped his pregnant mother deliver him 27 years ago.
On Facebook, New Jersey State Police said: "Trooper Michael Patterson stopped Matthew Bailly for a minor motor vehicle violation."
In conversation, Mr Bailly asked Mr Patterson where he was from, and he said he had grown up on Poe Place.
Mr Bailly said he remembered the street as he had helped deliver a baby there.
The experience had stayed with Mr Bailly to the extent that he was able to describe details of the house, and even recalled the baby's name - Michael.
The stunned officer extended his hand and said: "My name is Michael Patterson, sir. Thank you for delivering me."
On October 5 1991, Mr Patterson's mother, Karen, was out shopping when she went into labour. After she had struggled home, her husband phoned a doctor.
Mr Bailly, who had been on the job for four years, was the first to respond to the incident.
And with baby Michael unable to wait any longer, the young officer was guided through the delivery process by the doctor, who was still on the phone line.
On Facebook, 18,000 people have reacted to the post, while thousands of others have "liked" the story on Instagram and Twitter.
Many commented on the post to share their surprise at the story, calling the coincidence "beautiful" and "awesome".
Others described the chance meeting as "meant to be", on Twitter.
One of the best stories I've read in a long long time !!! Made me cry ! That was a "meant to be" moment...no coincidence ! Thx for sharing !!!

— RC&M's Mia (@maof4boysplus1) June 7, 2018
Several people commented on the post with the same burning question - did Mr Patterson issue Mr Bailey a ticket?
New Jersey State Police Department confirmed to the BBC that Mr Bailly had been stopped because of his vehicle's tinted windows.
Mr Bailly was not issued a ticket but was advised to change the glass.
The police department said: "Trooper Patterson, Matthew Bailly, and both of their families were ecstatic about the reunion."
By George Pierpoint, UGC and Social News