Judge temporarily halts deportation of NYC pizza delivery man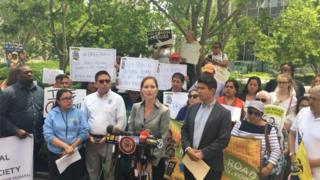 A judge has blocked the deportation of an undocumented immigrant who was detained by immigration officials after delivering pizza to a military base.
Federal judge Alison Nathan granted Pablo Villavicencio, 35, a temporary stay until a hearing on 20 July, but he will remain in custody until then.
Mr Villavicencio was arrested on 1 June at Brooklyn's Fort Hamilton military base after a routine background check.
The father-of-two is married to a US citizen and was awaiting a work visa.
Lawyers working with the Legal Aid Society filed an emergency petition to prevent Mr Villavicencio's deportation.
Gregory Copeland of the Legal Aid Society said in a statement on Saturday they were "disappointed" Mr Villavicencio would remain detained, but called the stay "a victory for him and his family".
"The Court agreed with our argument that Pablo should be afforded a full and fair opportunity to present his case in Federal Court," Mr Copeland said.
"This decision is also a reminder that the judiciary can still serve as a powerful check when other branches of government make hasty, cruel and reckless decisions."
New York governor Andrew Cuomo also sent a letter to the director of the Homeland Security and Customs Enforcement in support of Mr Villavicencio's case.
Gov Cuomo requested that Mr Villavicencio be released from Immigration and Customs Enforcement (ICE) custody.
"Mr Villavicencio's expedited removal serves no legitimate public safety purpose and the circumstances leading to his arrest and detention raise serious legal and policy concerns," he wrote.
"There is absolutely no legitimate reason to proceed with an expedited removal and to do so would be inhumane."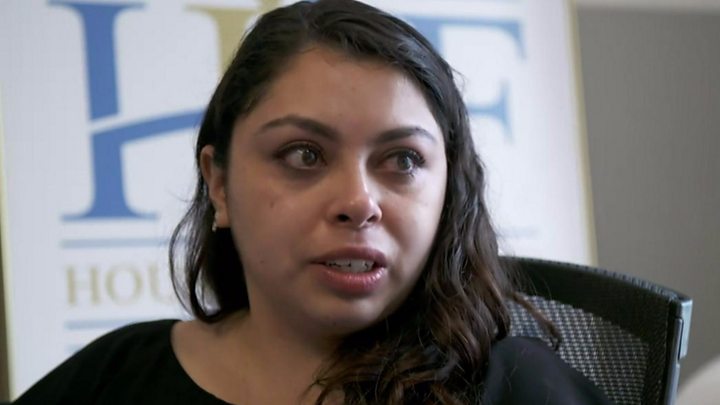 The governor added that the arrest and detention reflected a pattern of "unconscionable" conduct "seemingly targeted directly at New York residents".
New York Mayor Bill de Blasio also shared his support for Mr Villavicencio on Twitter, saying "delivering pizza is not a risk to public safety".
Mr Villavicencio's wife, Sandra Chica, is an American citizen. She said he had been living in the US for nearly 10 years, and has an application pending for a Green Card.
She urged ICE last week to "do the right thing" with her husband, CBS News reported.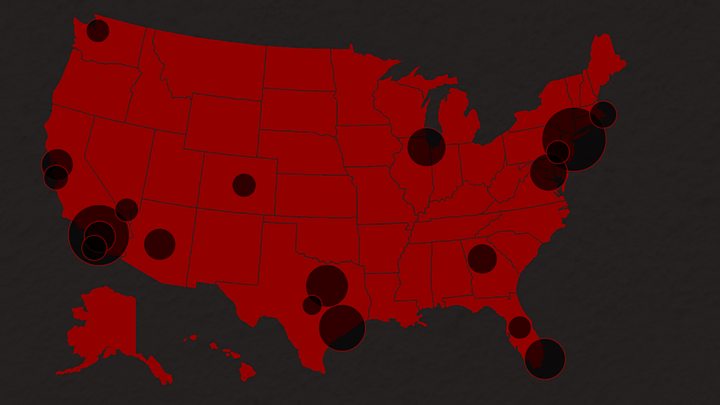 A spokesperson for ICE told US media that Mr Villavicencio had failed to comply with a 2010 deportation order.
When he arrived at the military base to deliver pizza, they requested government identification. He signed a waiver consenting to a background check instead.
The background check showed a warrant for Mr Villavicencio's arrest, and he was detained.
Mr Villavicencio's hearing is scheduled for 20 July at noon.