Social media raises eyebrow at Trudeau - then lowers it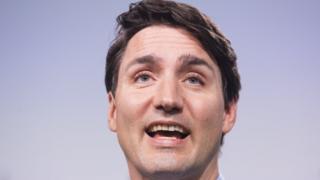 The latest Justin Trudeau meme is not about his love of pandas, his dance moves or his yoga prowess - it is instead about his bushy eyebrows.
A grainy video of the Canada PM taken at the G7 summit prompted online speculation over the weekend as to whether Mr Trudeau wears fake eyebrows.
Internet sleuths quickly debunked the viral conspiracy theory.
"Eyebrow gate" emerged just as US President Donald Trump criticised Mr Trudeau for being "meek and mild".
A satirical Twitter handle titled "Trudeau's eyebrows" was created on 9 June to poke fun at the prime minister and his "fake" eyebrows. Soon, many others on social media were sharing the footage in question.
The rumours even reached the Twitter feed of former Arkansas governor Mike Huckabee, whose daughter Sarah Huckabee Sanders is Mr Trump's press secretary.
The conspiracy theories were circulating at about the same time that Mr Trump posted a string of tweets attacking the Canadian prime minister's personality just hours after leaving the G7 meeting in Quebec.
"[He] acted so meek and mild," Mr Trump wrote. "Very dishonest and weak."
Mr Trudeau has vowed retaliatory action next month over US tariffs on steel and aluminium.
Social media quickly divided into two camps: eyebrow "truthers" and eyebrow "sceptics".
Sceptical internet sleuths investigated, concluding that the poor-quality footage simply highlighted Mr Trudeau's naturally thick and patchy eyebrows.
His office has yet to release a statement regarding the veracity of his eyebrows.