World Cup: Safety fears for gay fans heading to Russia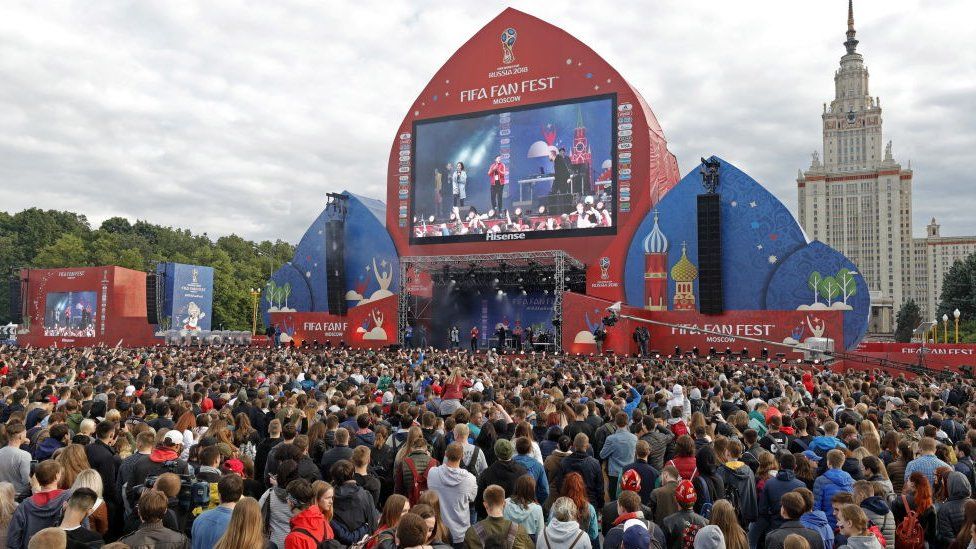 As the 2018 World Cup kicks off in Russia, LGBT football fans are worried about their safety, but as Keph Senett writes, there will be many gay Russian supporters unable to enjoy the party too.
When Joe White first bought tickets to the World Cup, he was excited. The self-described "massive [football] fan since birth" was now old enough and had enough money to attend his first World Cup.
"The decision to go was spontaneous," he says, and full of the excitement of being able to go to what is "the pinnacle of the beautiful game".
White, who supports Arsenal and will be cheering for England during the World Cup, works with the LGBT fans group alliance Pride in Football. He now says "the reality of the situation has hit home".
"I've had growing concerns about my safety, with friends and family both indicating they'd rather I didn't go."
White's not alone in worrying about how Russia may receive LGBT fans. A group of British MPs has warned English LGBT fans may be at risk and a gay rights group has warned against same-sex couples holding hands or showing affection in public.
Five years ago this month, the Russian Duma passed a law that made "propaganda of non-traditional sexual relationships" among minors an offence.
"Russian propaganda feeds Russian audiences with the idea that LGBT persons exist only in the West," says Alexander Agapov, president of the Russian LGBT Sport Federation.
"We should remember that there are LGBT football fans in Russia as well."
The focus on visitors, he says, erases the experience of gay Russians.
Fans and activists were confounded with a similar conundrum during the Winter Olympics in Sochi. How do you support LGBT rights in a country that denies there are LGBT people, much less the abuse of LGBT people? Is it possible to harness the power of major sporting events to have a long term positive effect in host countries?
After Sochi, the International Olympic Committee (IOC) added anti-discrimination language to their host city contract. Similarly, Fifa established human rights policies after a public backlash over the selection of Russia and Qatar as World Cup host cities, but the governing body has yet to clarify how - or if - it will implement those policies.
"If Sochi taught us anything it's that LGBT campaigning can bring about policy change in global organisations. However, campaigning on Sochi affected very little or no change for LGBT Russians," says Lou Englefield, a trustee with Pride House International, an organisation that works to provide safe and welcoming spaces for LGBT fans, athletes and allies at major sporting events.
"It could be argued that the situation of LGBT Russians has worsened since that time with an increase in violent attacks and the targeting of LGBT people by authorities in Chechnya."
For LGBT fans, it's a risky call with potentially catastrophic implications.
"I decided after speaking to several friends that Russia would not be a safe place for me to go," says UK Global Diversity and Inclusion Adviser Adrian Hyyrylainen-Trett.
"Not least because of being very openly gay, but also having a public profile, and for demonstrating against Russian behaviour in Chechnya."
Once on the ground in Russia, foreign LGBT fans will be in a peculiar situation. Officially, they are welcome guests. All foreign visitors have access to special considerations for the duration of the tournament. "By having the fan ID, football supporters do not have to apply for a visa," Agapov says.
But Russian stadia have not been safe places of late. According to a report released by European anti-discrimination campaign group Fare, Russian football has experienced a spike in homophobic incidents this past season. The group has also published a diversity guide for LGBT visitors to learn more about each host city.
And safety can be relative, Agapov says. "It's the same with the anti-gay legislation - special exceptions in terms of a global event. But when the World Cup is over, the anti-gay legislation, persecutions, and public homophobia are still there."
Agapov still encourages LGBT supporters to come to Russia, to be visible in the streets and the stadia.
"If they don't," he warns, "Russian propaganda will use it against the LGBT community, by saying that the buzz in the Western media was only an anti-Russian campaign."
Without visibility, he says, Russian media can continue to claim that there are no LGBT people in football, and no LGBT fans.
Keph Senett is a Canadian nonfiction writer whose passions for travel and football have led her to play the beautiful game on four continents.