Trump immigration: The effects of a raid on one tiny town
By Hugo Bachega
BBC News, Norwalk, Ohio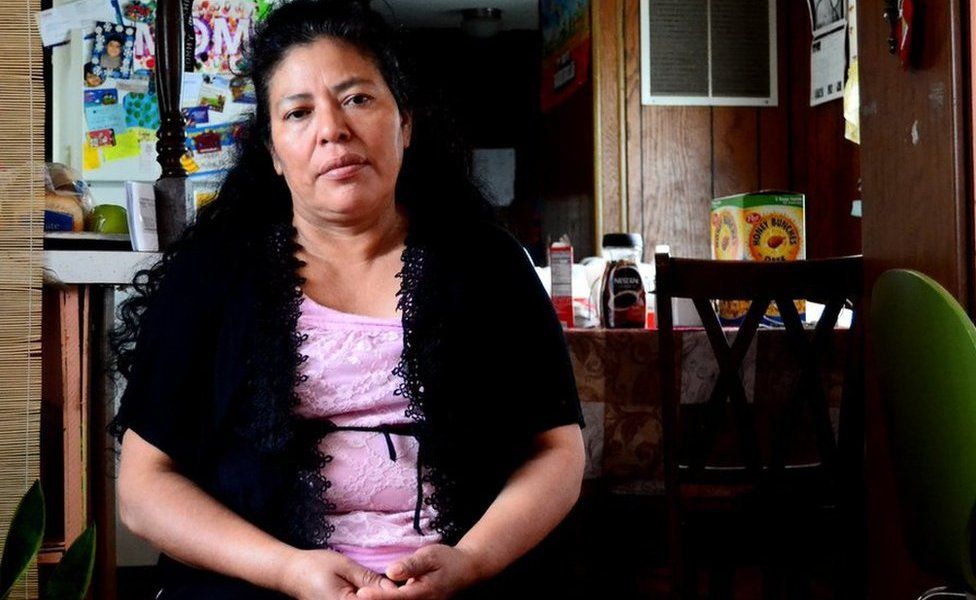 President Donald Trump's hard-line immigration policy at the border with Mexico has made global headlines. But workplace raids in small US towns hundreds of miles away are also having a profound impact on these communities.
That morning, Carmen woke up at around 5:00, as she did most days, to prepare what her 20-year-old daughter would eat at work. She had made her some quesadillas, chicken, eggs, rice and beans, and packed everything with a bottle of water and some fruits.
The light of the day had started to come through the window of the kitchen, where Carmen did her things quietly to not disturb her two sons, one 26, the other 24, who were still asleep. The health of the youngest had deteriorated recently and her life was largely dedicated to taking care of him.
Ten years after crossing the border from Mexico without papers, Carmen, now 46, had finally reunited with three of her children. They had arrived separately over the years and stayed, undocumented, her other girl being the only one still left in their country.
"Take a rest mami," her daughter said as she went down the stairs of the small front porch of the tiny trailer where they lived in this community of migrants in the town of Norwalk, in rural Ohio. They hugged each other warmly, Carmen said "God bless you, I love you" and watched her go.
Carmen felt tired, the spring heat only making it worse, and went back to bed for a nap. Some time before midday her mobile phone rang. She was "having dreams" and ignored it. The person, a friend, called again and again she let it go. When it rang for a third time, she woke up.
"Hermana, your daughter wants to talk to you." But she could not. "Immigration has caught us."
Carmen's daughter had arrived in the US eight months earlier on a visa, now expired, and not gone back. She had found a job at a nearby gardening company, where many of their 300 neighbours also worked. They often left home early, when someone came to pick them up, and only returned when it was already late.
On that 5 June, a little bit after 7:00, some 200 armed federal agents, reportedly joined by helicopters and canine units, carried out a surprise immigration raid. Undercover officers walked in offering to give out doughnuts and, when the workers gathered in a room, they surrounded them and shouted orders.
American citizens were to go to one side and the undocumented migrants to the other. "We wanted to run," Carmen recalled her friend say, "but we couldn't. If we ran to one side, there they were. If we ran to the other side, they were there too. They were everywhere."
There, 114 undocumented workers were arrested. Around 50 lived in the trailer park.
"I don't know what they're going to do with us. We have no work, nowhere to go, no documents. We're scared."
Carmen, whose daughter was arrested
Carmen told her friend, who had also been caught in the raid but was still able to use her phone, to "cheer up, not cry or be sad". She hung up without being able to speak to her daughter, locked the doors and started to pray. "Everyone was afraid. They were saying the officers would come here, because they already had all the information."
The rumours triggered panic. Some of the 64 trailers were left abandoned as residents fled, many to a nearby church where they sought shelter. They then took turns looking after the more than 80 boys and girls, mostly American-born, who, by the estimates of activists, were without their parents.
Two weeks later, many children here were still asking where they were.
Adults often told them there was nothing wrong, "No pasa nada," and that they would return soon. Some, however, would probably be deported and never come back. "They're suffering," Carmen said. "It hurts us all."
Children rarely came outside these days. Where they used to play, there were only abandoned toys. The streets were also empty and nobody seemed to give the once colourful gardens any attention. People carefully checked the windows when someone knocked on their trailers and one had already been put on sale.
The peace they once enjoyed, Carmen said, no longer existed.
Read more on US immigration
With the arrest of her daughter, whose name Carmen did not want to reveal for fear of what could happen, her son's health worsened. He first stopped eating and, five days later, no longer talked. "He got really sad," she said. Ten days after the raid, he threw up and passed out.
When the doctors came to see him, he was already dead. Carmen was left devastated.
"What they're doing is to punish [us]. [We] haven't killed anyone, aren't criminals... Only because [we] aren't from here?" she asked. And cried. "I don't know what they're going to do with us. We have no work, nowhere to go, no documents. We're scared."
Volunteers who came to see her and other relatives were left concerned by the signs of anxiety and depression many of them showed. They often broke down in tears when talking about what could happen to their families or how they were struggling to live - the majority relied on donations and some trailers had already had their electricity cut as residents had not paid the bills.
But they were not surprised. Critics say large-scale workplace raids, part of President Trump's crackdown on illegal immigration, are intentionally designed to terrify those at risk.
In April, the day after 97 workers were arrested at a meatpacking plant in Bean Station, Tennessee, some 530 children missed school. "I cried," a teacher said, "wondering which of my students were without parents".
"Are they going to find Americans to do [those jobs] for the first time in 50 years? Suddenly Americans are going to go back to the fields with a shovel?"
Veronica Dahlberg, executive director of Hola Ohio
Immigration and Customs Enforcement (ICE), a federal agency, said they had investigated Corso's Flower and Garden Center since last October, after the arrest of a woman suspected of selling stolen identity documents to people who were in the country irregularly.
She led them to the company where they found that Social Security numbers being used by some employees belonged to dead people - Corso's denied knowing it, saying it asked for "honest and legitimate" documents from its staff.
Two weeks after the raid, officials searched a large meat supplier in Salem, also in Ohio, and arrested 146 people, the largest workplace raid in a decade. When this happened, a landscaping company in Oberlin, next to Norwalk, told its workers that those without legal status should leave. Some 80 people, including Carmen's neighbours, walked out.
"We live in fear," she said, "we no longer know that if we go out [we won't be] arrested."
Authorities say unlawful employment is one of the key magnets drawing undocumented migrants to the country and reject the criticism, vowing that those who employ them will also be punished.
But as ICE is increasingly seen as the face of hard-line measures - especially after more than 2,300 children were forcibly separated from their parents at the border with Mexico as part of Mr Trump's now abandoned "zero-tolerance" policy - there are growing calls for the 20,000-strong agency created in 2003 to be dismantled.
Carmen and her older son, who was also out of work, moved to a friend's trailer where religious messages decorated the walls. "The Lord is my shepherd" was the one in the living room. "God loves you" read another, in the kitchen. Dios, Carmen said, would protect them all.
Her friend's husband had also been arrested in the raid and she was left with their two teenage sons, one of them autistic, who believed his dad had gone out on a trip. "This region is full of migrant workers," she said. "If they all go, what will happen to the companies?"
Peter Skerry, a professor of Political Science and former Brookings Institute expert, wrote in 2013 that Americans had become dependent on irregular migrants. They were willing to work long hours on short notice being paid lower - often much lower - wages. "Many hire [them] indirectly by relying on subcontractors who assume the risk of skirting the law."
As the economy grows and unemployment falls, many businesses say they are desperate for workers, particularly those who do manual labour. Some sectors complain that restrictions on the number of visas given to foreigners who hold temporary, non-agricultural jobs have left places struggling to fill posts that are unappealing to Americans.
"Businesses can't survive without the labour of undocumented workers," said Veronica Dahlberg, executive director of Hola Ohio, a grassroots Latino group. "Are they going to find Americans to do [those jobs] for the first time in 50 years? Suddenly Americans are going to go back to the fields with a shovel? I don't think so."
A few times a week, Carmen's daughter called her from the detention centre in Battle Creek, in neighbouring Michigan, where she was being held with some of the other women from Corso's. Activists had given some of the money they had raised to those arrested so they could buy phone credits and talk to their families. The conversations were very emotional but gave Carmen, who had not visited her in prison, some relief.
But, she wondered, what next? Any decision for her and her neighbours would not be easy. The current legislation makes it virtually impossible for undocumented people in the US, estimated to be some 11 million, to regularise their situation.
Would they go back to Mexico? Move to a different state? Stay where they were?
"A lot of people think that it's a matter of laziness, that the people aren't interested in legalising their status," said Jessica Ramos, a lawyer at Advocates for Basic Legal Equality, an Ohio-based non-profit firm that was providing legal assistance to some of the families. "It's not the case. Most people don't have a path."
It is a divisive issue. While there is broad support to offering citizenship to young migrants who were brought into the country irregularly, known as Dreamers, conservatives oppose any plan that could pave the way for older people to get their papers too.
"Illegal is illegal," said one resident of the quiet Norwalk, where Mr Trump got twice as many votes as Hillary Clinton in 2016 and not everyone was welcoming to the presence of undocumented migrants in their town of 17,000.
"'Adios'," another said, sarcastically, "it's the law and they're here illegally. I could help the police to kick them out." A small-business owner said: "I'm 'America First' and they shouldn't be here."
"It's not that Norwalk is the problem," said Mayor Rob Duncan, a Republican. "It's the laws that haven't been followed, haven't been corrected and those type of things that need to be taken care of... It's a big problem [and] it's going to take solutions on a national level."
Carmen was still mourning the death of her son, whose funeral had been on the day before. The circumstances that led to his death were not clear and they were still investigating whether he had any previous medical condition unknown to the family or had killed himself. She was trying to send the body to Mexico to be buried but did not know if this was going to be possible.
Her daughter and the others arrested could face criminal charges including identity theft and tax evasion. Several had already been released while some had criminal records and previous deportation orders and were likely to remain in custody.
"I recognise that this is not our place but God knows why we're here," she said. "I pray to God because I know He'll touch Donald Trump's heart."