US jogger throws away homeless man's possessions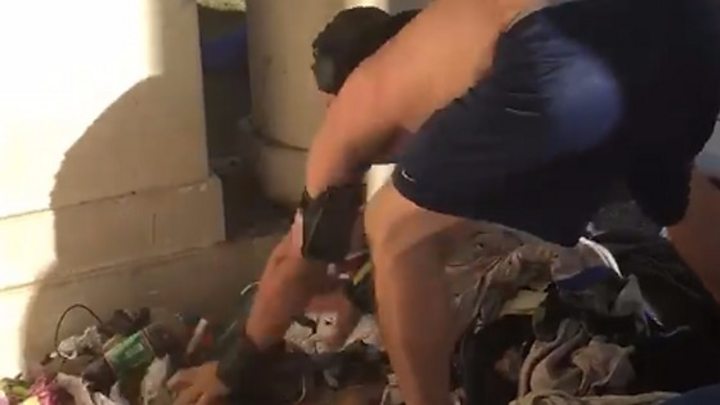 Video of a jogger disposing of a homeless man's belongings in Oakland, California, has been widely shared online.
In the video, a shirtless man is seen rifling through a homeless man's possessions and throwing them away as onlookers remonstrate with him.
Uploaded to Facebook on Saturday, the footage has been viewed more than a quarter of a million times.
A crowd-funding campaign for the homeless man has since raised more than $5,000 (£3,700).
JJ Harris, who filmed the video, said he was just "hanging out" when he "saw someone throwing a large pile of blankets into the lake".
"I didn't know what was going on at first," he said.
"I know a homeless man in that location. He never bothers anybody.
"It didn't make sense why somebody would throw his stuff away. He wasn't even there."
The incident took place at Lake Merritt. In May, widely-shared video of a white woman calling the police about a black family's barbecue, close to the site of the latest incident, saw an explosion of "BBQ Becky" memes shared online.
Kenzie Smith, who was one of the black men barbecuing when the police were called, set up a crowd-funding campaign for the homeless man whose possessions were discarded.
Writing on the GoFundMe crowd-funding website, he said the homeless man was called Drew.
"Like the thousands of other people in the Bay Area without homes, Drew is one of our neighbours," he wrote.
"We're disgusted that someone thought it was OK to treat Drew this way and want to show him through our care that what happened to him is unacceptable.
"It's not OK to destroy someone's things just because they are homeless. Help us show Drew that his community is here for him and that we care."
You might also like:
Mr Harris believes that demographic changes in the area are driving these sorts of incidents.
"It's getting crazy over here with gentrification," he said.
"People who have lived here their whole lives are getting pushed out. There's a lot of change happening rapidly."
He said he has been checking in on the homeless man "every day".
"He has a lot of new stuff," he said.
"People have been stepping up to donate."
By UGC and Social News team