World Cup 2018: Landon Donovan defends support for Mexico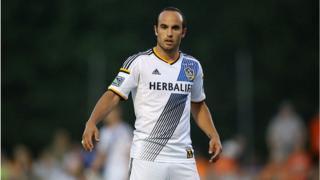 Former US football player Landon Donovan has defended his support of his team's North America rival, Mexico, in an advertisement for the World Cup.
The former USA captain shared an image of himself holding a scarf emblazoned with the words "my other team is Mexico", and tweeted "Vamos Mexico".
But some players were quick to condemn the move, with one saying he'd rather cut off his toe than support Mexico.
The US is not at the World Cup in Russia after it failed to qualify.
Donovan, 35, defended his pro-Mexico stance by citing his upbringing in Southern California playing "futbol" with Mexican teammates.
"My heart bleeds red, white and blue and no one should ever question my allegiance to and support of US soccer and all of its national teams," he said on Twitter on Sunday.
"Since the USMNT sadly is not participating in the 2018 World Cup, I am supportive of our CONCACAF rivals and would like to see them do well."
Donovan also referenced the successful North American bid for the 2026 World Cup in his response, saying that he too supports "building bridges, not barriers" between the countries.
"Not everyone's team is going and that's OK," Donovan said in a promotional video shared on Friday.
"Wells Fargo and I are inviting anyone in need of a team to root for to join us in cheering for the Mexican national team."
The video and subsequent tweets sparked outrage among some of his former teammates.
Herculez Gomez, a former US teammate who is now a commentator, called it "an incredibly terrible take".
Sports journalist Sebastian Salazar said the US-Mexico rivalry was "the defining element" of the sport in North America.
Former US footballer Taylor Twellman said he would "rather cut off [his] toe" than root for Mexico.
But Donovan was not alone in his support for Mexico.
Some fans on Twitter agreed with supporting Mexico in the World Cup since the US did not qualify.
In addition to playing for the US national football team, Donovan played for the Los Angeles Galaxy for most of his career.
He signed this spring with Club Leon in Mexico's football league, Liga MX.