West Point graduate who wore Che Guevara T-shirt discharged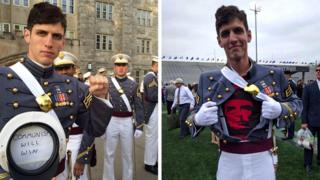 A West Point cadet who wore a Che Guevara T-shirt to his graduation has been drummed out of the US military.
Spenser Rapone, 26, quit on Monday with an other-than-honourable discharge over his "unbecoming" conduct at the famed military academy in New York state.
The military began investigating Mr Rapone after he shared pro-communist photos taken during his graduation.
He will probably never be allowed to re-enlist or receive veteran's benefits.
Following his discharge, an unapologetic Mr Rapone shared a photo of himself making an obscene gesture towards a Fort Drum entrance sign, captioned, "one final salute".
Mr Rapone had been commissioned as a second lieutenant in the 10th Mountain Division.
Last October, he tweeted several controversial photos of himself at his May 2016 West Point graduation.
In one, he showed the words "communism will win" written on his cap.
In another, he revealed under his uniform a T-shirt of Argentine Marxist revolutionary Che Guevara.
You may also be interested in:
Mr Rapone was quickly dubbed the "commie cadet". His photos sparked outrage in the military and an official investigation into his social media.
His Twitter feed is chock-full of communist memes and quotes, as well as disparaging remarks about US officials.
On Tuesday, the army said its investigation had concluded.
"Due to privacy act restrictions, we are limited in what information we can provide," spokeswoman Lt Col Nina Hill told reporters.
"We can confirm, however, that the Army conducted a full investigation and that appropriate action was taken."
In an interview with the Press, the 26-year-old communist said he considered himself "a revolutionary socialist".
Mr Rapone is scheduled to speak at the Socialism 2018 conference in Chicago next month.