New Jersey school sued over bullied girl's suicide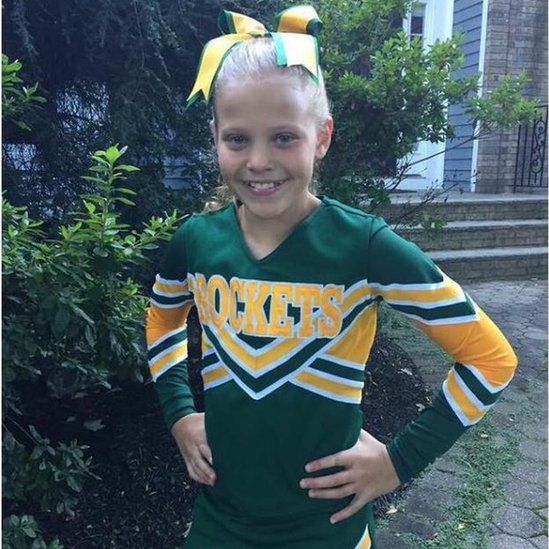 The parents of a 12-year-old girl who took her own life are suing the school district in the US state of New Jersey, saying it failed to prevent bullying.
Dianne and Seth Grossman say the school ignored repeated complaints that their daughter was being targeted.
The legal action says Mallory was sent text and Snapchat messages calling her a "loser", making fun of her looks, and prompting her to end her life.
Rockaway Township school district declined to comment on the lawsuit.
Filed on Tuesday, nearly a year after Mallory's death on 14 June 2017, the lawsuit accuses Copeland Middle School of failing to take significant action to prevent bullying.
It alleges that the school's response was to force Mallory to hug one of her alleged bullies, in lieu of disciplinary action, and accuses the school district of discouraging her parents from making a formal complaint.
Administrators also suggested she avoid her harassers by eating in an office instead of the lunchroom, the lawsuit alleges.
The school district issued a statement in August of last year saying "the allegation that the Rockaway Township School District ignored the Grossman family and failed to address bullying in general, is categorically false".
The statement also said that school officials had been directed not to comment further on the case.
Speaking at a news conference on Tuesday, the Grossmans' attorney, Bruce Nagel, said complaints to the school had been "terribly ignored" and called smart phones "a lethal weapon in the hands of the wrong child".
"We are hopeful that the filing of this lawsuit will bring national awareness to the epidemic of cyber-bullying and that we do not have to attend any more funerals of students who have been the victims," Mr Nagel said.
Mrs Grossman told News 12 she wanted the school to "care less about test scores and care about the emotional intelligence" of children.
"Instead of removing Mallory from choir class," she said, "I wanted the girls that were tapping her chair every other day and calling her a [expletive] - I wanted those children removed from class. Not Mallory."
The lawsuit is the first cyber-bullying suicide case filed in New Jersey. The families of the group of girls accused of bullying Mallory have been notified that they could face legal action, Mr Nagel said.
School personnel and the township as a whole were also named in the lawsuit for failing to ensure children's safety in a local school.
From Canada or US: If you're in an emergency, please call 911
You can contact the US National Suicide Prevention Lifeline on 1-800-273-8255 or the Crisis Test Line by texting HOME to 741741
In Canada, young people in need of help can call Kids Help Phone on 1-800-668-6868
If you are in the UK, you can call the Samaritans on 116123