'Comments about our daughter have brought us to tears'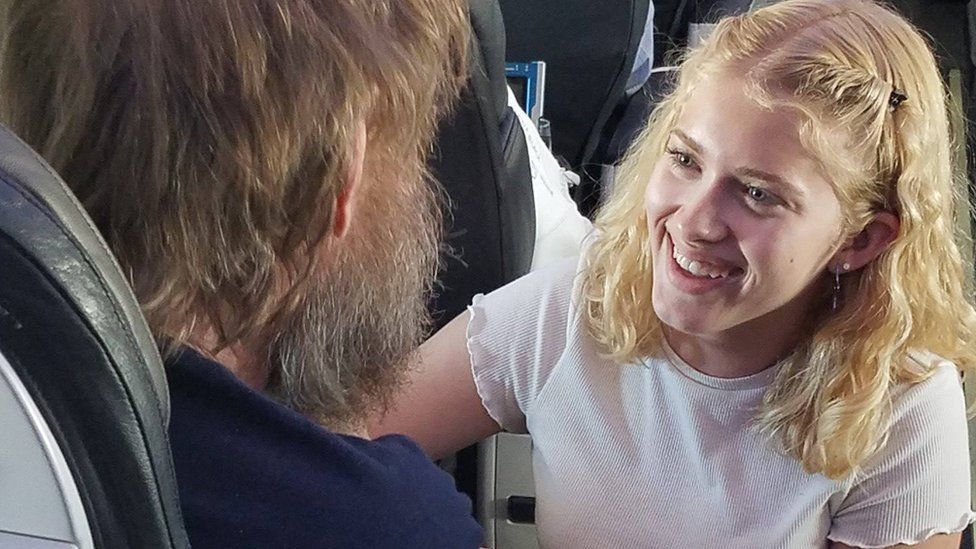 It was chance that brought Clara Daly and Tim Cook together. It was an act of kindness that brought their story to the attention of millions.
They found themselves on the same flight to Portland, Oregon - Clara, 15, with her mother, Tim, 64, alone.
Tim is deaf and blind, so airline staff - unable to communicate with him - made an announcement asking if any passengers knew sign language.
That's when Clara, who has been learning American Sign Language (ASL) for a year, came forward.
The teenager spelled out words using ASL onto the palms of Tim's hands, allowing him to feel the letters.
In a Facebook post, fellow passenger Lynette Scriber explained: "It was fascinating to watch as she signed one letter at a time into his hand.
"He was able to 'read' her signing and they carried on an animated conversation."
Ms Scriber's post has received more than a million positive reactions and has been shared more than 700,000 times.
Clara's willingness to help has moved many online. About 90,000 people have commented on the post to applaud the "beautiful" story.
Ms Scriber wrote that the incident was a reminder "that there are still good, good people who are willing to look out for each other".
Jane Daly, Clara's mother, told the BBC: "Clara has always been intrigued by sign language.
"We have a family friend, Jon, who is a sign language interpreter and he was a big inspiration.
"Clara was so happy to be able to help Tim. I could see the joy in her face every time she came back to her seat after helping him."
Jane continued: "The reaction to the story has been overwhelmingly positive.
"Clara says it's strange that something she wouldn't think twice about doing has got so much attention.
"Often when stories are posted, comments can turn negative quickly and we are not seeing that here.
"It has been amazing to see all the comments about our daughter and they have often brought us to tears.
"What Clara did on that plane is just what she would have always done.
"She has an amazingly big heart and Bill and I feel blessed to be her parents."
Jane wrote on Facebook: "Clara told me that she thought it was meant to be that our original flight was cancelled and we were placed on this flight so that she could be there to help this man."
One cabin crew member who witnessed the interaction commented that "Clara was amazing".
They continued: "You could tell Tim was very excited to have someone he could speak to and she was such an angel."