Ottawa Bluesfest preparations obstructed by nesting bird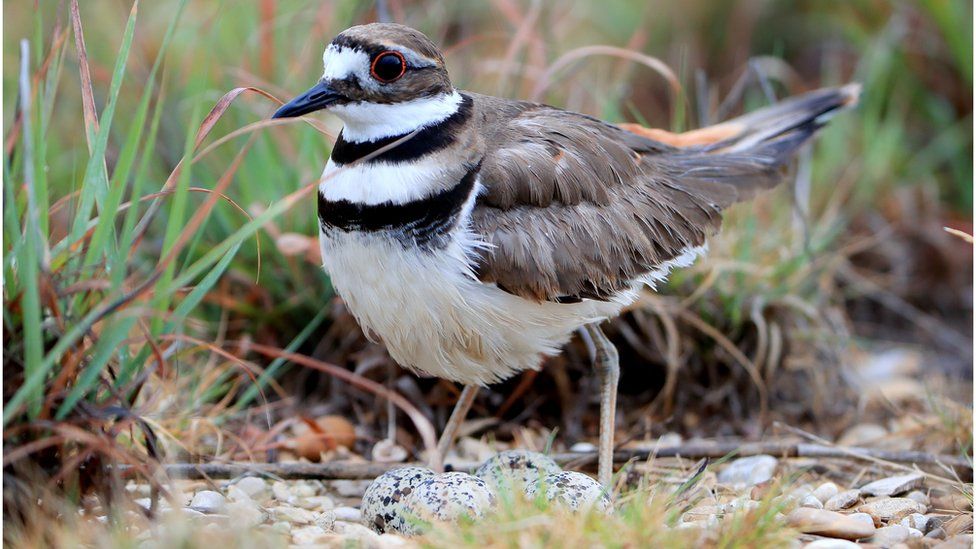 A major Canadian music festival faced an unexpected, tiny hurdle: a nesting bird who picked the site of the main stage to lay her eggs.
A killdeer and her four eggs has delayed the Ottawa Bluesfest from setting up for its 5 July opening.
Construction of the festival's main stage was scheduled to begin on Tuesday.
The bird and her eventual brood could not be moved without the approval of the Canadian federal government.
That authorising permit was received by festival organisers on Tuesday afternoon, on condition they would bring in an outside expert to help them move the nest.
The eggs will be moved incrementally towards a protected spot that will be behind the main stage once it has been built.
It will be in a protected area near where festival performers have their trailers that "even the artists can't get into", said Joe Reilly, who does media relations for the festival.
If the killdeer mother does abandon the eggs, they will be collected and incubated at another site.
Mr Reilly said it's been "a bit of a challenge" trying to balance being environmentally conscious with putting on a music concert.
The festival set-up is at least 12 hours behind schedule.
The Ottawa Bluesfest attracts tens of thousands of music lovers from across North America each year. This year's line-up includes Beck, Bryan Adams, and the Dave Matthews Band.
Killdeer are not endangered birds but are a federally-protected migratory species in both the US and Canada.
The small plover and her eggs are being protected by security tape and guards who watch over her and her family day and night.
Killdeer can be frequently found nesting in human-modified habitats and in areas with little vegetation cover.