US college quarterback 'had brain disorder' before suicide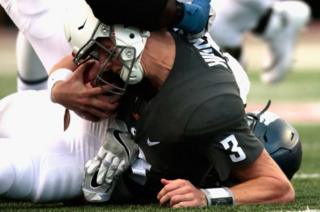 A star American university football player suffered from a traumatic brain disorder before he took his own life in January, his parents say.
Tyler Hilinski was 21 years old when he died. Police say his suicide note did not give any reason for his decision.
In a new documentary his parents describe learning through testing that their son suffered from chronic traumatic encephalopathy (CTE).
The traumatic brain disease has been linked to head trauma and concussions.
Mark and Kym Hilinski told Sports Illustrated in a new documentary, chronicling Tyler's death and the aftermath, that researchers at the Mayo Clinic offered to examine their son's brain.
His mother said that the decision to send his brain to the esteemed medical institution was very difficult for them.
"I remember being kind of numb because you don't think your son is going to die, you certainly don't think he is going to kill himself, and you don't think you have to give his brain to the Mayo Clinic for [a post-mortem medical examination]," she told Sports Illustrated.
In an interview on Tuesday, Mark Hilinski told NBC News that he and his wife welcomed the scientific findings, because "we wanted to know everything we could and find out anything we could".
Kym Hilinski added: "It was a shock to get those results... and to realise that the sport that he loved may have contributed to that diagnosis."
"The medical examiner said he had the brain of a 65-year-old," Mr Hilinski added. "He was the sweetest, most outgoing, giving kid. That was difficult to hear."
Tyler Hilinski had been tapped to be the Washington State University Cougars' starting quarterback before his death.
Police discovered his body beside a rifle and a suicide note in January.
A preliminary post-mortem examination found that he had not taken any drugs or alcohol before his death.
His parents say that they never detected any symptoms of CTE, which includes irritability, aggression, difficulty speaking and suicidal tendencies.
"He was goofy and funny, and hilarious half the time, but we didn't see it at all," his father said. "It happened on our watch, so we don't give ourselves much of a break."
"Did football kill Tyler? I don't think so," his mother told the filmmakers.
"Did he get CTE from football? Probably.
"Was that the only thing that contributed to his death? I don't know."
---
Where to get help
From Canada or US: If you're in an emergency, please call 911. If you or someone you know is suffering with mental-health issues, call Kids Help Phone at 1-800-668-6868 . If you're in the US, you can text HOME to 741741
For Health Canada's First Nations and Inuit Hope for Wellness Helpline, call 1-855-242-3310
From UK: Call Samaritans on 116123 or Childline on 0800 1111
---
More on suicide in American football