NSA contractor Reality Winner admits leak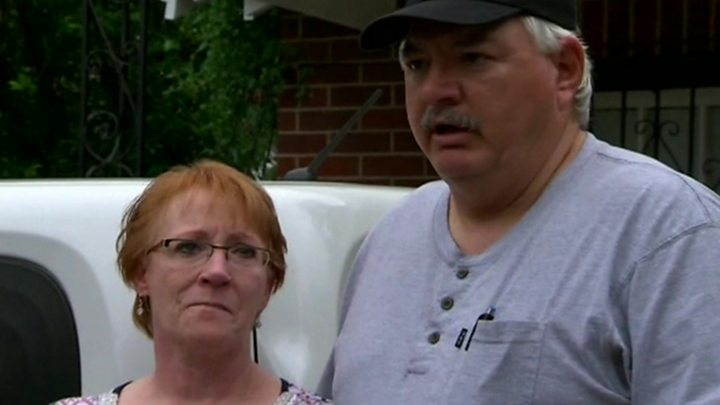 A former National Security Agency (NSA) contractor has admitted leaking top-secret information to a media outlet.
Reality Winner pleaded guilty to charges of unlawful retention and dissemination of national defence information.
The 26-year-old, who signed a deal with prosecutors on 19 June, faces more than five years in prison.
She was arrested last year for leaking a report on alleged Russian meddling in the 2016 election.
"I misused my clearance to print out the report," Winner said during her hearing on Tuesday in Augusta, Georgia, Fox News reported.
"I did so of my own free will."
Prosecutors have recommended she serve 63 months in jail and three years of supervised release.
Her sentencing date has not yet been set.
Winner's mother, Billie Winner-Davis, told the New York Times prosecutors "wanted to make an example out of" her.
But following the hearing, she told reporters she hoped the public would view her daughter as a "good person".
Winner's plea is the latest leak-related case this month.
Former Senate Intelligence Committee staffer James Wolfe was arrested earlier in June on charges of lying to the FBI.
Winner was arrested on 3 June 2017 for removing classified material from a federal site in the state of Georgia. She has been held at the Lincoln County Jail in Georgia since then.
At a hearing last year, prosecutor Jennifer Solari said Winner was "mad about some things she had seen in the media, and she wanted to set the facts right", according to the Times.
The Department of Justice suspects she leaked the documents to the Intercept, an online news outlet.
Winner's charges were announced shortly after the Intercept published an NSA briefing about alleged Russian election interference.
The Intercept reportedly sent a scan of the leaked file to the US government while trying to check its authenticity.
Computer security experts have said microdots on the scan of the printout would have revealed to investigators the printer serial number and the date and time it was printed.
Winner was prosecuted under the Espionage Act - a law criminalising any unauthorised disclosure of national security secrets.
She was a contractor with Pluribus International Corporation and had been employed at an NSA facility in Georgia since February 2017.
Winner was vocal in her opposition to President Trump on social media, using the hashtag #NeverMyPresident in one post and an expletive in reference to his plans for a border wall.
What did the leaked documents allege?
The Intercept's leaked document alleged that Moscow's military intelligence services had attempted cyber-attacks on at least one US voting software supplier days before the 2016 US presidential election.
It also accused the Russians of sending spear-phishing emails to more than 100 local election officials.
However, there was no suggestion in the document that the hackers were successful.
The files were apparently marked for declassification not before May 2042.