Flamingo that escaped a zoo in 2005 spotted in Texas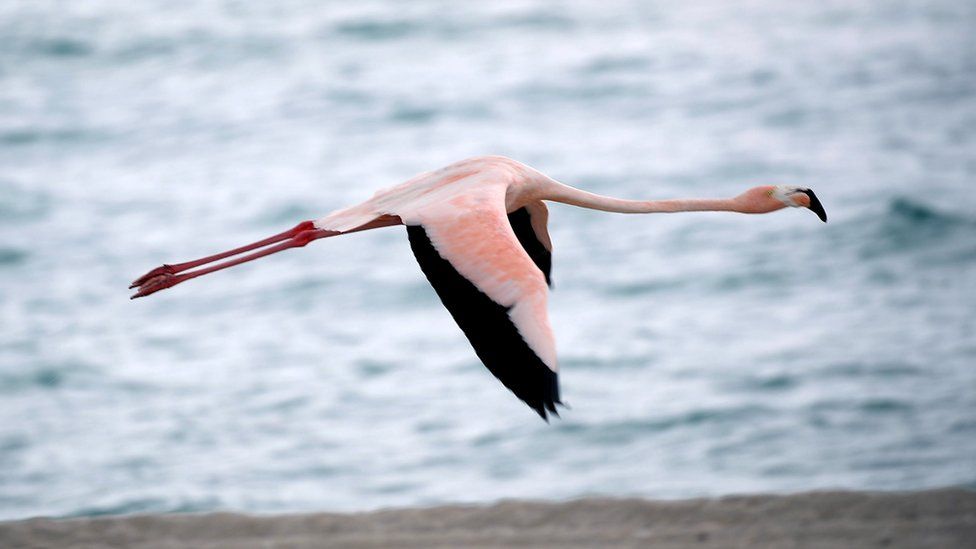 A fugitive flamingo that escaped a Kansas zoo over a decade ago has been spotted in Texas.
The bird, tagged as number 492, fled the Sedgwick County Zoo in Wichita, Kansas, in 2005.
But a summer intern at the Texas Parks and Wildlife Department reportedly caught sight of the escapee in Lavaca Bay on the state's coastline.
Since 492 flew the coop, it has reportedly been seen in Arkansas, Louisiana and even Wisconsin.
Flamingos are not native to the US, appearing only occasionally in Florida thousands of miles away.
Escaped zoo flamingo, on the lam since 2005, spotted near Lavaca Bay by our Coastal crew.

The African Flamingo made its break from a Kansas zoo after keepers failed to clip its wings, and has been spotted in several states since. pic.twitter.com/zsoYBf48Aa

— TX Parks & Wildlife (@TPWDnews) June 25, 2018
The flamingo moved to South Africa before being shipped to the US as one of 40 sent to Kansas in 2003, where a flamingo exhibit opened to the public the following year.
You may also be interested in:
Instead, the zoo cut the birds' feathers, a procedure likened to "getting a haircut" but one which keepers would need to do often to prevent any escapes.
However, in June 2005 flamingo 492 and an accomplice, tagged as number 347, made their escape from the zoo after staff left the time between clippings too long.
Although the pair initially stayed in the Wichita area, a month later on 4 July - perhaps fittingly, Independence Day - the two fled for good after a bad thunderstorm.
While 347 is thought to have died, flamingo 492 has reportedly been spotted in the same area with a Caribbean flamingo companion.
Birdwatcher Neal Hayward reportedly saw the Yucatan-born bird, with a leg tag reading HDNT, associating with the Kansas runaway near Lavaca Bay in 2013.
Flamingo 492 is believed to be about 23 years old, according to a news report by CBS News affiliate KEYE. Flamingos in the wild can live up to about 40 years of age, so the bird could well be seen in the area for years to come.