Annapolis shooting: How journalists tweeted their ordeal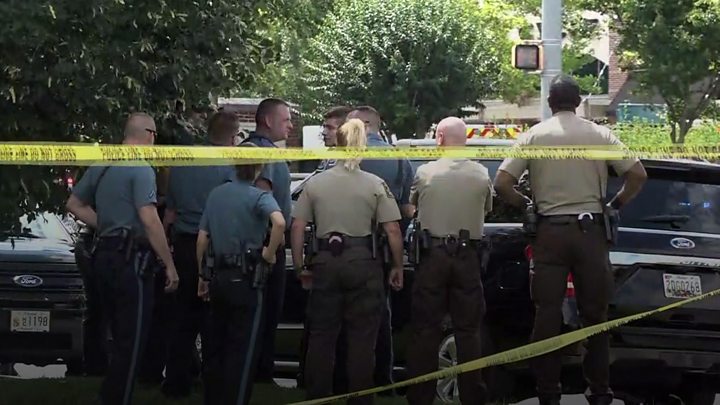 Five people were killed at a shooting at the office of the Capital Gazette, a local newspaper group in Annapolis, Maryland on Thursday. Tweets by journalists at the scene described a terrifying ordeal. A white male suspect in his late 30s was taken into custody by police and is being questioned.
Anthony Messenger, an intern with the Capital Gazette, tweeted moments after the incident began. A colleague of his later confirmed that he was safe.
Phil Davis, a crime reporter, was in the building at the time of the shooting. He told The Baltimore Sun it "was like a war zone" and that he and his colleagues hid under their desks from a lone male gunman.
He tweeted what that felt like as he waited to be interviewed by police.
Mr Davis told the Baltimore Sun: "I'm a police reporter. I write about this stuff - not necessarily to this extent, but shootings and death - all the time.
"But as much as I'm going to try to articulate how traumatising it is to be hiding under your desk, you don't know until you're there and you feel helpless."
He said that he and others remained hidden under the desks when the shooter stopped firing. Police arrived within a minute, local officials said, and surrounded the gunman.
Reporters then began tweeting about their safety, and the welfare of their colleagues.
A photojournalist, Joshua McKerrow, posted pictures of the police response to Twitter. He later said he was "heartbroken".
Police said they safely evacuated 170 people from the building, which housed 30 other businesses.
The editor of the Capital Gazette website, Jimmy DeButts, said he was devastated. He also paid tribute to the newspaper's journalists, saying: "The reporters & editors put their all into finding the truth. That is our mission. Will always be."
Despite the tragedy, surviving staff did not appear to be cowed, saying they would put out a Friday edition.
They posted individual articles paying tribute to each of their colleagues who were shot dead.
They got their Friday edition out and published in time, leading on the tragedy and the newspaper's loss.