Capital Gazette shooting: Staff publish Friday edition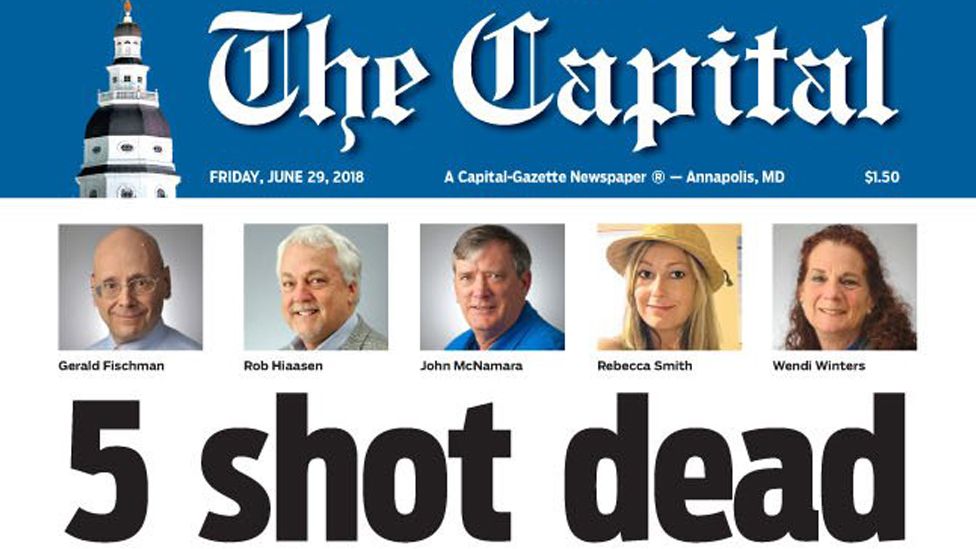 Staff at a Maryland newspaper have published a Friday edition after a gunman killed five people and injured two more at the paper's office.
"We are putting out a damn paper tomorrow," tweeted Chase Cook, a Capital Gazette reporter. Staff worked in the car park to get the paper out.
The gunman, who fired through a glass door into the newsroom on Thursday with a shotgun, was arrested afterwards.
He has been charged with murder and has a bail hearing shortly.
The suspect is reported to have unsuccessfully sued the newspaper group in 2012 for defamation.
The paper tweeted the front page of their Friday paper as well as obituaries of their colleagues.
How did the attack happen?
First reports of the shooting came at 14:40 local time (18:40 GMT) on Thursday.
Journalists inside the building posted on social media as the gunman fired through the glass door of the office with a shotgun and shot at staff inside.
An intern at the paper, Anthony Messenger, tweeted as the attacker opened fire.
Active shooter 888 Bestgate please help us

— Anthony Messenger (@amesscapgaz) June 28, 2018
Fellow staff member Selene San Felice told CNN her first reaction to the shooting had been to lie down under her desk. She tried to get out through a rear door but it was locked.
Crime reporter Phil Davis was also in the building and told The Baltimore Sun - part of the same media group as the Gazette - that he and his colleagues had hidden under their desks.
"I don't know why he stopped [shooting]," he told the paper.
He described the scene as "like a war zone" and tweeted about his experiences as he waited to be interviewed by police.
There is nothing more terrifying than hearing multiple people get shot while you're under your desk and then hear the gunman reload

— Phil Davis (@PhilDavis_CG) June 28, 2018
Gunman shot through the glass door to the office and opened fire on multiple employees. Can't say much more and don't want to declare anyone dead, but it's bad.

— Phil Davis (@PhilDavis_CG) June 28, 2018
County executive Steve Schuh told CNN the suspect had been hiding under a desk in the building when police officers arrived "within 60 seconds" of receiving news of the incident. There was "no exchange of fire", he added.
"This was a targeted attack on the Capital Gazette," said William Krampf, deputy chief of Anne Arundel County Police. He added that the gunman had "entered the building with a shotgun and looked for his victims as he walked through the lower level".
Speaking to reporters, Mr Krampf said an item "we believed to be an explosive device" had been found at the premises and destroyed. It turned out to be a smoke bomb, he said
Police say they safely evacuated 170 people from the building, which housed 30 other businesses.
The authorities have named the dead as:
Wendi Winters, 65, editor and community reporter
Rebecca Smith, 34, sales assistant
Robert Hiaasen, 59, assistant editor and columnist
Gerald Fischman, 61, editorial writer
John McNamara, 56, reporter and editor
Read more about US gun violence
The Gazette reportedly wrote an article in 2011 about a woman who said Jarrod Ramos was stalking her, and he failed in his attempts to sue the paper for defamation the following year.
Police did not ascribe any motive after arresting him following Thursday's attack.
Ramos is scheduled for a bail hearing on Friday morning in Annapolis.
What reaction was there to the attack?
Federal agencies, including the FBI and the Bureau of Alcohol, Tobacco, Firearms and Explosives, were involved in the response to the attack.
Maryland governor Larry Hogan said on Twitter he was "absolutely devastated" and was in contact with authorities.
President Donald Trump tweeted that his "thoughts and prayers" were with the victims and their families.
White House Press Secretary Sarah Sanders later condemned the attack on "innocent journalists doing their job".
Strongly condemn the evil act of senseless violence in Annapolis, MD. A violent attack on innocent journalists doing their job is an attack on every American. Our prayers are with the victims and their friends and families.

— Sarah Sanders (@PressSec) June 28, 2018
The New York City Police Department (NYPD) said it had deployed counterterrorism teams to media organisations in and around New York City as a precaution.
"If this is an attack on journalism it is a sad state of affairs," he said. "Because journalists, you don't get paid enough to put your life on the line, we're not in some war zone, we're not in some third-world country with a dictator."
Democratic senator Chris Van Hollen responded to a Gazette reporter on Twitter.
Phil, I can't imagine what you and the entire Capital Gazette team are going through right now. Journalists shouldn't have to fend off bullets in the newsroom while doing their jobs—this is not normal. Stay strong. https://t.co/hchUMIaMN1

— Chris Van Hollen (@ChrisVanHollen) June 28, 2018
Writer and alt-right figure Milo Yiannopoulos has faced criticism online for writing that he "can't wait for the vigilante squads to start gunning journalists down".