Supreme Court: Trump to name nominee on 9 July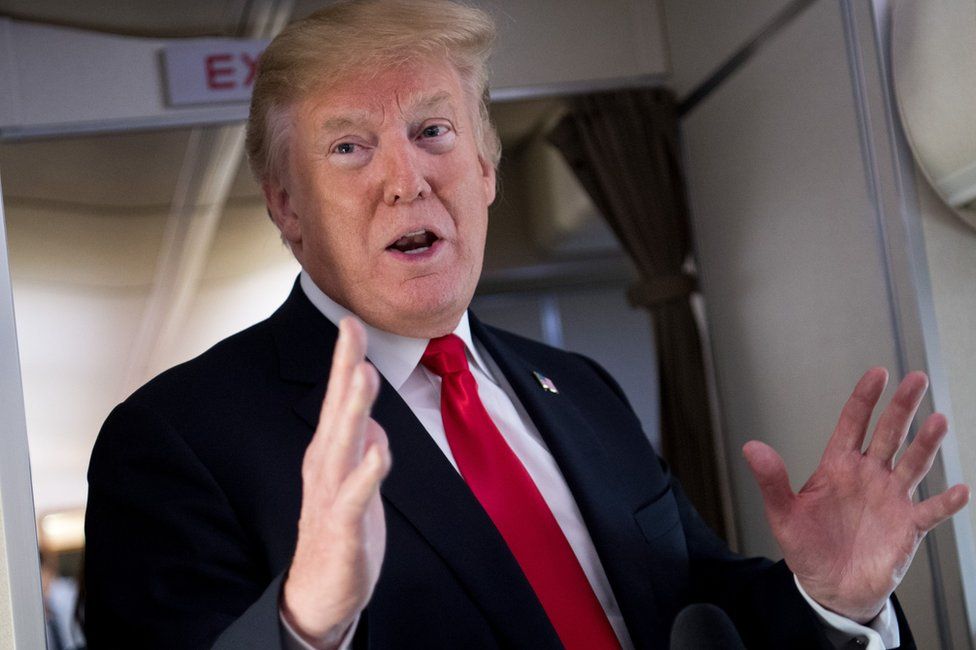 US President Donald Trump says he plans to announce his nominee for a new Supreme Court judge on 9 July.
He told reporters on board the presidential aircraft Air Force One he had narrowed the choice down to "about five" candidates, including two women.
The vacancy arose when Justice Anthony Kennedy announced his retirement earlier this week.
It gives President Trump the opportunity to solidify a conservative majority on the top court.
His nominee will need to be confirmed by the Senate where the president's Republican Party holds a narrow majority.
The BBC is not responsible for the content of external sites.
Skip twitter post by Donald J. Trump
Allow Twitter content?
This article contains content provided by Twitter. We ask for your permission before anything is loaded, as they may be using cookies and other technologies. You may want to read Twitter's cookie policy, external and privacy policy, external before accepting. To view this content choose 'accept and continue'.
The BBC is not responsible for the content of external sites.
End of twitter post by Donald J. Trump
In other comments to reporters on Friday, Mr Trump:
Said he would discuss allegations of election tampering when he met Russian President Vladimir Putin in Helsinki next month
Called on Germany and other European nations to spend more on Nato, adding: "The United States is paying much more, disproportionately to anyone else"
Said the World Trade Organization (WTO) had treated the US "very badly" but insisted he was "not talking about pulling out"
Speaking on a flight from Washington to New Jersey on Friday, President Trump said he would not ask Supreme Court candidates about their position on the landmark 1973 Roe v Wade decision which legalised abortion across the US.
During his campaign, Mr Trump promised to deliver "pro-life" judges to the Supreme Court - a prospect that has alarmed women's rights groups.
"I've got it narrowed to about five [candidates]," he told reporters, adding: "I like them all."
Mr Trump said he planned to interview one or two of the candidates over the weekend while staying at his golf club in Bedminster.
Justice Kennedy, 81, is the second-oldest justice on the nine-member US Supreme Court.
The court plays a key role in US society and is often the final word on highly contentious laws, disputes between states and the federal government, and final appeals to stay executions.
In recent years it has expanded gay marriage to all 50 states, stopped President Barack Obama's immigration orders and delayed a US plan to cut carbon emissions while appeals went forward.
Although a conservative, Justice Kennedy has sided with liberals on previous decisions, including the 5-4 rulings that decided same-sex marriage and upheld abortion rights.
US media have reported several front-runners who could replace him:
Brett Kavanaugh, who is at the top of most lists, is an appeals court judge in Washington DC and was a former clerk to Justice Kennedy
Amul Thapar, a Kentucky judge handpicked by Senate Majority Leader Mitch McConnell, and Amy Comey Barrett, a former professor at Catholic university Notre Dame, are both likely nominees
Raymond Kethledge, a judge on the 6th US Circuit Court of Appeals and also a former clerk to Justice Kennedy, is another possible contender.
In other remarks to reporters, President Trump said he would raise the issue of alleged Russian election meddling when he met President Putin in Finland on 16 July.
"We'll be talking about elections... we don't want anybody tampering with elections," he said.
US intelligence agencies have concluded that Russia tried to sway the 2016 US election in Mr Trump's favour, a claim the Kremlin has consistently denied.
Russia's annexation of Crimea from Ukraine in 2014, which led to US and EU sanctions, and the war in Syria, would also be discussed, Mr Trump confirmed.
He refused to rule out accepting the annexation when he met Mr Putin, saying: "We're going to have to see."
When asked whether US sanctions on Russia might be lifted, he said: "We'll see what Russia does."