If Roe v Wade is overturned, will abortion become illegal in the US?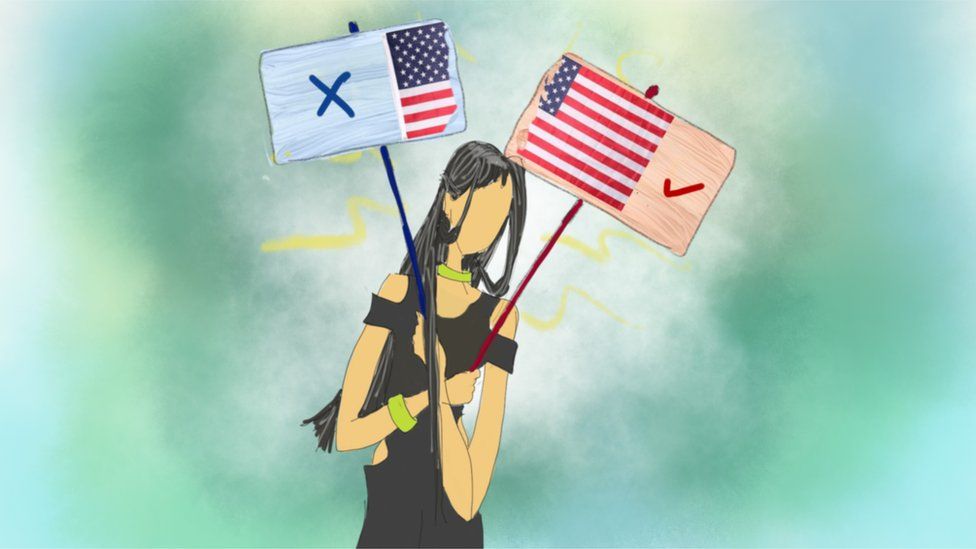 Could abortion in the US become illegal?
That's the question being typed into search engines across the world, as people wait to see who President Donald Trump announces as his nomination for the US Supreme Court.
He's previously promised to appoint a "pro-life" judge.
Since Justice Anthony Kennedy announced his retirement, questions have been raised over whether his replacement will overturn Roe v Wade.
That landmark Supreme Court ruling legalised abortion across the US in 1973.
Because Roe v Wade was a Supreme Court ruling, it governs the whole of the US as a nation.
However, each of the 50 states also employs its own rules and practices when it comes to providing women with the option to terminate a pregnancy.
At the moment, these rules can't contradict the precedent that was set by Roe v Wade - that a woman has a right to terminate her pregnancy under the freedom of personal choice in family matters, as protected by the 14th Amendment of the US Constitution.
In the absence of Roe v Wade, a woman's access to abortion would be affected by the state she lives in.
Ultimately, in most - but not all - states, a ban is unlikely come into immediate effect.
"In nine states (including the District of Columbia), the right to abortion is at risk of loss, and in 19 states, the right to abortion appears secure," it says.
Using a selection of states as examples, this is how the Supreme Court's future approach to Roe v Wade could affect women living across the US.
This is because it is one of four states to have so-called "trigger laws" already in place. These are laws which lie in wait, only coming into effect after another law or ruling is amended or overturned.
Louisiana has an abortion ban that will spring into action "the instant or soon after Roe is overturned", according to the Center for Reproductive Rights.
"This ban would not require any legal action to go into effect if Roe were reversed."
Limited exceptions would be made, for example, to save the life of the mother, but in all other cases doctors could face up to 10 years in prison and a fine of $100,000 for providing an abortion.
The other states with similar "trigger laws" are North Dakota, South Dakota and Mississippi.
Commentators have pointed out that abortion rights have already been rolled back in many states, and more restrictive state laws have made accessing a legal termination more difficult.
In 2017, 19 states passed 63 abortion restrictions.
Twenty-nine states now have enough restrictions to be considered hostile to abortion rights by the research group Guttmacher Institute.
Nationwide, the number of clinics has plunged in the last decade. Seven states are now down to just one.
Meanwhile, opponents of abortion protest outside of clinics, trying to persuade patients seeking an abortion not to go through with the procedure.
One such demonstrator, Chris Davis, previously told the BBC: "The abortion debate is becoming prominent because there is no more important issue in life than life itself."
Mr Davis, a father of three who defines himself as a "strong Christian", takes part in vigils in Louisiana.
"What we focus on is not necessarily overturning Roe v Wade overnight," he said.
"With every woman that changes her mind after talking to us or seeing us pray, Roe v Wade is overturned in a grassroots effort. One woman, one baby at a time".
Elsewhere, reports of intimidation tactics and threats have escalated, according to the National Abortion Federation (NAF), a professional association for abortion doctors that has been compiling statistics since 1977.
Threats of violence or death almost doubled at clinics in 2017 while trespassing cases more than tripled from a year earlier.
At the opposite end of the scale is California, where inhabitants are deemed to have the least risk of losing abortion access in the event of Roe v Wade being overturned, according to the Center for Reproductive Rights.
Here, abortion is protected by the state constitution, separately from federal constitutional rights.
"Abortion would continue to be protected in these states even if Roe fell," the Center says.
Montana, Minnesota, Massachusetts, New Jersey, New Mexico, Alaska and Florida have similar protections.
In addition, California has passed laws which strongly protect a women's right to seek an abortion.
Other states with similar laws - but no constitutional protection - include Maine, Washington, Oregon, Nevada, Connecticut, Maryland, Delaware and Hawaii.
These laws would continue to provide for women seeking abortion but are seen as "less secure" than constitutional protection by the Center for Reproductive Rights
Planned Parenthood, a leading US campaign group and provider of reproductive healthcare, has spoken out in support of Roe v Wade, and continuing legal access to abortion as the debate about who will be appointed to the Supreme Court continues.
"For more than 40 years, access to safe and legal abortion has been the law of the land and the right to control your body is an essential American liberty."
On the spectrum between Louisiana and California sits Wyoming, somewhere near the middle.
While it doesn't have laws like Louisiana, which could ban abortion if Roe v Wade is overturned, it also doesn't have any laws that provide additional protections, like California.
Members of Wyoming's government and state lawmakers are for the most part anti-choice, meaning - theoretically - they could support plans to restrict access to abortion.
Approximately 926,200 abortions were performed in the US in 2014, according to the Guttmacher Institute's most recent data.
At 2014 abortion rates, one in 20 women (5%) in the US will have an abortion by age 20, about one in five (19%) by age 30 and about one in four (24%) by age 45.
The three most common reasons given by women for having an abortion were concern for or responsibility to other individuals; the inability to afford raising a child; and the belief that having a baby would interfere with work, school or the ability to care for dependents.
Half said they did not want to be a single parent or were having problems with their husband or partner.
BBC 100 Women names 100 influential and inspirational women around the world every year. We create documentaries, features and interviews about their lives, giving more space for stories that put women at the centre.