Halifax girl with cerebral palsy saves brother from drowning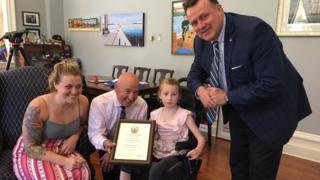 A Canadian girl with cerebral palsy is being called a hero for saving her little brother from drowning in the backyard pool.
Lexie Comeau-Drisdelle, nine, from Nova Scotia, alerted her mother when her 18-month-old sibling slipped outside and fell into the water.
The young girl, who uses a wheelchair and is unable to speak, shouted and pointed to get her mother's attention.
She has since been honoured by Halifax's regional council for the act.
Ms Comeau-Drisdelle's mother, Kelly Comeau-Jackson, told Global News that her daughter saved her brother's life.
"It could have been worse but it wasn't," she said.
The family had been preparing for Ms Comeau-Drisdelle's birthday party on 5 May when her brother Leeland opened the unlocked back door and dashed out when his mother was briefly not paying attention.
"And the scary thing is that he opened the door and closed it behind him, and he had never opened that patio door before," Ms Comeau-Jackson told CTV News.
She said her daughter "screamed bloody murder" to alert her to Leeland's trouble.
She found her young son in the water near the pool's edge and pulled him out. He was fine after coughing up some water but the family brought him to the hospital just in case, CTV News reported.
Halifax Mayor Mike Savage said on Wednesday it was "a pleasure" to officially recognise the young girl's act.
"Heroes come in all sizes," he said on Twitter.
Cerebral palsy is a condition that affects muscle movement and co-ordination, usually caused by a brain injury before, during or after birth.