North Carolina mother alleges racism at private pool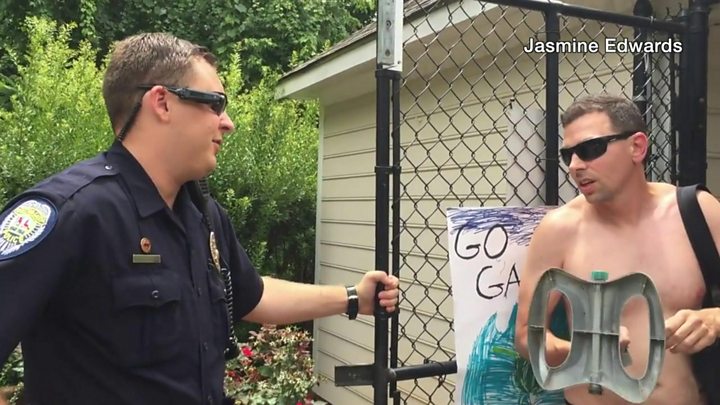 A black woman has alleged racism after the police were called when she entered a North Carolina swimming pool, in an incident that has gone viral.
Jasmine Edwards said she was visiting the neighbourhood pool in Winston-Salem with her baby on Wednesday when a white man asked her to show identification.
She filmed the interaction and posted the video to Facebook, where it has been viewed more than 4.5m times.
Amid the ensuing backlash, the man has been fired by his company.
A lawyer representing the individual, named in local media as Adam Bloom, said he was merely doing his job as pool chairman and board member for the local homeowner's association.
The attorney, John Vermitsky, told the Winston-Salem Journal that Mr Bloom had approached Ms Edwards because another resident had questioned whether she was a member of the pool.
The incident took place during the Fourth of July holiday at the private Glenridge Community Pool.
Mobile phone video filmed by Ms Edwards shows police calmly speaking to her and the man.
"Nobody else was asked their ID," Ms Edwards tells police.
She tells them that Mr Bloom had approached her to ask for her driver's licence to confirm she was a resident.
"I feel this is racial profiling," said Ms Edwards. "I'm the only black person here, with my son in the pool, right? And, he walked only to me to ask for my ID.
"Where does it say that I have to show an ID to use my pool, my own pool?"
Officers leave after Ms Edwards hands her electronic keycard to a policeman, who uses it to open the locked pool gate.
Ms Edwards then asks Mr Bloom if he will apologise, but he does not and walks away.
On her Facebook page, Ms Edwards called the incident "a classic case of racial profiling in my half a million $$ neighborhood pool".
Mr Bloom's employer, the packing company Sonoco, said on Friday it had fired him over the "terrible incident".
In a statement, the firm said the interaction "does not reflect the core values of our Company, and the employee involved is no longer employed by the Company in any respect".
The Glenridge Homeowners Association apologised.
In a statement it said Mr Bloom had resigned from his position as the pool chairman and a board member.
"In confronting and calling the police on one of our neighbours, the pool chair escalated a situation in a way that does not reflect the inclusive values Glenridge seeks to uphold as a community," the statement said.
Meanwhile, a swimming pool manager in Memphis, Tennessee, has been fired after a resident complained of racial discrimination, also on US independence day.
In a Facebook video, the woman said her boyfriend had been unfairly targeted by the pool manager who asked him to not wear his socks in the pool.
After a dispute, the manager called police to complain that the couple, who were there with their two young children, were "disturbing the peace".
The incidents come about a week after a white woman was accused of shoving a 15-year-old black boy at a South Carolina pool.
Some have drawn comparisons with the era before the US Civil Rights movement of the 1960s, when African Americans were routinely barred from public swimming pools.