US mum and daughter 'questioned over different surnames'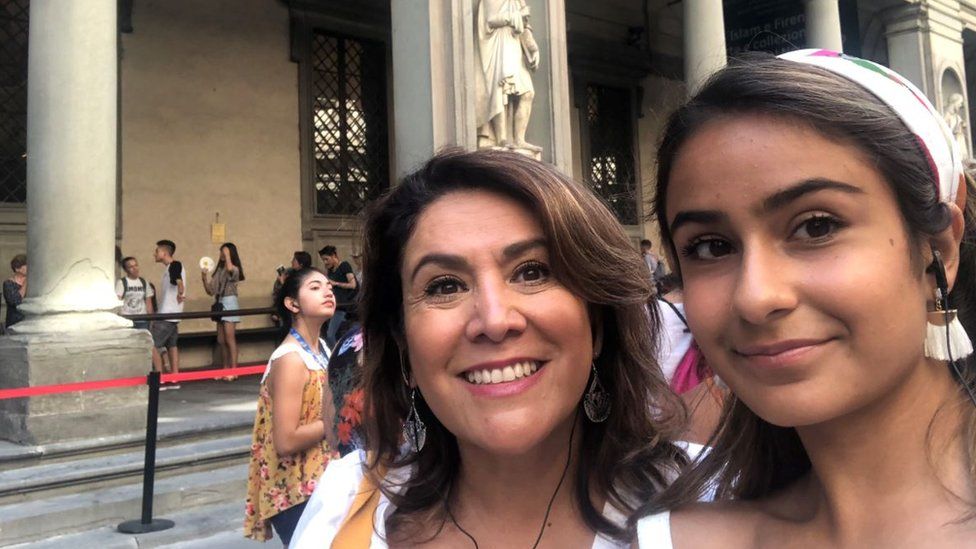 US Customs and Border Protection has disputed a claim that one of its employees asked a woman to prove that she was the mother of her daughter.
Texas mum Sylvia Acosta and her 15-year-old daughter, Sybonae Castillo, were both asked why they didn't share the same last name.
Dr Acosta says she was "interrogated" on Sunday at Dallas-Fort Worth airport.
A CBP spokesperson said the video of the encounter "does not support" the claim.
'One said I should consider changing my name'
Dr Acosta, who is chief executive of the Young Women's Christian Association, and her daughter had been on a tour of Europe when they arrived back to Texas on Sunday.
"There was a huge line of people," Dr Acosta said. "We walked up to the customs officer. He lifted our passports."
Dr Acosta said her daughter was "like velcro" with her as she was very tired after a long flight.
"I was asked if Sybonae was my daughter and I said yes. Then they asked why, if she was my daughter, I didn't have the same last name.
"I told them I had already established my career and earned my doctorate with my last name Acosta so I had decided not to change it.
"One said I should consider changing my name to reflect that I am her mother.
"I proceeded to tell them that they were perpetuating an institutionalised, misogynistic system which required that a woman take her husband's name. I am furious." Dr Acosta said.
'Combatting human trafficking'
A CBP spokesperson said: "We strongly recommend that unless a child is accompanied by both parents, the adult travelling with the child have a note from the child's other parent."
Dr Acosta says she didn't have a note from her ex-husband. And she was taken into a separate area for questioning.
"They thought I might be a human trafficker," she said.
A CBP spokesperson said: "On December 23, 2008, President Bush signed the William Wilberforce Trafficking Victims Protection Reauthorization Act of 2008 to combat human trafficking.
"In instances where the relationship of a minor and accompanying adult can't be immediately determined, CBP may ask additional questions to determine relationship.
"This additional questioning could take place in an area away from the general public."
You may also be interested in:
'Mum, I just want to cry'
Dr Acosta's daughter Sybonae Castillo said she was "confused" and "angry" during the questioning.
She said she felt customs officers were "disrespectful" by not listening to her mother.
"Mum I just want to cry," she said, afterwards.
"I want to cry, too," her mother responded.
Dr Acosta said her "biggest fear" was her daughter would be separated from her.
"There are 3,000 children separated from their parents here."
Dr Acosta posted about her experience on Facebook. In 48 hours, it's been shared over 16,000 times and drawn comments from people calling it "insulting" and "ridiculous".
"I didn't expect my post to go viral," she said.
In the post she talks about a "Handmaid's Tale" moment and an "institutionalised, misogynistic system".
I just experienced a Handmaidens Tale moment at the DFW airport by Customs and Border Protection. I was traveling back...

Posted by Sylvia Acosta on Sunday, July 8, 2018
One Facebook user wrote: "You should be furious. What if she had been adopted or you had remarried? I did not take my husband's last name either and it infuriates me when people imply I am less of a wife for not changing my name!"
A CBP spokesperson said: "We strive to ensure that travellers are processed fairly and efficiently, as we endeavour to make certain that all individuals attempting entry into the United States do so in a legal and secure manner."
By Victoria Park, UGC and Social News