All 11 people on board plane rescued after crash in Alaska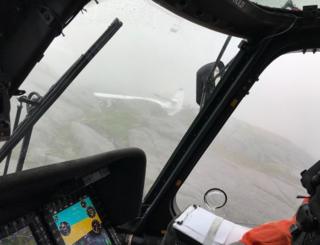 The US Coast Guard has rescued 11 people after their charter plane crashed on the side of Alaska's Mount Jumbo.
No passengers died but several were injured after their plane went down on Prince of Wales Island.
Two helicopters were dispatched to Mount Jumbo's west side later that day to conduct the low-visibility mission.
Investigators are interviewing the pilot to learn how the crash occurred.
The passengers were found at an elevation of around 2,000ft (609m), according to the US Coast Guard.
Commander Michael Kahle, of the Coast Guard in Juneau, Alaska, congratulated the aircrew of the MH-60 Jayhawk helicopters who conducted the rescue.
"Cases like these exemplify the versatility of our aircrews and how capable they are to expertly perform rescues from the ocean or even mountainsides," he said in a statement.
Coast Guard spokesman Charly Hengen told local media that the rescue pilots had only about a quarter mile of visibility due to fog during the mission.
You may also like:
After the passengers were airlifted from the crash sight, they were brought to a staging area where they were then transported by helicopter to hospital.
All of the passengers suffered light injuries, the Coast Guard said, "but [are] otherwise in good condition".
The crash occurred 39 miles (62km) from Ketchikan in the far south of the Alaskan panhandle.
Alaskan State Troopers say the plane was operated by Taquan Air, which conducts sightseeing and charter flights in the region.
The pilot, who has been identified as 72-year-old Mike Hodgins of Ketchikan, was interviewed on Wednesday morning, according to investigators for the National Transportation Safety Board (NTSB).
Troopers say that he reported the crash by radio, and a locator beacon onboard aided the search effort.
"The first order of business is to talk to the pilot to determine what happened, and if there were any mechanical problems involved, " NTSB regional Chief Clinton Johnson told KTUU-News.
The heavily forested Prince of Wales Island is the fourth-largest island in the US. At 2,577 sq miles (6,675 sq km), it's larger than the state of Delaware, US media report.