Kylie Jenner: How the reality teen founded a cosmetics empire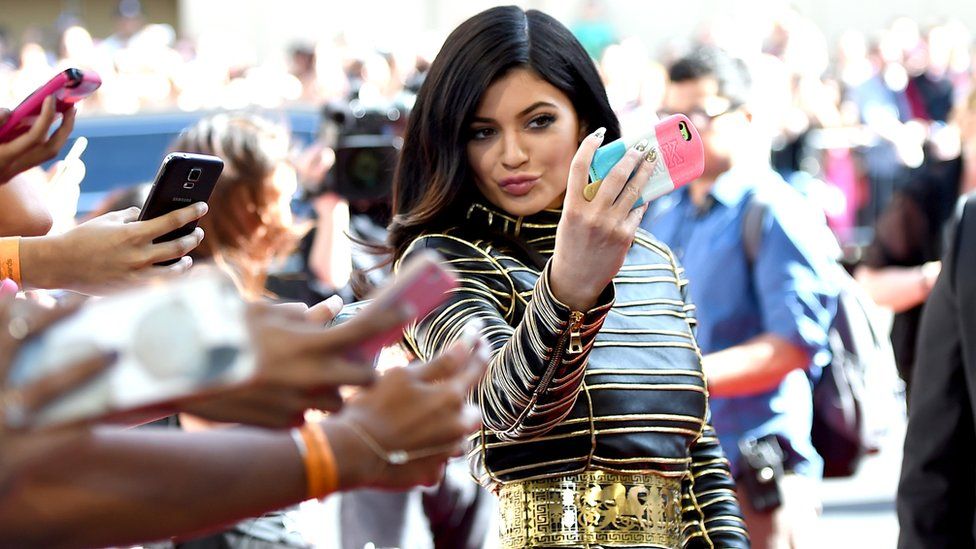 Kylie Jenner was just 10 years old when she made her debut on her family's reality television series Keeping up with the Kardashians. A decade on, the show is still going strong and its youngest star is now the famous family's highest earner.
The magazine lauded her for heading towards becoming one of the youngest "self-made" billionaires ever. Given her background, many online scoffed at the title, but the impressiveness of the speed of her business success is harder to mock.
Kylie Cosmetics is by far her biggest earner. It's not sold in stores and does not advertise traditionally, because unlike other competitors it doesn't seem to need it.
The vast majority of her 110 million-strong Instagram following are young and female, fitting firmly within the brand's target market.
Her success can be viewed squarely within larger trends in the global beauty industry, which has undergone a huge shift as social media influencers and vloggers become more important to a brand's success.
Kylie launched her first set of own-brand lip kits in November 2015. The product choice was not incidental, as the internet had spent much of the previous two years speculating on the teen's noticeably larger lips.
At first the reality star alleged the change was achieved using clever make-up tricks (over-lining the lips and filling in with a natural-looking matte base).
Kylie and "momager" Kris saw an opportunity to go it alone. She spent months trailing an initial three-shade launch of lip kits - a combination of nude lip liner and matte lip cream combos - on Instagram and Snapchat.
The initial stock launch sold out in less than a minute, crashing the website.
Bloggers offered suggestions of "dupe" options for those not lucky enough to grab their own, and the $29 (£22) dollar sets were bootlegged online for hundreds of dollars.
After launching the debut kits, she relabelled her business Kylie Cosmetics and sales continue to soar, making a reported $19m in one day in late 2016.
In just a couple of years she has amassed a reported $630m (£470m) in sales, diversifying from lip kit duos to other products such as glosses, highlighters and eye-shadows.
The brand has kept people hooked by maintaining the initial FOMO (fear of missing out) exclusivity - using countdowns to reveal products and selling them on limited release, often in collaboration with her famous siblings.
Kylie Cosmetics is not alone; a host of grassroots brands such as Huda beauty and Anastasia Beverley Hills have soared in popularity in recent years. YouTube endorsements in particular have the power to make a product a "must have".
Stephanie Saltzman, beauty editor at Fashionista, says it cannot be overstated how significant influencers and online marketing have been.
She describes the recent change as a "democratisation" within an industry that she believed had gone stale in its approach.
"Maybe historically consumers would use what their Mom used, or would go explore a beauty counter in a department store. Now it's in the palm of their hands through social media," she says.
"It feels more authentic coming from a person and Kylie Jenner is a person as opposed to a blanket, faceless corporation."
Traditional make-up brands are adjusting, though. Some have collaborated with influencers and beauty vloggers on limited-edition lines or have enlisted to use Generation Z celebrities such as Lily-Rose Depp to be their public face.
Charlotte Libby, a colour cosmetics expert at analyst group Mintel, says young consumers are rejecting traditional advertising, instead being drawn to brand transparency, and especially "personality, belief and ethics".
"Crowdfunding campaigns and social media have brought down some of the barriers for new brands and levelled the playing field," she tells the BBC.
"Social media and the success of influencers has proved that personality sells, and partnering with real people, rather than traditional media, offers brand the opportunity to show more personality."
The Forbes cover profile points out that the overhead size of Kylie's company is exceptionally small.
It has only 12 employees, and only seven are full-time. Most of the company's operations and production needs are outsourced to specialist firms.
"As ultra light start ups go, Jenner's operation is essentially air. And because of those miniscule overhead and marketing costs, the profits are outsize and go right into Jenner's pocket," journalist Natalie Robehmed writes.
Kylie's self-driven success and huge profits haven't been lost on sister Kim, who has followed suit by launching a new beauty line of her own and a range of new fragrances.
After a social-media-heavy marketing campaign that involved sending elaborately packaged perfumes to celebrities and influencers, Kim's initial fragrance offering sold out rapidly, raking in $10m (£7.5m) before a single paying customer had even smelt the products.
"I think that was definitely a wake-up call for a lot of others in the industry, and the same can be said with Kylie and everything she has accomplished," says Fashionista editor Saltzman.
In the beauty industry in particular then, it seems that the Kardashians might actually be the ones to keep up with.