Trump May comments 'a remarkable breach of protocol'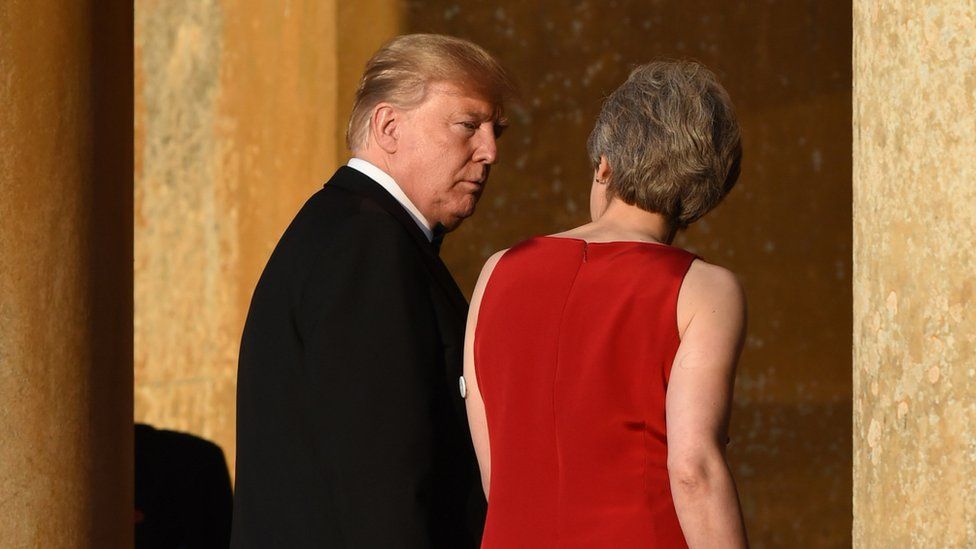 President Trump's comments to British newspaper The Sun are being described in the US as a "Brexit bomb" - but some White House correspondents are querying whether he really intended to rule out a trade deal with the UK.
He added that Europe as a whole was "losing its culture" because of immigration from the Middle East and Africa.
The Washington Post said Mr Trump had "blasted" Mrs May while praising her "archrival", former Foreign Secretary Boris Johnson who resigned earlier this week over the Brexit plan.
The newspaper quoted a US official who said there was "no way Trump will apologise" for what he said in the interview but added "we also don't want to blow everything up".
Another official said President Trump had been privately critical of Mrs May "for many months", discussing her vulnerabilities and criticising her political acumen.
White House spokesperson Sarah Huckabee Sanders had told the British government about the interview in advance, "but thought it would be somewhat more positive", the newspaper quoted an official as saying.
In a statement, Ms Sanders said: "The President likes and respects Prime Minister May very much. As he said in his interview with The Sun she 'is a very good person' and he 'never said anything bad about her'."
The New York Times said Mr Trump had "given Mrs May's teetering government a shove".
The Politico website described Mr Trump's interview as "one way to break up a special relationship".
It speculated that Mr Trump may have been "wound up" over Brexit by British politician Nigel Farage, the former UK Independence Party leader who campaigned for years for Britain to leave the EU, or that his comments may have been informed by a meeting between his security adviser John Bolton and the ERG, a group of strongly pro-Brexit Conservative Party MPs.
But it said the most likely outcome was that Mrs May would suggest that she explain her Brexit plan to Mr Trump, Mr Trump will agree to listen and "they'll both claim the story was overwritten, and then try to go about their day".
White House correspondents for Axios and the Toronto Star said The Sun had "over-egged" Mr Trump's comments apparently ruling out a US-UK trade deal.
This is correct. The Sun over-egged the trade comments. The most damaging comments were the ones where he criticized how Theresa May negotiated Brexit. https://t.co/YuOjChcOgb

— Jonathan Swan (@jonathanvswan) July 12, 2018
In other words, I think he was musing about what is evidently new info for him on the Brexit situation, and complaining about the EU, not making a dramatic threat, which is how The Sun, being The Sun, framed it. /End

— Daniel Dale (@ddale8) July 12, 2018
It "poured nitroglycerine on an already explosive political issue which threatens to destroy May and possibly even bring down her government", he said.
Mr Delingpole said Mr Trump had placed himself on the side of the "Brexit resistance" with the likes of Mr Johnson and Mr Farage and said that his "outrageous, protocol breaching intervention" had "infuriated the liberal elite".
"For the majority of British people who support Brexit, this could scarcely have come at a more welcome or desperate time," Mr Delingpole said.
Former US ambassador to the EU Anthony Gardner tweeted that it was "unprecedented to attack ally during state visit" and said Mr Trump was "out of control and an embarrassment".
Trump's latest attack, this time against May, is totally unacceptable. Unprecedented to attack ally during state visit. He is out of control and an embarrassment. He is one man wrecking machine. Anyone working for him voluntarily In high office is an accomplice and collaborator.

— Anthony Gardner (@tonylgardner) July 13, 2018
It was just the latest instance of Mr Trump, "who cosies up to foreign strongmen like Russian President Vladimir Putin and North Korea's Kim Jong Un, insulting or criticising an allied leader", Mr Collinson said.
The US "would not be thrilled if such conditions were put on us after a vote of the whole country", it said.
"How a country deals with other countries in trade is their business," it added.
US political website The Hill also focused on Mr Trump's comments about "millions and millions of people" coming to Europe from the Middle East and Africa.
It said they reprised "a line that he had frequently used on the campaign trail - that Europe was being overrun by non-Europeans and was quickly becoming a shell of what it once was".
The Hill noted that migration levels to Europe had declined since 2015, when more than a million people, many fleeing the Syrian civil war and other conflicts, arrived.