Trump's UK visit: Nine key moments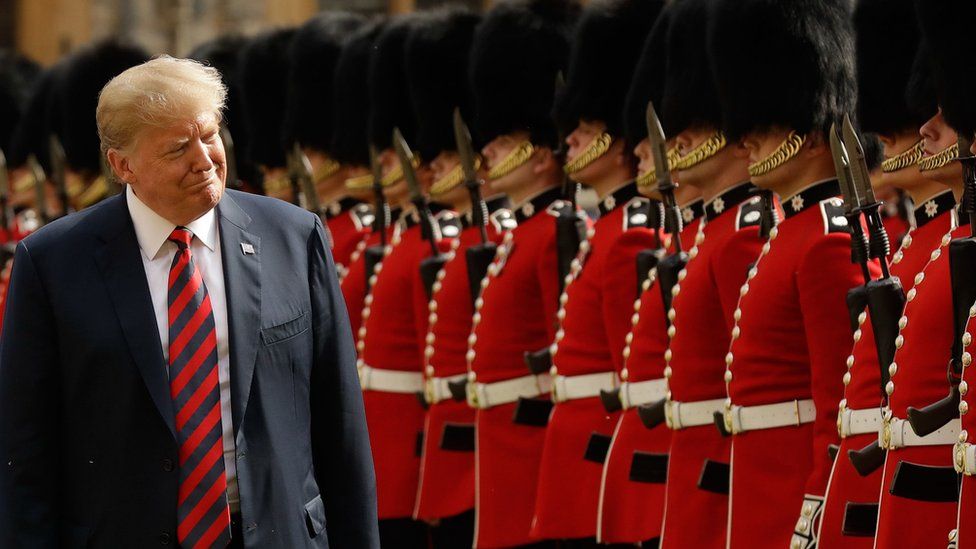 It has been just days since the whirlwind that is Donald Trump landed in the UK for his first official visit since becoming US president - and what a couple of days it has turned out to be.
A floating effigy, a bombshell interview and a meeting with the Queen - all against the backdrop of angry protests.
To be honest, it was never going to be your usual visit by a head of state: the initial invitation, for a full state visit, had created so much outrage that it ended up being debated in parliament.
So by the time Mr Trump finally touched down - fresh from a Nato summit which had been more than a little tense - the country was braced. Here is how the visit panned out.
Mr Trump and his wife Melania arrived on Air Force One at London Stansted - an airport more used to welcoming budget flights - on Thursday afternoon, fresh from that Nato summit in Brussels.
The US First Couple were immediately whisked from the airport to central London, and the official residence of the US Ambassador, Woody Johnson, in Regent's Park.
But not for the Trumps the joys - and traffic - of the motorway: they travelled via helicopter.
In fact, Mr Trump and his entourage would go on to avoid travelling by road wherever possible, the road convoy travelling from location to location to meet the president as he disembarked from Marine One, his official helicopter.
No doubt, this meant the president could travel more quickly and efficiently during a packed schedule. Avoiding protest-lined streets was a bonus too.
Unfortunately, travelling by helicopter did not stop him being a few minutes late reaching Blenheim Palace, where Prime Minister Theresa May was waiting to greet the president, along with 150 other guests.
Blenheim Palace, by the way, was where Britain's wartime leader Winston Churchill was born - the man whose bust Mr Trump placed back in the Oval Office, and in whose chair he has now sat:
When they finally did arrive, they were greeted by marching bands from the Scots, Irish and Welsh guards.
And if that wasn't enough to impress the president, Mrs May also had a host of thoughtful gifts ready for the Trumps - including an illustrated ancestral chart of his Scottish heritage,
President Trump would later rave about how well the dinner - a smoked salmon starter followed by Hereford beef fillet and potatoes (surely a winner with the steak-loving president), topped off with strawberries and cream - had gone.
But before it was over, British tabloid The Sun had dropped a bombshell.
It came just before 23:00 UK time (22:00 GMT) in a series of tweets from The Sun's Tom Newton Dunn.
WORLD EXCL: Donald Trump warns Theresa May her soft Brexit blueprint will "kill" any future trade deal with the US. Full @POTUS interview with @TheSun from 11pm.

— Tom Newton Dunn (@tnewtondunn) July 12, 2018
The Sun's exclusive also had Mr Trump suggesting Boris Johnson - who had quit as foreign secretary just days before - would make a great prime minister.
Securing a good trade deal with the US after the UK leaves the European Union next March is hugely important to Mrs May and to whether Brexit will be a success.
Which raised the question: Just how would the prime minister respond to such a slight?
Mr Trump did not need to be making any more enemies in the UK.
As soon as the visit was confirmed, people angry at the president's policies - ranging from the so-called Muslim ban, to the wall with Mexico, and his rejection of the Paris climate deal - began to organise.
The result was tens of thousands of people gathering in central London to protest against the visit.
In fact, Mr Trump's schedule, with all meeting venues kept outside the capital, was arranged with the protests in mind - and it hadn't gone unnoticed by the president.
In particular, it seems he had heard about the "Trump Baby", a six-metre (19.7ft) balloon depiction of the property mogul as a nappy (or diaper) wearing infant, complete with mobile and tan lines.
More than 10,000 people signed a petition calling for the inflatable to be given permission to fly, although it was not universally popular.
Some have described the balloon, which was inflated outside parliament on Friday morning, as "a disgrace" and "disrespectful."
Mr Trump was certainly not happy.
"I guess when they put out blimps to make me feel unwelcome, no reason for me to go to London," he told the Sun.
To which some protesters responded: that was the point.
Meanwhile, Mrs Trump and Philip May, the prime minister's financier husband, decided to undertake a far less stressful pastime: lawn bowls.
But it was not Mrs Trump's skills at the Commonwealth sport which caught the eye of those watching.
Rather, it was the 10cm Laboutin heels she was wearing, which - as anyone who has worn a pair of 10cm heels will know - do not mix well with grass.
Back at Chequers, Mr Trump and Mrs May were ready to face the press - and of course, there was only one question on everyone's lips: was the so-called "special relationship" still in good order?
Yes of course, President Donald Trump insisted. In fact, it is "the highest level of special".
He then rolled back on his comments in The Sun interview - which at one point he branded "fake news" - saying "whatever" the UK does after it leaves the EU is "OK with me".
Mrs May, meanwhile, apparently shrugged off the highly critical interview, telling the president: "Don't worry, it's only the press."
From there, the world's eyes turned to Windsor Castle, where the Queen was waiting to greet Mr and Mrs Trump.
Unlike the day before, Mr Trump and his entourage appeared to be on time to meet the 92-year-old monarch, who has some experience in this area, having previously met no fewer than 11 US presidents.
We don't know exactly what the trio talked about over tea. However, it has previously been said that the event was the moment that Mr Trump was most looking forward to - and he certainly looks delighted in this picture:
9: Gliding on to the golf course
From there, it was on to Scotland and Mr Trump's very own golf course, where he was clearly looking forward to a relaxing round at Trump Turnberry over the weekend.
I have arrived in Scotland and will be at Trump Turnberry for two days of meetings, calls and hopefully, some golf - my primary form of exercise! The weather is beautiful, and this place is incredible! Tomorrow I go to Helsinki for a Monday meeting with Vladimir Putin.

— Donald J. Trump (@realDonaldTrump) July 14, 2018
However, no sooner had the president arrived at his hotel and resort in Ayrshire on Friday, than a message arrived from the skies above.
"Trump: Well below par" - read a banner attached to a paraglider who swooped in to within about 90m (roughly 300 ft) of Mr Trump, who was outside on the terrace of the hotel at the time and swiftly ushered inside.
The paraglider stunt, which was organised by the environmental group Greenpeace, breached the no-fly zone at the Turnberry resort, police said.
Police Scotland later said that a 55-year-old man had been arrested in connection with the incident.