Trump-Putin summit: After Helsinki, the fallout at home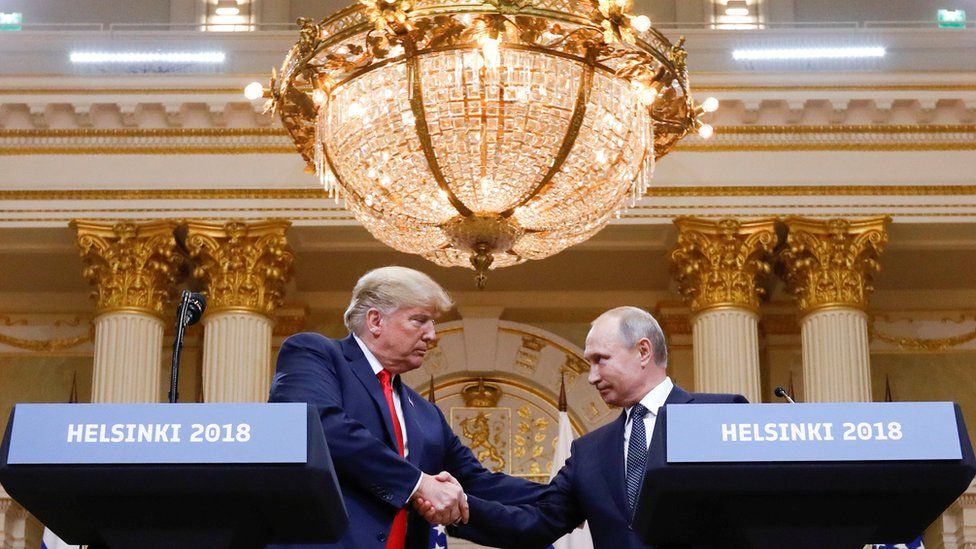 The Helsinki summit between Vladimir Putin and Donald Trump is over, and after nearly two hours behind closed doors and another hour in front of the press, there's plenty of material to sort through.
Leading into the meeting, Democrats were warning Mr Trump to be careful in dealing with his Russian counterpart - with some suggesting that it was unwise for the US president to even hold such an event, given Friday's indictments of 12 Russian military officers for conducting cyber-warfare against the US during the 2016 elections.
Many Republicans, on the other hand, were cautiously optimistic that the president would push back against Mr Putin on a range of issues. Congressman Steve Scalise, a Republican house leader, said that Mr Trump entered into the negotiations "from a position of American strength to combat Russian aggression".
Things went … a bit differently. Here are some key takeaways.
Mr Trump, in his first question from an American reporter, was pressed to explain why earlier in the day he had tweeted out that US was to blame for the current tense state of US-Russia relations.
In his answer, he stood by his earlier comments and said he held "both countries responsible".
He said both sides had "made some mistakes" - but declined to specifically mention items like the Russian military involvement in Ukraine and its annexation of Crimea, the Novichok chemical attack in southern England and the indictment of Russians for meddling in the US election.
Instead, he insisted there was "no collusion at all" between his campaign and Russia, conflating charges of election meddling - for which there have been indictments of Russian nationals - with evidence of collusion, which the Mueller probe has not yet alleged.
When asked if he would directly condemn Russia and Mr Putin on election meddling, Mr Trump said his intelligence officials - including Director of Intelligence Dan Coats - have told him "they think it's Russia". Mr Putin, he continued, just told him it's not Russia.
"I don't see any reason why it would be," Mr Trump concluded, apparently leaning toward the Russian professions of innocence over the conclusions of his own government.
This has put the US intelligence community in a familiar bind, given Mr Trump's past criticisms. It's a bind, however, for which Trump-appointed leaders, in office for more than a year, are now accountable.
Mr Coats has issued a statement saying his intelligence community stands by its "fact-based assessments" of Russian meddling and their "ongoing, pervasive efforts to undermine our democracy". Later on Monday, the president made an effort, via Twitter, to smooth over ruffled feathers.
Mr Mueller has indicted more than two dozen Russians, but Mr Trump still isn't convinced that they're to blame - raising instead questions about the security of Democratic computer servers and FBI bias.
Not surprisingly, Mr Trump's performance was greeted with a mix of condemnation and derision from the left. Senate Democratic Minority Leader Chuck Schumer called it a "shameful performance" that was "thoughtless, dangerous and weak". John Brennan, director of the CIA under Barack Obama, said Mr Trump was guilty of treason.
Meanwhile, never-Trump conservatives were quick with "I told you so-s". Political consultant (and Jeb Bush advisor) Mike Murphy called it a "dark day", after tweeting a string of invective. Former 2008 Republican presidential candidate John McCain said it was "one of the most disgraceful performances by an American president in memory".
"The damage inflicted by President Trump's naivete, egotism, false equivalence, and sympathy for autocrats is difficult to calculate," the Arizona Republican senator, and chair of the Armed Services committee, wrote in a statement. "But it is clear that the summit in Helsinki was a tragic mistake."
Perhaps most noteworthy is how Mr Trump is being seen among Republicans who are - or were becoming - more sympathetic to Mr Trump. Abby Huntsman, a conservative commentator and daughter of US ambassador to Russia Jon Huntsman, tweeted that "no negotiation is worth throwing your own people and country under the bus".
Newt Gingrich called Mr Trump's statements on intelligence agencies "the most serious mistake of his presidency".
Senator Lindsey Graham of South Carolina, who swings between Trump critic and Trump confidante, was back in the former camp, calling the summit a "missed opportunity", a "bad day for the US" that will be sign of weakness to Russia.
New York Post columnist Karol Markowicz, who several months ago had written about how pro- and anti-Trump conservatives had to dial back their rhetoric, was blunt.
"You can love Trump, you can be thrilled he vanquished Hillary, you can be right that Obama's foreign policy was clownish, but call it here: this was atrocious and no American president should ever behave this way."
The Drudge Report had a headline blaring that "Putin dominates" the summit. Even on the Fox News cable networks, which are normally Trump's biggest defender and echo chamber, commentators appeared uneasy. Neil Cavuto called the president's performance "disgraceful" and said it "sets us back a lot".
"There is a growing consensus across the land tonight ... that the president threw the United States under the bus," said Fox News White House correspondent John Roberts.
Mary Kissel, a member of the Wall Street Journal editorial board, told Fox News audience that "nothing was achieved" from the summit.
"The president came off as wanting to have more meetings and going to Putin and asking for Putin's help, when we should be in the position of Putin coming to us and asking us to ease up on him," she said. "Unfortunately, President Putin scored a great propaganda victory."
This could all blow over, of course. With domestic political battles on the horizon - a Supreme Court confirmation and mid-term election contests - the partisan battle lines could quickly re-form.
For a moment, however, there was a hint of doubt and concern and the possibility that, at some point in the future, when political expediency is no longer paramount, Mr Trump could face more significant dissention within his ranks.
This isn't how Mr Trump and his supporters see it. For them, the summit should be framed as the beginning of a larger effort to repair relations between the world's two largest nuclear powers.
"From the earliest days of our republic, American leaders have understood that diplomacy and engagement is preferable to conflict and hostility," he said.
Mr Putin echoed those sentiments, calling the summit the "first important step".
With no tangible results from the summit, the two leaders are framing this as the first of many meetings to come
Given the American reaction from across the political spectrum, however, future meetings may be difficult to pull off.
After a week abroad, Mr Trump on Monday delivered the coup de grace for what has been a highly disruptive week in US foreign affairs.
European allies are uneasy. US-Russia relations are uncertain. And the US political world - and even the White House's own communications team - is unsettled.
What comes next? That's unknown.