Houston police arrest 'mattress murders' suspect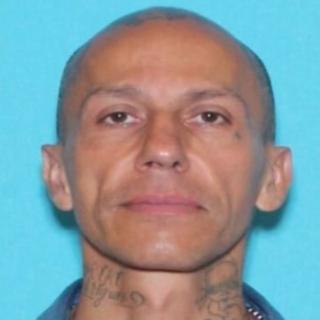 Texas police have arrested a registered sex offender who is suspected of killing three people after cutting off his ankle monitor while out of jail.
Jose Gilberto Rodriguez, 46, was captured driving a car belonging to one of his victims, police announced in a news conference on Tuesday.
Police say he killed a 62-year-old widow in her home before later killing two people at separate mattress shops.
He was found with a pistol in the car when he was arrested, police say.
Harris County Sheriff Ed Gonzalez told reporters that it was too early to say what triggered the parolee's deadly "rampage".
"We'd like to find out what the motive was, or the underlying motive," he said.
Rodriguez, who has distinctive head and neck tattoos, was arrested just before 07:00 local time (12:00 GMT).
Police say he led them on a 14-minute car chase, before being taken into custody without incident.
"There was a pistol in his vehicle so we're just relieved that no one else got hurt," Sheriff Gonzalez said after the arrest.
The sheriff said it was possible that Rodriguez was "casing the neighbourhood in search of his next victim".
"We knew that this was one of the areas he had targeted before," Sheriff Gonzalez told reporters.
"You never know what's in their mind and in the end, I'm just glad it ended peacefully."
During the news conference, police said they were not searching for any additional suspects and that Rodriguez had not said anything to authorities thus far.
Police say Rodriguez began his crime spree on 9 July when he attacked someone during a home invasion and robbery.
On 13 July, he allegedly shot dead Pamela Johnson, a 62-year-old widow, inside her home, before stealing her car.
The next day - 14 July - he is alleged to have shot Mattress Firm employee Allie Barrow, 28, who was found in the back of the shopping mall store by her manager.
On 16 July, he allegedly shot Mattress One employee Edward Magana, who died shortly after taking his lunch break not far from the first mattress store.
Police say that on the same day, he also robbed and shot a bus driver at a petrol station.
The male victim was taken to hospital and is expected to survive.
All of the crimes occurred within several miles of each other.
Houston Police Chief Art Acevedo tweeted after Rodriguez's capture that the city could breathe "a sigh of relief".
During the manhunt, police warned the public that Rodriguez should be "considered a serial killer, armed and dangerous".
"He's been on a rampage in a series of murders," Chief Acevedo had said on Monday at a news conference.
"Let's get this man off the street as soon as possible."
According to KTRK News, Rodriguez has multiple previous convictions for burglary, attempted aggravated sex abuse, auto theft, and criminal trespassing.
He was released on parole last September.