Texas house guest 'bit off and swallowed woman's nose'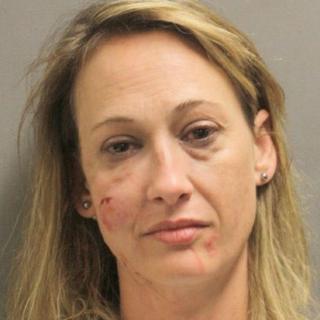 A Texas house guest has been arrested after allegedly biting off a piece of her host's nose and swallowing it when she asked her to leave her house.
Jessica Collins, 41, is charged with assault and bodily injury.
The victim - who did not wish to be named - told KTRK News in Houston that the attack happened at her home after a night of drinking at a bar.
She said the woman was a friend of her neighbour, and attacked her after she asked the two of them to go.
According to the woman, Ms Collins demanded more alcohol and cigarettes after they returned to her home following a night of drinking last Wednesday.
When she asked the two of them to leave her property, she said the assailant jumped on her.
The victim said she did not know she had been badly injured until she was on her way to hospital.
"I started calling my husband when I was in the ambulance," she told KTRK News.
"I was screaming, like, 'I don't have a nose. I'm 28 years-old and I don't have a nose anymore.'"
The woman, who does not have health insurance, is now facing expensive medical bills.
An online fundraiser aims to raise $12,000 (£9,100) for her to have reconstructive plastic surgery.
Ms Collins was reportedly released on bail on Monday.