Alabama employee gets new car from boss after 20-mile walk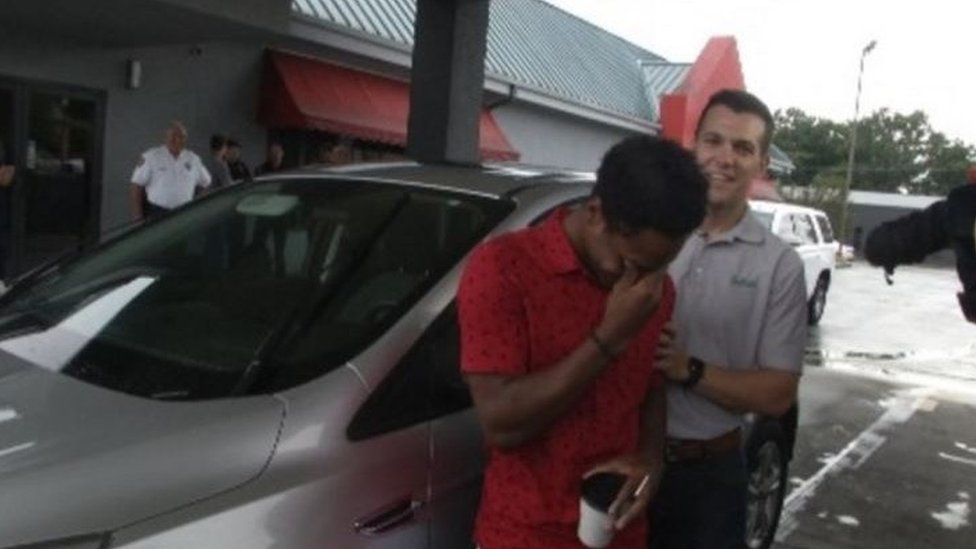 A US company owner gave an employee a new car after he went the extra mile - 20 miles (32km) in fact, walking all night to make his first day at work.
After his own car broke down, Walter Carr made the long commute by foot through the suburbs of Birmingham, Alabama, to his new job in removals.
A police officer spoke to Mr Carr en route and, impressed by his grit, took him to get some breakfast.
Praise for Mr Carr has flooded social media since his story was shared.
Jenny Lamey, a customer of the moving firm, wrote on Facebook that she and her husband had awoken early last Friday to prepare for movers who were due to arrive at around 08:00.
At 06:30, their doorbell rang, and Ms Lamey met Mr Carr, who was accompanied by a police officer from the Pelham police force.
"He proceeded to tell us that he had picked up 'this nice kid' in Pelham early this morning," said Ms Lamey.
"The nice kid, Walter, said that he was supposed to help us with our move today."
She continued: "He WALKED ALL NIGHT to get from Homewood to Pelham. Because he needed to get to work. For those reading this that are not local, that's over 20 miles.
"The police officer said they picked him up earlier that morning, took him to get some breakfast and once they checked his story out, brought Walter to our house."
Ms Lamey said she offered him a rest before the moving crew arrived, but Mr Carr declined and got right to work.
While helping her with the kitchen, she said, he told her of his childhood in New Orleans, Louisiana, and how his family had moved to Houston, Texas, after their home was destroyed by Hurricane Katrina.
"I just can't tell you how touched I was by Walter and his journey," Ms Lamey wrote.
"I can't imagine how many times on that lonely walk... in the middle of the night did he want to turn back. How many times did he wonder if this was the best idea."
"But he walked until he got here! I am in total awe of this young man!" she continued.
Luke Marklin, the chief executive of the moving company, Bellhops, drove from Tennessee over the weekend to meet his new employee.
After chatting over a cup of coffee, Mr Marklin handed Mr Carr the keys to his own 2014 Ford Escape.
"I am honestly blown away by him," Mr Marklin said. "Everything he did that day is exactly who we are - heart and grit."
An emotional Mr Carr responded "Seriously?" He then hugged Mr Marklin and accepted the keys.
An online campaign to help Mr Carr fix his car raised more than $8,000 (£6,000) before it was closed. It was later re-opened and has amassed more than $50,000.
Mr Carr plans to graduate from college in December with a degree in health sciences.
He hopes to join the US Marines before returning to Birmingham to study physical therapy.
On Monday, he told reporters that he was grateful just to have had the job opportunity.
"This was the first job in a long time to give me an opportunity to get hired," he told AL.com.
"I wanted to show them I got the dedication. I said I'm going to get to this job one way or another."
He continued: "I want people to know this - no matter what the challenge is, you can break through the challenge. Nothing is impossible unless you make it impossible."
Ms Lamey also hugged Mr Carr after he received the gift and told him: "You've changed all of our lives Walter.
"You have no idea how many lives you've changed and inspired.
"You're a very special young man and you're going to do great things. You already are."