Breastfeeding model causes stir on catwalk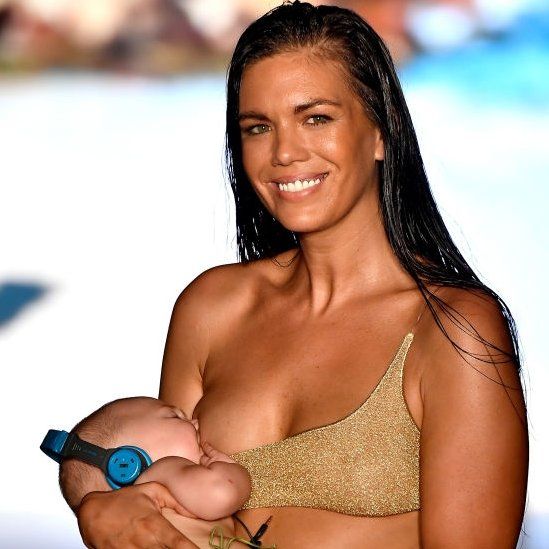 A model breastfeeding her baby on the catwalk has caused a stir among those gathered at a fashion show in Miami.
Mara Martin held her five-month-old daughter Aria at Sports Illustrated's annual swimsuit show on Sunday.
Many social media users praised the model as "inspiring", but some accused her of attention seeking.
Ms Martin was one of 16 finalists chosen for this year's show in an open casting.
She appeared on the catwalk in a gold bikini, breastfeeding Aria at the same time.
The baby had headphones on to protect her from the noise of music and the crowd.
"My story of being a mother and feeding her while walking is just that," the model wrote later.
On her Instagram page, many users left messages of support.
"So inspiring!!!! Love this!!!!" wrote one, while another noted: "Yeasss!!! Thank you for being brave and helping to #normalizebreastfeeding!! This makes me so happy!"
But some users were left unimpressed.
"Why would you do this? My guess is attention you might be lacking?" and "No....just....no..." were their messages.