Maria Butina: Alleged Russia agent 'offered sex for job'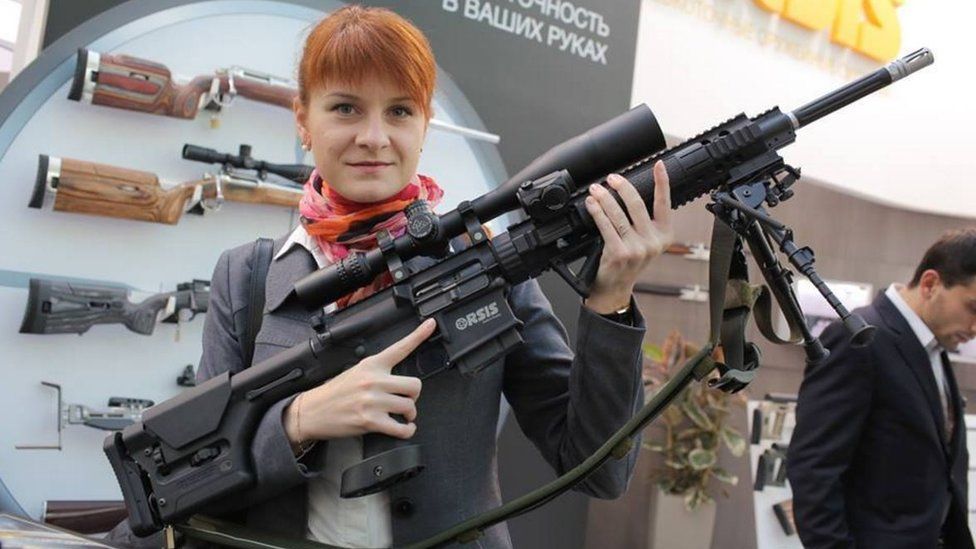 An alleged Kremlin agent offered sex for a job with an American special interest organisation she targeted, say US officials.
Maria Butina's ties with Russian intelligence make her a flight risk, a federal judge ruled, and she will be held until her trial.
A lawyer for the 29-year-old said she has been co-operating with the US government for several months.
The case is not part of the US inquiry into alleged Russian election meddling.
Ms Butina, who was arrested on Sunday, appeared for two hours on Wednesday afternoon at a US court in Washington DC.
US Magistrate Judge Deborah Robinson ruled that the government had proved there are no conditions of her release that would guarantee her return to court for trial.
She is facing charges of failing to register as a foreign agent and conspiring against the US government. She is not charged with espionage.
On Wednesday, Moscow's foreign ministry said Ms Butina's arrest was designed to undermine the "positive results" of a summit between US President Donald Trump and Russian President Vladimir Putin in Helsinki on Monday.
What are the latest allegations?
Court filings on Wednesday say Ms Butina was living with an unnamed 56-year-old American - identified in documents as US Person 1 - with whom she had a "personal relationship".
Prosecutors say she described the man - who was nearly twice her age - as her boyfriend.
"But this relationship does not represent a strong tie to the United States because Butina appears to treat it as simply a necessary aspect of her activities," said the court papers.
In some of her photos on social media, Ms Butina is seen with Paul Erickson, a South Dakota-based conservative political activist who is listed in public records as being 56 years old.
She had "expressed disdain for continuing to cohabitate with" the American man, according to documents seized by the FBI, and got him to do her university homework.
Prosecutors said she did not appear to take the attachment seriously because "on at least one occasion, Butina offered an individual other than US Person 1 sex in exchange for a position within a special interest organisation".
The documents do not name the organisation in question. But her social media accounts show she frequented National Rifle Association (NRA) events.
Ms Butina's lawyer, Robert Driscoll, has denied all the allegations.
'Ready for further orders'
The Department of Justice alleges that Ms Butina worked "under the direction and control" of a senior Russian official who is not named in charging documents.
Court papers say the Russian official acted as her handler, and coached her through online messages.
"Right now everything has to be quiet and careful," Ms Butina allegedly wrote to her contact through a private Twitter message, a month before the 2016 presidential election.
On the night of the vote, court filings say she messaged the Russian official: "I'm going to sleep. It's 3 a.m. here. I am ready for further orders."
During the inauguration of President Donald Trump, she shared a photo of herself attending the event at the US Capitol.
"You're a daredevil girl!" her contact messaged her.
"What can I say!" she replied. "Good teachers."
She tried to establish "back channel" lines of communication to "penetrate the US national decision-making apparatus", the Justice Department said.
During her time in the US, she fostered relationships with conservative pro-gun groups.
At one point during the presidential election, she and the Russian official allegedly tried unsuccessfully to broker a meeting between Mr Trump and Mr Putin.
At a town hall meeting in July 2015, she asked then-candidate Donald Trump about his views on Russia. The following year she met his son, Donald Trump Jr, at an NRA convention.
Ms Butina's Facebook page includes pictures of her attending events where she met other well-known American politicians, including Wisconsin Governor Scott Walker.
She entered the US in August 2016 on an F-1 student visa. According to her LinkedIn page, she recently completed a masters degree in international relations from American University in Washington DC.
Those who encountered Ms Butina said she was a gregarious networker whose life story appealed to conservatives she met at events around the US.
In 2015 she told a US radio show that she grew up in the woods of Siberia, and was taught to hunt by her father.
After a brief career as the owner of a chain of furniture stores, she said she moved to Moscow where she founded a group called the Right to Bear Arms, which advocated for private gun ownership in Russia.
Who was her alleged handler?
According to US media, the Russian official appears to be Alexander Torshin, a deputy governor of Russia's Central Bank and a well-connected ex-Russian senator from President Putin's political party.
He was targeted by US Department of Treasury sanctions in April.
Ms Butina posted several photos to her social media accounts over the past few years showing her with Mr Torshin.
On her visa application, Ms Butina said she had previously been employed as special assistant to Mr Torshin.
In one online conversation with her contact, presumed to be Mr Torshin, the official likened her to Anna Chapman, the red-haired Russian agent who was convicted in the US in 2010 and was later sent back to Russia as part of a prisoner swap.
"Are your admirers asking for your autographs yet? You have upstaged Anna Chapman," her handler wrote.
"She poses with toy pistols, while you are being published with real ones."
Sources tell US media that the fact that Mr Torshin was not charged is a sign investigators are working to secure her co-operation against him and possibly other Russian officials.
When asked about the arrest at a news briefing on Wednesday, White House spokeswoman Sarah Sanders said: "We're looking at that but this is a lengthy process."