Van Gogh Starry Night house mural in Florida can stay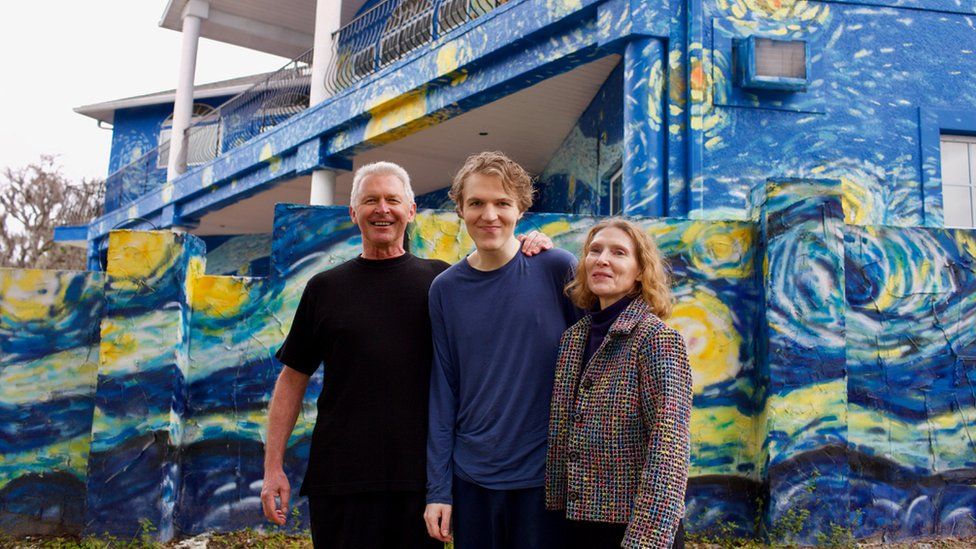 A Florida couple fined thousands of dollars for painting Vincent van Gogh's The Starry Night onto their home as a landmark for their autistic son have received an apology from the mayor.
The local city council, which had said the mural violated city code, has also agreed to allow the artwork to stay and to pay the family $15,000 (£11,500).
The couple said the artwork was to help their son find his way if he got lost.
The Starry Night is one of Dutch painter Van Gogh's most famous works.
In July last year, parents Nancy Nemhauser and Lubomir Jastrzebski were told that the painting, which spans the exterior of their home in Mount Dora, was in breach of the city's signage laws and could prove a distraction to motorists.
The couple were later told to paint over the mural and were fined $10,000.
Ms Nemhauser said she disputed the ruling and sued the city for violating the family's right to free expression, adding that the painting was aimed at helping her son to return home.
"He would be able to at least mention the Van Gogh house and people would be able to help," she told Reuters news agency.
On Tuesday, the Mount Dora City Council unanimously agreed to waive the fine and, as part of a settlement, to pay the family an agreed fee.
Mayor Nick Girone later publicly apologised to the couple at the local city hall, adding that his city has a long history of supporting artists.
Local artist Richard Barrenechea, who was commissioned to paint the mural, said it was "a big day for the arts... and a big day for freedom", the Associated Press reports.
The house has since become a minor tourist attraction in the city, which is located about 25 miles (40 km) north-west of Orlando.