Trump Putin: Democrats call for interpreter to testify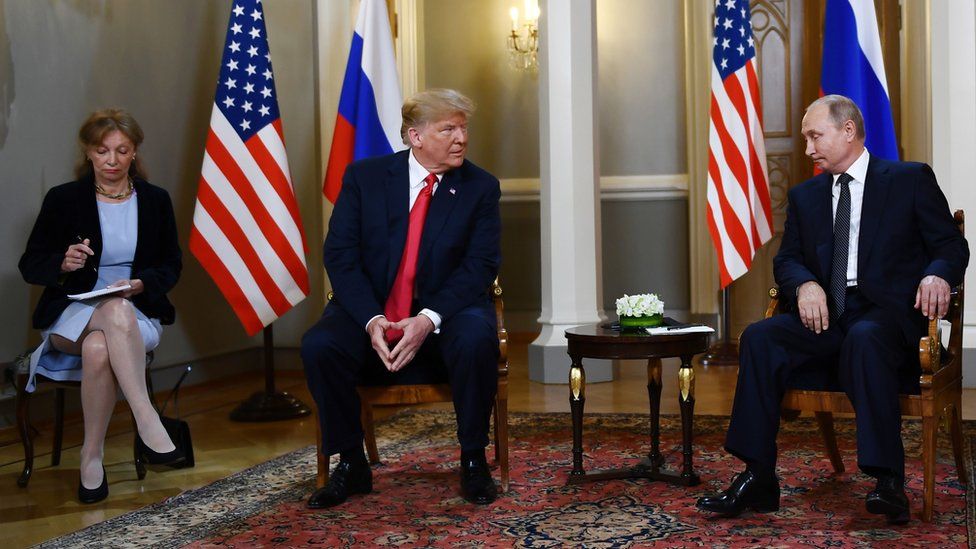 US opposition politicians are calling for Donald Trump's interpreter to testify before Congress about his summit talks with Vladimir Putin.
The lead Democrat on the Senate Foreign Relations Committee, Robert Menendez, called for Marina Gross to be subpoenaed to appear at the committee.
Controversy has raged over the summit, with Mr Trump having to correct his own words from the press conference.
However, it would be highly unusual for an interpreter to be questioned.
At their first bilateral summit, the two leaders met privately for two hours in the Finnish capital Helsinki on Monday with only their interpreters present.
Mr Trump went ahead with the meeting despite continuing investigations into alleged Russian state interference in the 2016 US presidential election, which he won.
Confusion over Mr Trump's position took another turn when he appeared to reject suggestions that Russia might try again to influence American elections, prompting a hasty denial by the White House.
Why do they want the interpreter to speak?
Democrats argue that because she was the only other American official present in the room, Ms Gross can and should provide details of what the two presidents said to each other.
"We want the interpreter to come before the committee," Senator Menendez told MSNBC. "We want to see the notes. We're going to have a massive effort to try to get to what happened."
Democratic Representative Bill Pascrell said the "concessions" Mr Trump had made in public to Mr Putin meant "Congress and the American public deserve to know the details of their private conversation".
If Ms Gross declined to appear before the committee, she should be subpoenaed, he wrote.
"We need public testimony by the only American present at this meeting to ensure Trump did not further undermine our intelligence or law enforcement communities," he said.
This afternoon, I wrote to the Committee on Oversight and Government Reform urging it to hear public testimony from the US's interpreter for Trump's #surrendersummit. As the only other American present, our nation deserves to know what went on in that meeting. pic.twitter.com/wAoTgTDQl0

— Bill Pascrell, Jr. (@BillPascrell) July 17, 2018
Bob Corker, the Republican chairman of the Senate Foreign Relations Committee, said he would consider the calls to summon her but questioned the idea.
"They're not policy people," he told reporters, as quoted by AFP news agency.
"They are in some cases contract folks. In the future, would any notes even be allowed to be taken if you started doing this kind of thing?"
He also pointed out that Secretary of State Mike Pompeo, who was in Helsinki with Mr Trump, would be questioned by the committee next week.
In Russia, Konstantin Kosachev, head of the foreign affairs committee in the upper house of parliament, said the idea of questioning an interpreter set a dangerous precedent that threatened the "whole idea of diplomacy", the Associated Press reports.
Gamal Helal, an Arabic interpreter and senior adviser to four US presidents and seven secretaries of state, told CNN he could not remember such a situation.
"It would be a horrible precedent if a president wasn't free to talk one-on-one with a head of state..." he said. "If he [Mr Trump] spoke in English, there would be no other way for Congress to know what he said, except to ask the president himself. Or Putin."
Why is there such controversy?
Contradicting his own intelligence agencies, he said there had been no reason for Russia to meddle in the vote.