The cost of Trump's Endangered Species Act proposal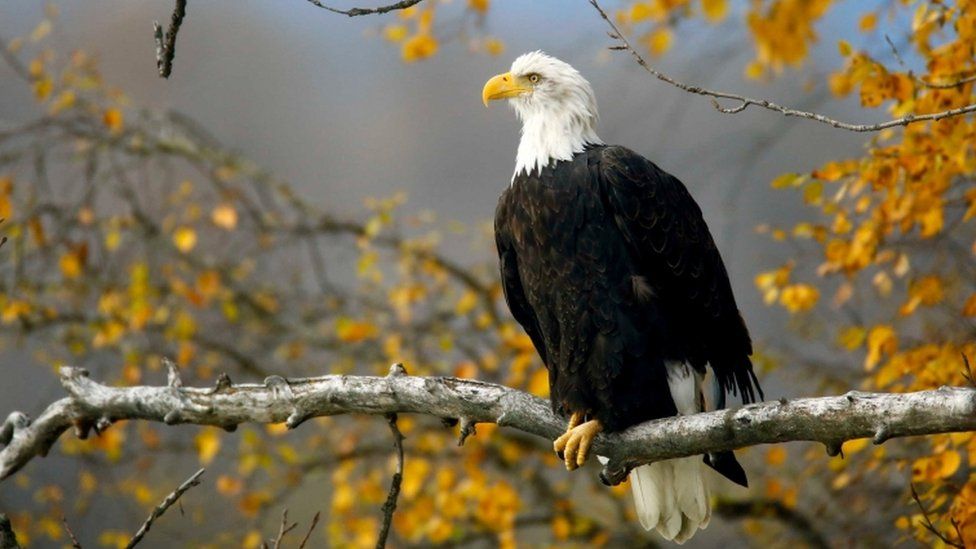 The Trump administration has proposed changes to the Endangered Species Act (ESA), a law credited with keeping hundreds of species from going extinct.
The change would eliminate automatic protections for threatened plant and animal species, and make it easier for species to be removed from the list.
Wildlife conservation groups say the proposed change could have disastrous lasting effects on at-risk species.
Trump officials say the change will streamline the regulatory process.
The proposed change is the latest in a series of White House efforts to remove environmental regulations designed to protect vulnerable species and their habitats, as well as leave untouched some of America's most wild places.
Environmentalist groups have reacted with outrage, and the Center for Biological Diversity said "these proposals would slam a wrecking ball into the most crucial protections for our most endangered wildlife".
"If these regulations had not been in place in the 1970s, the bald eagle and the grey whale would be extinct today."
The Endangered Species Act was signed into law in 1973 by Republican President Richard Nixon and now protects more than 1,200 plant and animal species.
The list of species is maintained by US Fish and Wildlife and the National Oceanic and Atmospheric Administration, which oversees marine species.
It has been credited with reviving bald eagle populations and bringing the Yellowstone grizzly bear back from the edge of extinction.
Here are several species that could be affected by the change, or may not currently exist if it was not for the landmark law.
Experts agree that arctic sea ice - which polar bears require for fishing and hunting - is shrinking, which is leading to enormous stresses on the world's largest bear species.
The proposed change to the ESA includes a narrowing of the definition of "foreseeable future".
The US government says they want the language clarified to "make it clear that it extends only as far as [wildlife officials] can reasonably determine that both the future threats and the species' response to those threats are probable".
Environmentalists fear the new language will make it possible for government biologists to disregard the long-term effects of climate change on the environment.
The polar bear could be emblematic of many species being affected by climate change, says Bob Dreher of the environmental group Defenders of Wildlife.
Whether government biologists will recognise "this slow-acting but inevitable change in ecosystem because of climate change" or wait until more evidence is available is unclear, he tells the BBC.
The ESA provides blanket protections to species which are categorised as either "threatened" - such as the California gnatcatcher - or "endangered".
Endangered species are those likely to go extinct, while threatened species are those likely to become endangered.
Under current law, both are granted "critical habitat" protections, but the Trump administration wants automatic protections for threatened species to be eliminated and, in the future, to be considered on a case by case basis.
Protections for the California gnatcatcher have barred development across nearly 100,000 acres of land in the Greater Los Angeles area, according to the Los Angeles Times.
If not for their current protections, their native habitat would likely become part of more urban sprawl.
The sage grouse has been a candidate for protection as a threatened species for nearly a decade, but it is unclear if it will ever be added.
They, as well as the dunes sagebrush lizard, have seen their territory encroached upon by human development and have seen decreasing populations in recent years.
The distinctive sage grouse return to their breeding grounds, known as Leks, every year. Biologists believe some Leks can be hundreds of years old.
If the sage grouse does achieve threatened status, environmentalists fear under the new Trump proposal it would be too late for them to gain the broad protections they need.
Although the proposed change would only affect future creatures joining the list, Mr Dreher says that if the proposed rules had been in effect in the 1970s, animals such as wolves and bald eagles may have been extinct by now.
In a significant reversal, the proposed change would eliminate language that precludes wildlife experts from considering economic impacts when determining when an organism should be listed.
Wolves, which were re-introduced in the lower 48 states, have faced criticism from ranchers and farmers who argue that they have impacted their livelihood by killing their livestock.
Re-introducing them to the continental US came at great cost and effort, says Mr Dreher, a former US Fish and Wildlife official.
Mr Dreher says that the ESA was designed by Congress to say that "the value of life on earth is priceless" and that politicians should not have to decide whether it is "too expensive" to prevent extinction.
"If we made those decisions you can see under different administrations we would end up protecting nothing. Because who knows what a snail is worth? Who knows what a frog is worth?"