Trump-Russia: Carter Page surveillance documents released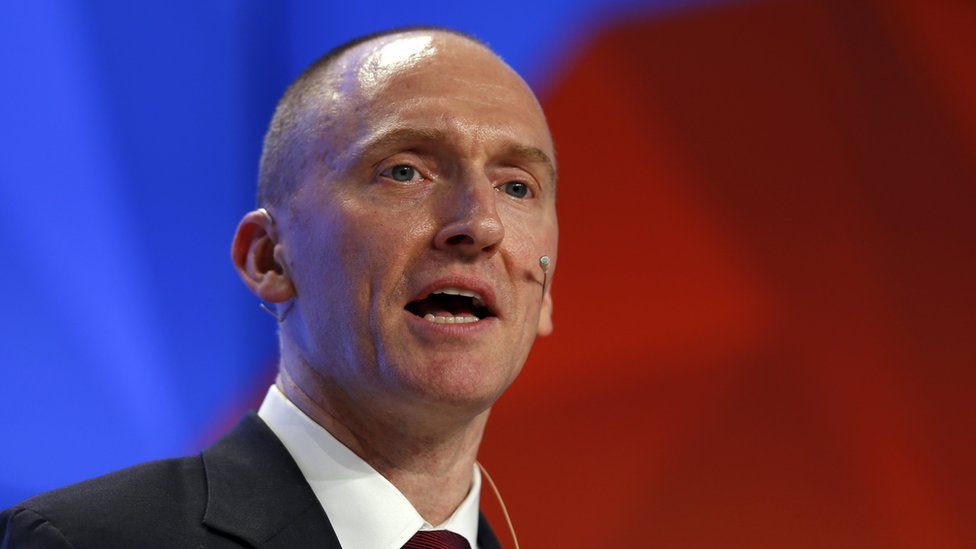 The FBI believed Donald Trump's foreign policy aide Carter Page had "been collaborating and conspiring with the Russian government" during the 2016 election campaign, according to newly released documents.
His alleged relationships with Russian intelligence officials are highlighted in court applications which led to him being put under surveillance.
He has denied the accusations.
Mr Trump has now said it looked like his campaign was illegally spied on.
But he provided no evidence to support the claim.
The surveillance applications were granted and renewed by several different judges sitting in the Foreign Intelligence Surveillance Court.
The FBI released the previously secret document on Saturday night., following Freedom of Information requests by several US outlets.
It contains 412 pages of heavily redacted material which includes the surveillance applications, their later renewals, as well as warrants surrounding the investigation into Mr Page.
"The FBI believes that Page has been collaborating and conspiring with the Russian government," the October 2016 application to the court states.
According to the documents, "the FBI believes that the Russian government's efforts are being co-ordinated with Page and perhaps other individuals associated with" Mr Trump's presidential campaign.
It also said Mr Page "has established relationships with Russian government officials, including Russian intelligence officers".
Mr Page is an energy industry consultant with longstanding ties to Russia. He first contacted the Trump campaign in 2015 before meeting Mr Trump's campaign manager, Corey Lewandowski, in January 2016.
By March 2016, Mr Trump identified Mr Page as one of a handful of campaign foreign policy advisers.
However, after allegations emerged in the so-called Trump dossier that he served as an intermediary between Russian officials and the president's campaign as they worked to advance Mr Trump's presidential efforts, Mr Page resigned from his role.
He denies all the allegations against him.
Mr Trump has taken to Twitter to vent his frustrations with the latest development.
The BBC is not responsible for the content of external sites.
Skip twitter post by Donald J. Trump
Allow Twitter content?
This article contains content provided by Twitter. We ask for your permission before anything is loaded, as they may be using cookies and other technologies. You may want to read Twitter's cookie policy, external and privacy policy, external before accepting. To view this content choose 'accept and continue'.
The BBC is not responsible for the content of external sites.
End of twitter post by Donald J. Trump
The BBC is not responsible for the content of external sites.
In two tweets, sent early on Sunday morning, he says the "ridiculously heavily redacted" documents "confirm with little doubt that the Department of 'Justice' and FBI misled the courts" - criticising his own agencies.
It is unclear how he reached this conclusion. However, he is backed by Tom Fitton - the president of Judicial Watch which fought to have the documents released - who said in a tweet "they seem to confirm the FBI and DoJ misled the courts in withholding info about Clinton-DNC being behind the info used to get the Fisa warrant".
Democrat House leader Nancy Pelosi has come to a different conclusion.
In a statement, she said: "Despite President Trump's repeated claims, these documents provide clear evidence of 'Russia's co-ordination with Carter Page,' a high-ranking Trump campaign official, 'to undermine and improperly and illegally influence the 2016 US presidential election'."
She added: "The GOP (Republican Party) must cease their attacks on our law enforcement and intelligence communities, and finally decide where their loyalty lies."
How does this fit into the wider picture?
The charges form part of Special Counsel Robert Mueller's investigation into US intelligence findings that Russians conspired to tilt the election in Mr Trump's favour, and whether any of his campaign aides colluded. Mr Trump has labelled the investigation a "witch hunt".
So far, the inquiry has indicted 32 people - mostly Russian nationals in absentia.
Just days later, Mr Trump met his Russian counterpart, Vladimir Putin, at a summit in Helsinki and was asked by reporters whether he believed Russia had meddled in the 2016 election,
"President Putin says it's not Russia. I don't see any reason why it would be," he replied, appearing to back the Russians over his own agencies.
The next day, following widespread outrage, he read a pre-prepared statement, saying he actually meant "wouldn't".
Mr Coats, who was speaking at the Aspen Security Forum in Colorado, was filmed laughing, before saying "that's going to be special".
He has since said his "admittedly awkward response was in no way meant to be disrespectful or criticise the actions of the President".