Trump targets Obama-era critics' security clearances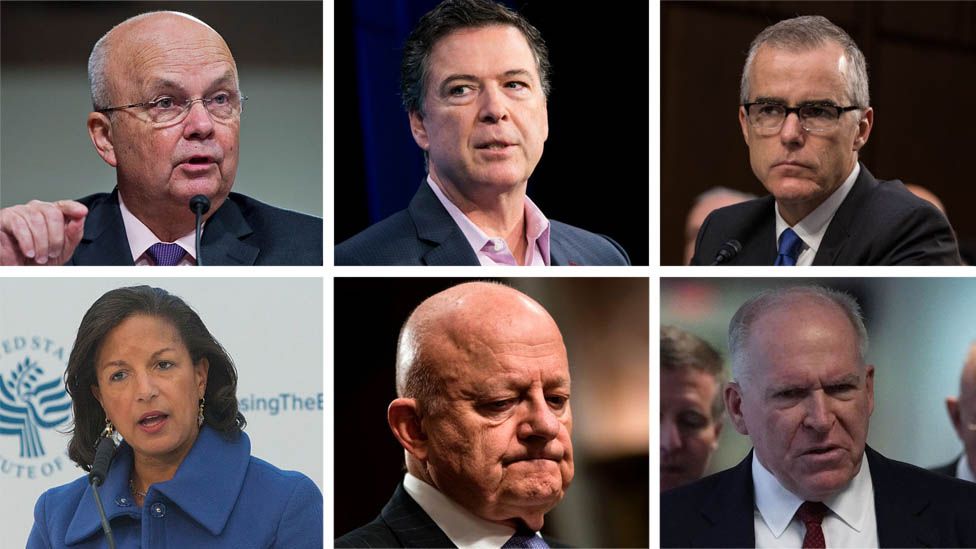 President Donald Trump is said to be considering revoking security clearance for ex-CIA boss John Brennan and other Obama-era critics of him.
The White House named six former intelligence, law enforcement and national security chiefs.
Press secretary Sarah Sanders said they had "politicised and in some cases monetised their public service" to make "baseless accusations" about Mr Trump.
But at least two of them no longer have security clearance.
In Monday's scheduled news conference, Mrs Sanders also cited:
James Comey, former FBI director
Andrew McCabe, former FBI deputy director
James Clapper, former Director of National Intelligence
Susan Rice, former National Security Adviser
Michael Hayden, former National Security Agency director
She denied a reporter's suggestion that the president wanted to punish the former officials - most of whom have served under both Democratic and Republican presidents - for exercising their right to free speech.
The press secretary said Mr Trump "doesn't like the fact that people are politicising agencies and departments that are specifically meant to not be political and to be monetised off security clearances".
She said security clearance "provides inappropriate legitimacy to accusations with zero evidence".
Mr Clapper told CNN the plan was "a very, very petty thing to do".
He said it would be "a terrible precedent and a very sad commentary. And it's an abuse of the system."
Trump stokes us-against-them narrative
Analysis by Anthony Zurcher, BBC Washington
Donald Trump's brawl with members of the intelligence community continues apace. The threat to revoke security clearances of a handful of former government officials who have been outspoken critics of the president is only the latest jab.
Never mind that some of those named insist they have no access to revoke. And never mind that even if the White House goes through with its threat, it will do little to silence their various condemnations of the president.
Former top intelligence officers like Michael Hayden and John Brennan are sought-after as public speakers and television talking heads because of their experience and expertise, not their current access levels.
Instead, the move gives the White House a chance to stoke the us-against-them drama that Mr Trump's supporters love and cast doubt on the authority and morality of highly visible Trump detractors. It also offers the media a new topic to chew on, instead of the latest twists in the Russia story or recorded conversations about former Playboy models.
Of course, any action could someday be cited by a Democratic president to revoke Trump-era security clearances - as yet another government tradition is consumed in partisan flames.
Mrs Sanders said that "accusing the president of the United States of treasonous activity... when you have the nation's deepest, most sacred secrets at your hands" was something that made Mr Trump "very concerned".
Mr Hayden said on Twitter after the announcement that even if the president decided to take away his clearance, it would not change anything he says or writes.
I dont go back for classified briefings. Won't have any effect on what I say or write

— Gen Michael Hayden (@GenMhayden) July 23, 2018
A spokeswoman for Mr McCabe, who was fired days before his retirement earlier this year, said that his clearances had already been deactivated due to "FBI policy".
A friend of Mr Comey tweeted that the fired FBI chief no longer possesses a security clearance.
Mr Comey turned down an offer for a temporary clearance "lest the president accuse him of leaking", according to Benjamin Wittes of the Brookings Institute.
I just texted @Comey asking whether he even has a security clearance to revoke.

"Nope," he responded. There's nothing for POTUS to revoke. Comey says he was "read out" when he left government as per normal practice. 1/2

— Benjamin Wittes (@benjaminwittes) July 23, 2018
Andrew McCabe's security clearance was deactivated when he was terminated, according to what we were told was FBI policy. You would think the White House would check with the FBI before trying to throw shiny objects to the press corps... https://t.co/ZOKJDChpeP

— Melissa Schwartz (@MSchwartz3) July 23, 2018
Senator Mazie Hirono, a Democrat from Hawaii, tweeted of the security clearances threat: "This is what totalitarianism looks like."
Earlier on Monday, Senator Rand Paul, a Kentucky Republican, tweeted that he had advised Mr Trump to revoke security clearance for Mr Brennan and "others [sic] partisans".
Just got out of WH meeting with @realDonaldTrump. I restated to him what I have said in public: John Brennan and others partisans should have their security clearances revoked.

— Senator Rand Paul (@RandPaul) July 23, 2018
John Brennan: A frequent critic of the current president, only last week the former CIA director called Mr Trump's summit in Finland with Russian President Vladimir Putin "nothing short of treasonous".
Donald Trump's press conference performance in Helsinki rises to & exceeds the threshold of "high crimes & misdemeanors." It was nothing short of treasonous. Not only were Trump's comments imbecilic, he is wholly in the pocket of Putin. Republican Patriots: Where are you???

— John O. Brennan (@JohnBrennan) July 16, 2018
James Comey: The former FBI director, whom Mr Trump fired, has called the president "morally unfit" to lead. His memoir, A Higher Loyalty, likened Mr Trump to a mob boss.
James Clapper: Another outspoken critic, the ex-intelligence chief has said the Watergate scandal "pales in comparison" to the Russia collusion inquiry dogging the Trump presidency.
Andrew McCabe: After the White House sacked the deputy FBI director days before he could retire with full pension benefits, he said Mr Trump had made his family "the targets of an unrelenting assault on our reputation".
Susan Rice: On Sunday, Ms Rice called Mr Trump's meeting with President Putin a "historic mistake", and questioned his "motivations".
Michael Hayden: In a naked jab at the Trump administration, the former NSA director tweeted a photo in June of a Nazi death camp with the caption: "Other governments have separated mothers and children."