Pennsylvania teacher slammed for Nazi wrestler persona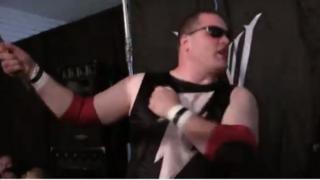 A US school teacher has been censured for his extracurricular hobby: masquerading as a German Nazi as a part of his amateur wrestling persona.
Kevin Bean, 36, teaches fifth and sixth grade students in Pennsylvania, local media say.
He also wrestles under the name "Blitzkrieg, the German Juggernaut".
Video of Mr Bean doing a Nazi salute during his entrance into the ring caused an uproar on social media.
Mr Bean himself has not replied to requests for comment from US media.
The Spring-Ford Area School District where Mr Bean is employed launched an internal investigation after a video of Mr Bean doing the Nazi salute went viral.
The full video has since been taken down from YouTube, but Blitzkrieg is still listed as one of the wrestlers at the World Wide Wrestling Alliance (WWWA).
"Once administrators were made aware of the video they acted immediately to conduct an ongoing internal investigation," Erin Crew, communications manager for the district, told the BBC in an emailed statement.
"As this is a personnel matter, further details will not be addressed publicly. The actions portrayed in this video do not represent the core values of the school district."
On Monday, the Spring-Ford superintendent, David Goodin, published a letter to students and families on the school's website.
"I want to assure you that the actions portrayed in this video do not represent the core values of the school district. As an educational organisation, we pride ourselves in providing a safe and nurturing learning environment."
Dino Sanna, the owner of the WWWA where Mr Bean participates, told celebrity news site The Blast that Mr Bean is "a good guy and not a hateful person", and is a very religious man.
"Everyone has a gimmick," Mr Sanna said. "It's wrestling."
In wrestling terms, Mr Bean's character is the "heel" - a villain intended to be disliked. His opponents would be called a "face", the wrestler the audience is intended to cheer for.
But in the viral video clip, children in the crowd can be seen cheering for him, even holding signs saying, "Blitzkrieg rules" and "Blitzkrieg Herrscher Aller Menschen" which means Blitzkrieg, ruler of all people.
Wrestling has seen a number of controversial villains in the past, including The Iron Sheik, who claimed to have come from Iran, Abdullah the Butcher, who was also called the Madman from Sudan, and the first Sheik in the 1960s, who dressed as a Syrian, according to a list by World Wrestling Entertainment (WWE).
One Twitter user commented: "There is nothing entertaining about this and the fact that he didn't get much heat and people cheered him on is just awful."
Ryan Satin, the wrestling writer who shared the initial video, posted a response he received on Reddit: "There's no need to take wrestling so [expletive] seriously, boo him and get on with your day."
A Twitter user responded saying: "You can be a bad guy without resorting to this kind of nonsense."
But local parents were divided on the issue, CBS Philly reported.
One father told CBS he felt the incident was "blown out of proportion".
"It's something that he's been doing for a long time," he said. "I think a lot of people jump to conclusions before they had all the information."
But others found the video - which reportedly shows children from Mr Bean's school in attendance - more shocking.
"After seeing the pictures, I think it's a much bigger issue than I initially thought it was," a local mother told CBS.