After Toronto rampage, does Canada have a gun problem?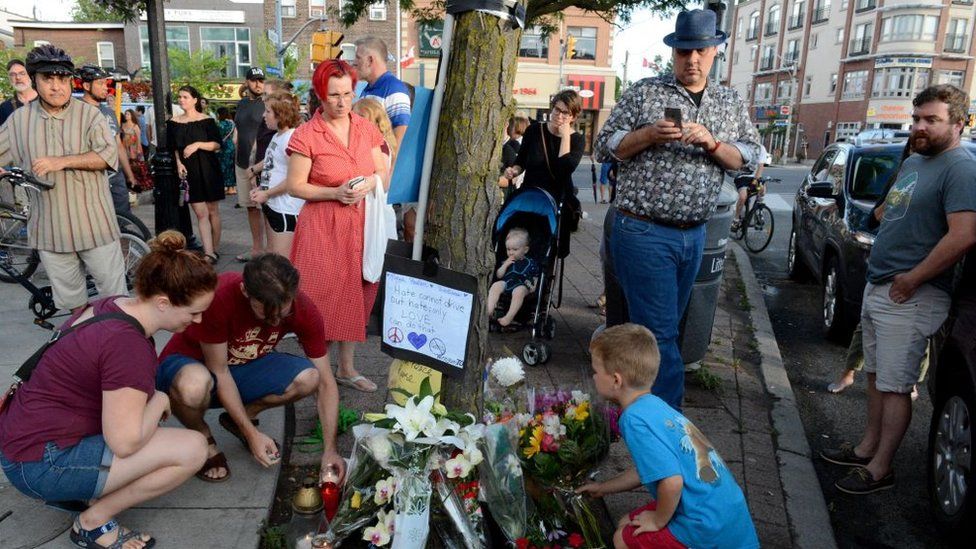 After a deadly summer of gun violence, many Canadians are wondering if their country is not as immune to the gun crime plaguing the US as they thought.
Toronto's summer has been hot and deadly.
There have been 109 shootings in the city since May, including last Sunday's deadly attack on Danforth Avenue, when a gunman opened fire on strangers, killing two and injuring 13 others.
For many, the shooting spree was the final straw amid escalating gun violence in the city.
"We have had an escalating issue with gun violence in this city," city councillor Joe Cressy told the BBC.
A day after the attack, Mr Cressy tabled a motion to ask the federal and provincial governments to ban handgun and ammunition sales, respectively, within city limits.
"In jurisdictions around the world where you have fewer guns you have a lower rate of gun violence," Cressy says.
"In a city like Toronto, I can't understand why anyone would need a gun unless you're law enforcement."
Cressy's motion passed 41-4. Council also voted in favour of additional police officers and surveillance capabilities, and to study best policies and practices for reducing gun violence.
Cressy is not the first to ask for change. In March, the Liberal government introduced legislation to tighten gun control, and Public Safety Minister Ralph Goodale has already responded to Toronto city council's vote, saying he would consider allowing a ban within city limits.
But not everyone is on board. Deputy Mayor Stephen Holyday was one of the four councillors to vote against the motion, in part because, he says, police have said legal gun ownership in the city is not a concern.
"He (Chief of Police Mark Saunders) didn't mention gun control," Holyday said.
The ban would only impact legal sales of handguns and semi-automatic weapons within city limits, and citizens would still be able to buy handguns in neighbouring communities.
Although much of the discussion around gun control in the United States and Canada has focused on assault-style rifles and semi-automatic weapons, handguns are responsible for the majority of gun-related homicides.
In Canada, handguns account for 58% of all homicides involving firearms (in the US, that figure is 68%).
According to Statistics Canada, gun violence has been on the rise since 2013, with the most of the increase attributed to a rise in crime outside of city centres.
Gun deaths are also on the rise. In 2016, there were 223 firearm-related homicides in Canada, the highest it's been since 2005.
More than half of these homicides were related to gang activity, according to the government's annual homicide report, with most of the deaths occurring in the cities of Toronto and Vancouver.
In Toronto alone, there have been 228 shootings in 2018 so far, compared to 205 for the entire year in 2017 according to police statistics. Those shootings have led to 28 deaths, compared to 17 in 2017.
In certain American cities, those numbers may seem trifling. If Toronto were in the US, it would be one of the safest cities: Toronto has a homicide rate of 2.1 per 100,000 compared to Chicago, which has a murder rate of 10.7.
But some gun control advocates argue that it's time for Canada to stop comparing itself to its violent neighbour to the south.
"One of the real challenges we have in Canada is Canadians compare themselves to the United States and feeling smug and complacent," says Wendy Cukier, the president for the Coalition for Gun Control.
Canada has significantly more gun violence than the UK or Australia, a fact that Cukier attributes to Canada's laxer gun laws and the greater prevalence of guns in Canada.
How hard is it to get a gun in Canada?
Canada has stricter gun laws than most US states. In Canada, gun ownership is federally regulated and guns are divided into three classes - restricted, non-restricted and prohibited.
Most handguns and semi-automatic weapons fall under the restricted class, and gun users must pass additional safety tests in order to own one. Applicants are also subject to a criminal and mental health background check.
They must also belong to a shooting range, and apply for an Authorization to Transport licence in order to transport the gun.
This licence does not allow the person to carry the gun on their person at all times, only to transport the gun between their home and a shooting range, gun show, gunsmith, police station or the border.
Conceal-and-carry is not allowed.
Where are these guns coming from?
It is hard to pinpoint why gun crime is on the rise in Canada. Are more guns on the street? How did they get here?
Despite limits on Canadian gun owners, restricted firearm ownership in Canada has grown steadily over the past decade. In 2004, there were 384,888 restricted firearms in the country. By 2016, that number had more than doubled, to 839,295.
These numbers do not include guns purchased illegally or smuggled into the country.
That used to be the norm, says Toronto Detective Rob Di Danieli, who leads the force's guns and gangs unit.
Now, about half of illegal firearms traced by police have domestic origins, he told CBC.
When Jooyoung Lee moved to Canada from the US, he was surprised at Canada's own gun culture.
"I came here thinking it was impossible to own a gun in Canada, but that's not true," he says.
An associate professor of sociology at the University of Toronto, Lee specialises in the roots of gun violence.
"We look at gun violence as a symptom of a society that is sick," he says.
He supports Toronto's move to ban the sale of handguns, but thinks the city needs to do more to address the reasons why people are turning to gun violence in the first place, such as education and employment opportunities.
"I see gun control as one piece of a much larger, systemic series of changes that have to happen if we really want to curb or completely eliminate gun violence," says the professor.