Cardinal McCarrick, prominent US Catholic, resigns over abuse claims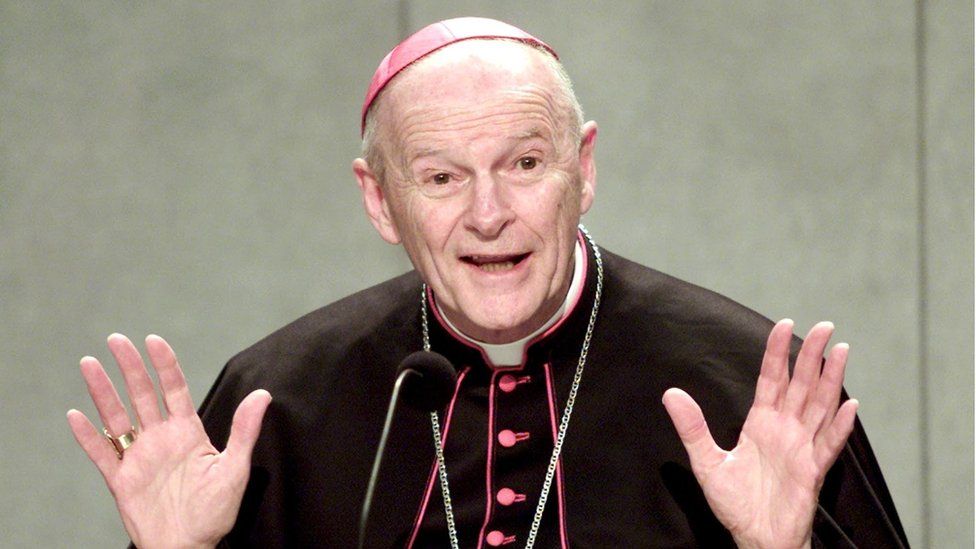 Pope Francis has accepted the resignation of a prominent US cardinal accused of sexually assaulting a teenager nearly 50 years ago.
Theodore McCarrick, 88, a former Archbishop of Washington, must also carry out "penance and prayer" pending a canonical trial, the Vatican said.
Last month US Church officials said the allegations were credible.
Archbishop McCarrick has said he has "no recollection" of the alleged abuse. Further allegations have since emerged.
Archbishop McCarrick was one of the most prominent US cardinals and is one of the most high-profile Catholic leaders to face abuse claims.
What has the Vatican said?
In a statement, the Vatican said Pope Francis had accepted Theodore McCarrick's resignation from the cardinalate and had ordered his suspension from the exercise of any public ministry.
The statement also said he would be placed in seclusion "for a life of prayer and penance until the accusations made against him are examined in a regular canonical trial".
"I would not be surprised if he gets dismissed from the clerical state," he said.
The Pope appears to "understand the gravity of the situation and further harm to the Catholic Church's status", AP quoted Terence McKiernan from BishopsAccountability.org as saying.
The Vatican's quick action stands in contrast to previous instances where cardinals have faced allegations that they carried out or covered up abuse.
Cardinal Bernard Law stepped down as archbishop of Boston in 2002 after reports he had moved paedophile priests between parishes rather than addressing victims' claims. But he was then allowed to take a job at the Vatican, where he worked until 2011. He died in Rome last year.
What are the allegations?
Archbishop McCarrick is alleged to have assaulted the teenager while working as a priest in New York in the early 1970s. The claims were made public in June by the current Archbishop of New York, Cardinal Timothy Dolan.
He said an independent forensic agency had investigated the allegations. A review board, including legal experts, psychologists, parents and a priest, then found the allegations "credible and substantiated".
Several more men have since said the cleric forced them to sleep with him at a beach house in New Jersey, while they studied for the priesthood as adult seminarians. One man has come forward saying he was assaulted while still a minor.
Archbishop McCarrick has not commented on the more recent allegations.
The alleged abuses may have taken place too long ago for criminal charges to be filed because of the statute of limitations.
It has also since emerged that financial settlements were reached in at least two cases of alleged sexual misconduct with adults involving Archbishop McCarrick.
They involved "allegations of sexual misconduct with adults decades ago", while he was working as a bishop in New Jersey, bishops in the state told US media.
Who is Theodore McCarrick?
He became a priest in 1958 and later worked in New York and New Jersey before becoming Archbishop of Washington between 2001 and 2006.
Despite having officially retired, he has continued to attend events abroad, including those focusing on human rights issues.
He has been heavily involved in the response to allegations of abuse by Catholic priests in the US, local media reports say.
In Washington he was also known for his focus on the plight of Christians and other religious minorities in the Middle East and had a reputation as someone who could work with powerful figures on all sides, US media report.