Disinvited - the bridesmaids no longer needed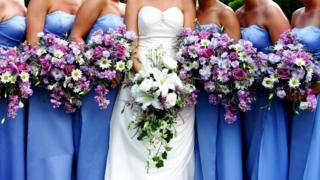 An American woman has spoken of her dismay after being sacked from her role as bridesmaid.
Courtney Duffy's now-deleted tweet has met with a mixed response online.
Other jilted bridesmaids have been prompted to share their own experiences of being demoted - or even disinvited - from weddings.
One maid of honour told the BBC it was a "pretty awful way to lose a friend". Whilst another described the experience as "super awkward".
'I was asked to step down'
Tori Holder, in Georgia, US, told the BBC she was asked to step down from her role as bridesmaid, but was still asked to hold open barn doors for the bride during the ceremony.
Ms Holder said she met up with the bride to exchange Christmas gifts, about a year before the wedding.
She said she was informed that, because the groom's party had been reduced by at least two groomsmen, she would no no longer be needed as a bridesmaid.
Ms Holder said she was told she could, however, help the bride by "opening large barn doors at the start of the ceremony".
"I think one reason for the demotion is because I lived a solid 10-hour drive away and was going to begin graduate school the next August.
"She knew I wouldn't be able to join in a good number of bridal activities."
Ms Holder said the bride gave her a different dress to wear.
"Little did I know until the freaking day of the wedding that our dresses were the exact same as the 12-year-old flower girl," she said.
"The dress was a tan colour. I am very pale and don't do any kind of tanning."
However, Ms Holder said she did enjoy the wedding.
Although when it came to planning her own wedding, she didn't include her friend in the bridal party. "Petty much?" she added.
'Univited because I was allergic to lavender'
Erika said she was disinvited to her "close friend's" wedding because she was allergic to lavender.
'I was floored!'
@kimkworth724 said her friendship "could not be saved" when she was demoted from bridesmaid.
"I found the venue for them and helped book it and had been helping to plan the wedding."
She described the experience as "super awkward".
"I just shouldn't have gone. It was a long time ago. I don't remember why I went."
Brian Edwards tweeted in response: "How on earth do you de-BM one half of a couple but not de-GM the other?"
You may also like:
'I was kicked out of the wedding because I lost my job'
Brittany Templer, from Missouri told the BBC she lost her job and it was stressful for the bride.
"I worked nights at the time and I was the maid of honour," she said.
Ms Templer said she "couldn't always help" with wedding things but tried as much as she could - even planning the hen party.
"When I found out I was losing my job, I let her know."
During the last week at her job Ms Templer said she was told, due to her loss of job, she caused the bride too much stress and anxiety.
And, as a result, she was disinvited.
"At the time it was a pretty awful way to lose a friend," she told us.
"I have no idea if she is still married but I hope she is well and I hope she is happy."
She tweeted: "The night of her wedding my friends and I went on a ghost hunting tour in another town, ate a bunch of good food and then I donated the dress."
'Two of us were kicked out'
Michele Bradley tweeted she was demoted as a bridesmaid, even though she'd already paid $200 (£153) for the dress.
Ms Bradley continued: "Received the $$ after the wedding. So the dress was mailed after the wedding."
'My sister downgraded me'
And, @maumerbb tweeted how embarrassed she felt after being downgraded from maid of honour to bridesmaid - by her sister.
Have you been asked to relinquish your duties as a bridesmaid? Or, have you disinvited your bridesmaid or a guest from your wedding? Email your stories to HaveYourSay@bbc.co.uk