Korea remains: US finds one 'dog tag' among war dead returned by North Korea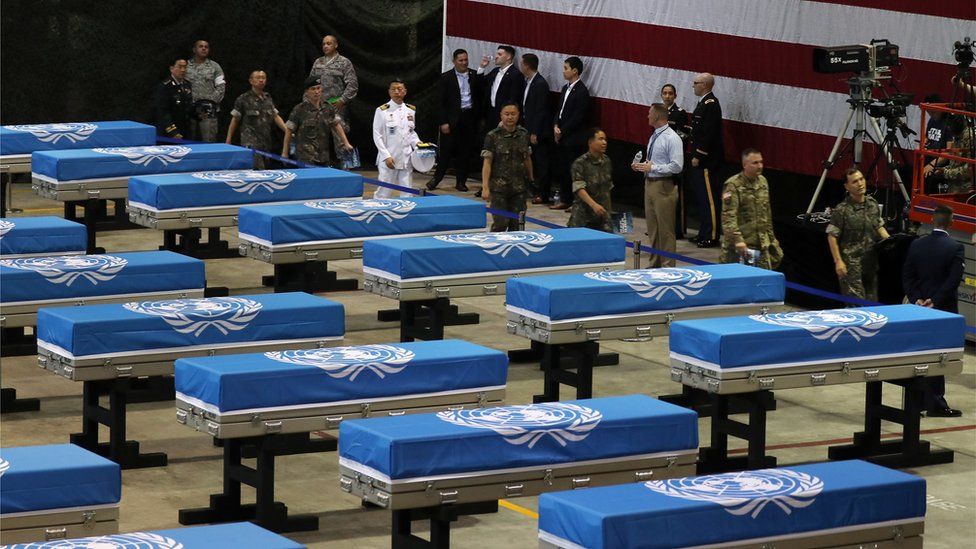 North Korea has returned 55 boxes believed to contain the remains of US troops killed during the Korean War, but included just one military identification tag, US officials say.
A forensic expert said initial tests showed the remains were "likely to be American".
The boxes are en route from South Korea to Hawaii for extensive examination.
North Korea previously returned the purported remains of foreign soldiers that turned out to be misidentified.
On Wednesday, the US military held a repatriation ceremony at Osan air base in South Korea, where the boxes had arrived the previous week.
"There's no reason at this point to doubt that they do relate to Korean War losses," said John Byrd, a forensic anthropologist working for the Hawaii-based agency in charge of identifying the remains.
He said officials have been in touch with the family of the service member referenced in the identifying tag, known as a dog tag, and emphasised that it was too early to confirm if that identity matched accompanying remains.
In 2011, Pyongyang returned purported remains of a British fighter pilot, but they turned out to belong to a dead animal.
US officials have indicated that they believe the latest handover is a legitimate offer.
"We look forward to potentially pursuing [remains recovery] operations in North Korea in the future and we're very hopeful," said Rear Admiral Jon Kreitz, the deputy director of Hawaii's military laboratory.
What deal has been struck?
The return of US remains was one of four points listed in a joint declaration after the June summit between US President Donald Trump and North Korea's Kim Jong-un.
The repatriation brings renewed hope to families who have waited decades for closure, although the full identification process could take years.
"It's hard to live your life not knowing what happened to your loved one," the daughter of one missing serviceman told the BBC earlier.
US Vice President Mike Pence will attend the arrival of the boxes in Hawaii.
Why are US remains in North Korea?
More than 326,000 Americans fought alongside soldiers from South Korea as part of a UN coalition during the war to support the South against the Communist North. About 33,000 coalition troops remain unaccounted for.
The US government has said it wants to resume field operations in North Korea to search for an estimated 5,300 Americans who "have not yet returned home".
Between 1990 and 2005, 229 sets of remains were returned to the US, but co-operation halted as relations deteriorated alongside the development of North Korea's nuclear programme.
Members of support group the Korean War Prisoners Of War and Missing In Action Network have told families to be cautious about the latest releases, saying they could be from other nationalities, not necessarily American.
It is unclear how the US has already determined they are likely to be American.
Does North Korea have any others collected?
It is thought North Korea has about 200 sets of remains collected already.
Bill Richardson, a former UN ambassador who secured the return of six bodies in 2007, told the Washington Post that Pyongyang is unlikely to release them all without conditions.