Andrew Brunson: US hits Turkey with sanctions over jailed pastor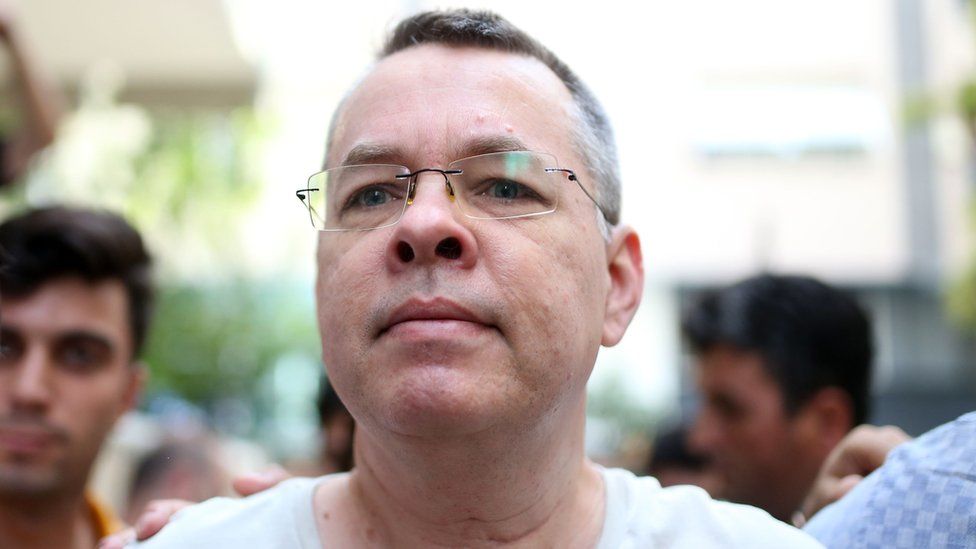 The US has imposed sanctions on Turkey's justice and interior ministers over the continued detention of American pastor Andrew Brunson.
The evangelical from North Carolina has been held for nearly two years over alleged links to political groups.
"We believe he's a victim of unfair and unjust detention," White House press secretary Sarah Sanders said.
Turkey has said US demands for Mr Brunson's release are "unacceptable", adding it will respond to "hostility".
"We call on the US administration to row back from this wrong decision," the Turkish foreign ministry said in a statement on Wednesday.
"Without delay, there will be a response to this aggressive attitude that will not serve any purpose," it continued.
The US Treasury Department later said Turkey's Justice Minister Abdulhamit Gul and Interior Minister Suleyman Soylu were targeted because they "serve as leaders of Turkish government organizations responsible for implementing Turkey's serious human rights abuses".
'Nato allies at each other's throats'
By Mark Lowen, BBC Turkey correspondent
It is unprecedented for the US to hit a Nato ally with sanctions. The relationship has plunged to its lowest level in decades.
But it is remarkable to think that in 2016, Turkey's government was gunning for a Donald Trump victory. Michael Flynn, Mr Trump's disgraced former national security advisor, was paid to lobby for Turkey in Washington. There was confidence that presidents Trump and Recep Tayyip Erdogan could form a strongman partnership to reset ties.
President Erdogan is known for lashing out at Western leaders. He hasn't taken kindly to being the one browbeaten by the US.
Pro-government columnists are calling for the US military base here to be shut down. A crucial security partnership is at risk with two Nato allies at each other's throats.
Meanwhile, Turks are suffering as the lira reaches new lows. Erdogan critics say he should have been sanctioned long ago - over mass arrests, human rights violations and buying a missile defence system from Russia. But now sanctions have come, the fear is of what two unpredictable leaders will do next.
Speaking to reporters, Sarah Sanders said: "We've seen no evidence that Pastor Brunson has done anything wrong."
She added that the two Turkish ministers had both played "leading roles" in the arrest of the US pastor.
"As a result, any property or interest in property of both ministers within US jurisdiction is blocked and US persons are generally prohibited from engaging in transactions with them," she said.
Ms Sanders also said that President Trump had discussed the matter with President Erdogan "multiple times".
Last week, President Trump warned Turkey it would face "large sanctions" if it did not release Mr Brunson immediately.
Following Wednesday's announcement, the Turkish lira lost 1.6% of its value to fall to 5.0 against the US dollar.
Mr Brunson is a long-term resident in Turkey. He lived with his wife and three children while working as the pastor of the small Izmir Resurrection Church, which had a congregation of about two dozen.
The authorities accuse him of having links with the outlawed Kurdistan Workers' Party (PKK) and the Gulenist movement, which Turkey blames for a 2016 failed coup.
Mr Brunson has denied charges of espionage, but faces up to 35 years in jail if found guilty.
He was moved into house arrest last month for health reasons, but US Secretary of State Mike Pompeo said this was not enough.
"We have seen no credible evidence against Mr Brunson," Mr Pompeo tweeted at the time.
Turkey's foreign ministry said it had shared "necessary information" with the US, but insisted the case should be left with its judiciary.
What is Turkey's motivation?
Mr Brunson is one of 20 Americans who were charged after the coup two years ago, according to the New York Times.
More than 50,000 people were arrested in Turkey in President Erdogan's huge post-coup crackdown.
He blames Pennsylvania-based Muslim cleric Fethullah Gulen for the attempt, but Mr Gulen denies any involvement.
Turkey wants the US to agree to his extradition. Mr Erdogan has indicated he would swap the pastor for "the priest" (Mr Gulen).
US support for Kurdish forces fighting the Syrian civil war has also angered Mr Erdogan, who views them as an extension of the PKK.
The PKK - a Turkish-Kurdish rebel group fighting for autonomy since the 1980s - is considered a terrorist group by Turkey and the US.