President's cardiologist murdered over '20-year-old grudge'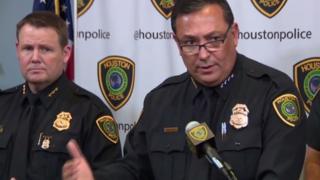 An ex-policeman wanted for killing a famed heart surgeon sought revenge after his mother died on the operating table two decades ago, say police.
Joseph James Pappas, 62, is wanted for gunning down Houston cardiologist Mark Hausknech in broad daylight while both of them were riding bicycles.
Dr Hausknecht, who once treated ex-US President George Bush Snr, was killed riding his bike to work on 20 July.
Mr Pappas worked for roughly 30 years as an armed law enforcement officer.
"It appears that this may have been a 20-year-old grudge that this man held," said Houston Police Chief Art Acevedo said at a press conference on Wednesday.
"We believe that this man is absolutely the killer," he said.
"We need to find this guy.
"This man is dangerous, this man is capable, this man has some skills."
Police have issued an arrest warrant for Mr Pappas, who they say appears to be suicidal based on text messages he sent in recent days.
They began searching for him after receiving an anonymous tip, police said, without providing further details.
On Wednesday morning, officers raided his home in the Texas city's Westbury area, which neighbours say is the same home where he grew up with his parents.
Surveillance video shows that a cyclist riding behind the 65-year-old cardiologist overtook him, then stopped and turned back, before shooting him twice near a noisy construction site.
"There was a lot of planning that went into this. There was a lot of planning and, sadly, some skill," Chief Acevedo said.
According to local media, days after the crime Mr Pappas posted online ads to sell some of his possessions, including a pistol and a rifle.
Houston Methodist Hospital, where Dr Hausknecht worked for nearly 30 years, said in a statement it is "still in shock about the senseless killing of one of our longtime physicians".
"We are relieved that the Houston Police Department has identified the suspect and are confident he will be apprehended soon."
Local officials say they do not know what may have prompted the killing so many years after Mr Pappas' mother's death.
"Sometimes the hardest part of our job isn't diagnosing or treating the disease, but communicating the gravity of the patient's circumstances," Dr Douglas Curran, president of the Texas Medical Association, told the Houston Chronicle.
"It's a struggle. Loved ones can have a hard time comprehending that we can't fix everybody."