Portland police arrest four in far-right rally and counter-protest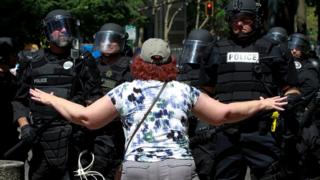 Four people have been arrested following rallies by right-wing groups and counter-protesters in the US city of Portland, Oregon, on Saturday.
Police used stun grenades to disperse demonstrators after stones and bottles were thrown at them.
At least three people required medical treatment.
The rally is the third in the US city in recent months - in late June, four people were injured in similar protests there.
Police maintained a heavy presence in the city of 640,000 people, amid fears of a return to the violence seen in Charlottesville, Virginia last year, when a counter-protester was killed.
Authorities had warned against bringing weapons to the demonstration but said that many were seized throughout the day.
The rally was organised by Patriot Prayer and affiliated group the Proud Boys, in support of Patriot Prayer leader Joey Gibson who is running as a Republican candidate in November's Senate elections.
After they gathered at a park, counter-protesters met them, with some chanting "Nazis go home".
Monitors the Southern Poverty Law Center characterise Patriot Prayer as a hate group although Mr Gibson told a local station he just wanted to promote "freedom and God".