Trump admits son met Russian for information on opponent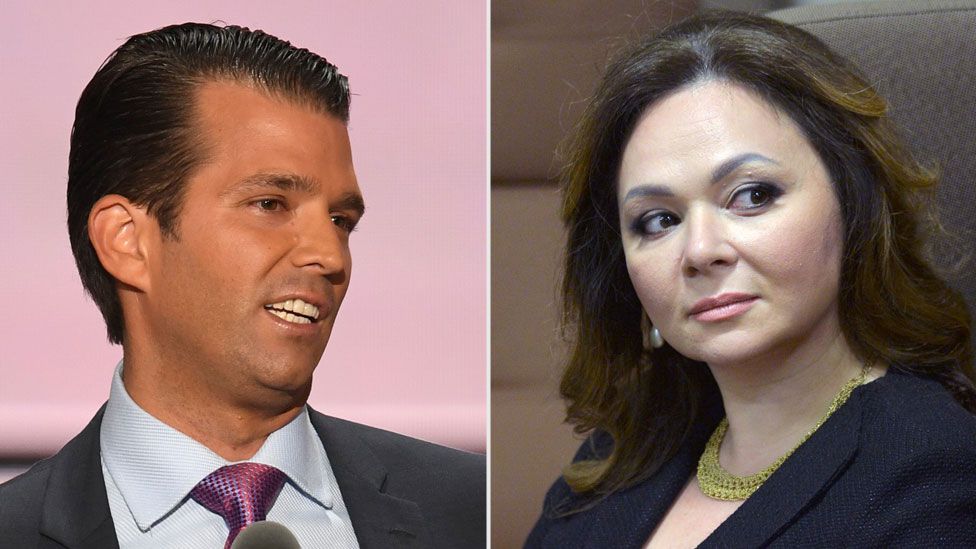 US President Donald Trump has admitted his son met a Russian lawyer in June 2016 "to get information on an opponent", but argues it was legal.
Donald Trump Jr's meeting with Kremlin-linked lawyer Natalia Veselnitskaya at Trump Tower could constitute a breach of US campaign rules, experts say.
And the meeting is being investigated by Special Counsel Robert Mueller as part of his inquiry into Russia's alleged role to help Mr Trump win.
President Trump denies any collusion.
He has called the ongoing investigations in the US "the greatest political witch hunt in history".
Russia has repeatedly denied claims it interfered in the November 2016 presidential elections, where Mr Trump defeated Democratic rival Hillary Clinton.
What did President Trump say?
On Sunday, US media including the Washington Post, CNN and AP reported that Mr Trump was worried Donald Trump Jr could be in legal trouble because of the 9 June 2016 meeting with Ms Veselnitskaya in New York. They cited several unnamed sources.
Mr Trump tweeted: "Fake News reporting, a complete fabrication, that I am concerned about the meeting my wonderful son, Donald, had in Trump Tower.
"This was a meeting to get information on an opponent, totally legal and done all the time in politics - and it went nowhere.
"I did not know about it!"
On Monday, the president quoted a Fox and Friends interview about alleged Democratic collusion with Russia.
"Collusion with Russia was very real. Hillary Clinton and her team 100% colluded with the Russians, and so did Adam Schiff who is on tape trying to collude with what he thought was Russians to obtain compromising material on DJT. We also know that Hillary Clinton paid through....

— Donald J. Trump (@realDonaldTrump) August 6, 2018
....a law firm, eventually Kremlin connected sources, to gather info on Donald Trump. Collusion is very real with Russia, but only with Hillary and the Democrats, and we should demand a full investigation." Dan Bongino on @foxandfriends Looking forward to the new IG Report!

— Donald J. Trump (@realDonaldTrump) August 6, 2018
Mr Trump has spoken out before about links between Moscow and Mrs Clinton while saying it is "commonly agreed" that there was no collusion between Russia and him.
Why does his Trump Tower tweet matter?
Mr Trump's Sunday tweet appears to contradict a previous statement from the Trump camp about the meeting.
When the meeting was first reported by the New York Times, Donald Trump Jr said in a statement that he and Ms Veselnitskaya had mostly discussed a suspended programme for Americans to adopt Russian children.
However, he subsequently admitted he had agreed to the meeting after being told he would be offered information that would prove detrimental to Mrs Clinton. He also released the email exchange that brought about the meeting.
US media then reported that the US president had been involved in the initial statement his son issued on the meeting.
This was initially denied by Mr Trump's team, but his lawyers later confirmed that he had in fact dictated his son's statement.
US commentators have argued that Mr Trump's new admission that the meeting was to gain information about Mrs Clinton shows that the earlier statement was misleading.
Mr Trump again denied knowing about the meeting in Sunday's tweet.
Trump Tower meeting: How the story has changed
8 July 2017: The New York Times reveals the June 2016 meeting took place and Mr Trump Jr releases a statement describing it as a "short introductory meeting" that focused on Russian adoptions
9 July 2017: The Times reports that Mr Trump Jr was promised damaging information about Hillary Clinton before the meeting. He confirmed the report but said in a second statement that "no meaningful information" came from the meeting
11 July 2017: Mr Trump Jr tweets screenshots of his email correspondence that discussed setting up the meeting just minutes before the email chain was revealed in a Times story. The emails showed he was eager to accept "sensitive" information that was "part of Russia and its government's support for Mr Trump"
12-16 July 2017: The president's lawyer Jay Sekulow denies that Mr Trump was involved in his son's initial statement to the Times
2 June 2018: The Times reports that Mr Trump's lawyers wrote a letter to special counsel Mueller acknowledging that he dictated his son's initial statement
26 July 2018: The president's former personal lawyer Michael Cohen says that Mr Trump approved the June 2016 meeting, contradicting previous statements by the Trump legal team
5 August 2018: The president says his son took the meeting "to get information on an opponent", but denies having any knowledge of it
The special counsel is currently investigating whether Mr Trump obstructed justice.
Under US law, obstruction cases require proving "corrupt intent" - so while Mr Trump's tweet does not prove anything illegal, it could serve as evidence of the president's intent.
Why is the Trump Tower meeting controversial?
It is common for US politicians to research their opponents during a campaign.
However, legal experts say that Mr Trump Jr could fall foul of campaign finance laws, which prohibit accepting anything of value from a foreign government or foreign national.
Mr Trump Jr's apparently enthusiastic response to the offer of information about Mrs Clinton could also breach conspiracy laws.
The Trump team has argued that Mr Trump Jr ultimately did not receive any damaging information about Mrs Clinton at the meeting.
Some analysts say that by having the meeting at all, Mr Trump Jr broke the law. But others say it is unclear as no information reportedly exchanged hands at the meeting.
One of Mr Trump's lawyers, Jay Sekulow, said on Sunday that the meeting had not broken any laws.
"The question is what law, statute or rule or regulation's been violated? Nobody's pointed to one," Mr Sekulow told ABC News.
US media reported last year that some of the president's advisers feared the extent of the president's intervention could place him and some of his inner circle in legal jeopardy.